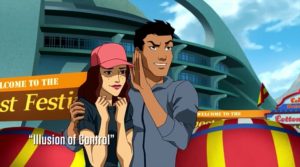 Tytuł odcinka: "Illusion of Control"
Pierwsza data emisji: 2 lipca 2019
Reżyseria: Christopher Berkeley
Scenariusz: Greg Weisman
Twoja ocena: [yasr_visitor_votes size="medium"]
Obsada:
Steve Blum
Greg Cipes
Zehra Fazal

Grey Griffin
Kelly Hu
Bryton James
Eric Lopez
Jason Marsden
Zeno Robinson
Freddy Rodriguez
Jason Spisak
Lauren Tom
Hynden Walch
Henchy, Count Vertigo
Garfield Logan/Beast Boy
Violet Harper/Halo, Lian Nguyen-Harper, Wendy Jones
Helga Jace
Paula Crock
Virgil Hawkins
Jaime Reyes/Blue Beetle, Scarab
Bart Allen/Kid Flash
Victor Stone, Holocaust
Eduardo Dorado Jr.
Forager
Traci Thurston, Celia Windward
Perdita
Drużyna dziękuje za to, co ma… i co może stracić!
---
Nadszedł czas Święta Dziękczynienia. Część bohaterów spędza jest wraz z przyjaciółmi i rodziną, a inni wybierają się na festyn. Jednak nawet w tak spokojnym okresie czekają na nich niebezpieczeństwa.
Najwięcej akcji i a także humoru za sprawą słownych utarczek pomiędzy Blue Beetlem a Scarabem zapewnia sytuacja na festynie, gdzie bohaterowie muszą uratować Perditę porwaną przez Count Vertigo. Kłopoty nie omijają też Artemis, która w domowym zaciszu musi się tłumaczyć matce z faktu, że znów zaczęła działać jako Tigress.
"Illusion of Control" to w gruncie rzeczy spokojniejszy odcinek, gdzie dopiero pod koniec Garfield decyduje się na podjęcie kroków, które na pewno będą wsparciem dla młodych metaludzi, ale mogą zagrozić tajnym działaniom Drużyny.
Ocena: 3,5 nietoperka

---
Ciekawostki:
Podczas napisów końcowych Bio-Ship przekształcony w kampera stoi pokryty śniegiem przed domem Connera i Megan.
Helga Jace kończy badanie włosów Violet, które zaczęła robić w poprzednim odcinku.
Traci mówi, że Cassie próbuje uratować swój związek z Timem, ponieważ ten ostatni opuścił drużynę w "Princes All", nie zwracając na nią uwagi.
Paula Crock uczy Lian mixy piosenki alfabetowej, "Twinkle, Twinkle, Little Star" i "Baa Baa Black Sheep", wcześniej śpiewanej przez Artemis w "Misplaced".
Wendy Jones nosi obrożę powstrzymującą po utracie kontroli nad swoimi mocami w poprzednim odcinku.
"Count Vertigo" powtarza swoją stałą kwestię z poprzednich odcinków, gdy ktoś nazywa go "Vertigo" ("That's Count Vertigo to you, peasant").
Victor wciąż jest skłócony ze swoim ojcem po wydarzeniach z "Exceptional Human Beings" i "Another Freak".
Paula Crock nawiązuje do śmierci Wally'ego Westa w "Endgame" i jak to wpłynęło na Artemis.
Paula zwraca również uwagę na relację Artemis i Willa. Rzekomy związek między nimi został zasugerowany w "Home Fires", "Influence" i "Leverage".
Kiedy Static wyrzuca elektryzujące łożyska w Henchy'ego (który później okazuje się być Devastation w przebraniu), ten chichocze i mówi drwiąco "Tickles". Devastation powiedział to samo po raz pierwszy, gdy Black Lightning próbował ją zelektryfikować w "True Heroes".
Violet mówi Heldze Jace, czego dowiedziała się w poprzednim odcinku: Gabrielle wzięła łapówkę, aby otworzyć drzwi meta-zabójcy, który zamordował rodziców Briona i Tary w odcinku "Princes All".
Henchy rzuca klątwę "Karabast". To zdanie pochodzi od postaci Steve'a Bluma, Zeby w "Star Wars Rebels". Greg Weisman pracował przy pierwszym sezonem tego serialu.
Po tym, jak Kid Flash rani ręce po uderzeniu Devastation (przebranej za Henchy'ego), pyta ją, z czego jest zrobiona, ta odpowiada: "cukru i przypraw, i wszystkiego, co miłe". Jest to podobne do tego, kiedy walczył Tommy'm Terrorem w odcinku "Darkest", a jego odpowiedź brzmiała: "skrawki, ślimaki i ogony szczeniaczka". Obie odpowiedzi pochodzą z rymowanki "What Are Little Boys Made Of?".
Jak we wcześniejszych odcinkach nie brakuje odniesień do liczby 16:

Godzina na drugim znaczniku czasu to 16:00 EST.
Cytaty:
Scarab: Scarab can stop the Count Vertigo, Jaime Reyes, by blowing his vehicle out of the sky.
Blue Beetle: Scarab, no! The goal is saving Perdita, not sending her to a fiery death.
Scarab: It helps when you specify such things.
Blue Beetle: It's implied!
Traci: Scarab wanted to blow it up, didn't he?
Blue Beetle: How'd you guess?
Scarab: I could've taken out the fuel line with a precision attack.
Blue Beetle: Dude, you are the king of overkill. You never suggest precision.
---
---