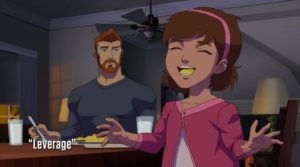 Tytuł odcinka: "Leverage"
Pierwsza data emisji: 2 lipca
Reżyseria: Vinton Hueck
Scenariusz: Tom Pugsley
Twoja ocena: [yasr_visitor_votes size="medium"]
Obsada:
Troy Baker
Britt Baron
Steve Blum
Greg Cipes

Zehra Fazal

Crispin Freeman
Bruce Greenwood
Stephanie Lemelin

Khary Payton
Sheryl Lee Ralph
Freddy Rodriguez
Brion Markov/Geo-Force, J. Anson Schwartz
Leslie Willis/Livewire
Henchy, Dmitri Pushkin/Rocket Red #4
Tork/Beast Boy
Violet Harper/Halo, Lian Nguyen-Harper, Wendy Jones/Windfall
Will Harper, Captain Boomerang
Eduardo Dorado Sr.
Artemis Crock/Tigress, Olga Ilyich/Rocket Red #1, Computer
Aquaman, Black Manta
Amanda Waller
Eduardo Dorado Jr.
Nowy Oddział Gamma wyrusza w swoją pierwszą misję.
---
Z tym odcinkiem wracamy do losów młodych bohaterów. Największy zgrzyt budzi u mnie automatyczne włączenie Tary do drużyny. Nie chodzi tylko o bezgraniczne zaufanie, za co bohaterom przyjdzie zapłacić, ale o fakt, że nie raczyli sprawdzić jak radzi sobie ze swoimi supermocami
Problemy z supermocami doskwierają młodym meta-nastolatkom, którzy znajdują wsparcie w specjalnym ośrodku utworzonym przez Justice League. Jednak same chęci i własne przekonanie o swoich umiejętnościach okazują się niewystarczalne by w pełni kontrować swoje mocy i nie zagrażać innym.
Główny wątek "Leverage" dotyczy wysłania drużyny z misją zwiadowczą do Rosji. Jak zawsze rutynowa akcja okazuje się bardziej skomplikowana niż zakładano, zwłaszcza gdy w sprawie weźmie też udział oddział Amandy Waller. Starcie z rosyjskimi superbohaterami, ma też dodatkowy aspekt oprócz czystej rywalizacji. Artemis pokazuje, że wie kiedy nie należy zaogniać konfliktów dyplomatycznych oraz, że czasami dla obu stron na dobre wyjdzie przemilczenie kilku kwestii.
"Leverage" dostarcza dokładnie tego czego oczekuje się po serialu, oprócz czystej akcji mamy poruszane ważne kwestie, a także odkrywania kolejnych elementów układanki, które w tym wypadku dotyczą przeszłości postaci Halo, której relacja z Brionem nie musi zakończyć się sielanką. Warto też wspomnieć o Garfildzie, który co raz bardziej nie wie jak sobie poradzić z Gretchen.
Ocena: 4 nietoperki

---
Ciekawostki:
Podczas napisów końcowych Brucely śpi na kanapie Willa i Artemis.
Gretchen Goode przepracowuje Garfielda na planie "Space Trek 3016" w odwecie za otwarcie przeciwstawianie się jej w poprzednim odcinku.
Eduardo Jr. nawiązuje do swojej i Neuta rehabilitacji w STAR Labs w "Runaways", po tym, jak zostali uratowani z handlu ludźmi w "Before the Dawn".
Eduardo Sr. mówi nastolatkom w Taos, że obroże powstrzymujące zostały stworzone, aby powstrzymać meta-przestępców w więzieniu Belle Reve, co pokazano w "Terrors".
Black Manta i Tigress odnoszą się do wydarzeń "Summit", a dokładniej, gdy Tigress i Aqualad zostali ujawnieni jako podwójni agenci działający przeciwko Mancie, który z kolei został pokonany przez syna w walce wręcz.
Livewire pyta, czy Neut był tym, który wysadził Central City, nawiązując do "Bloodlines".
Aquaman nazywa Amandę Waller dawną naczelniczką Belle Reve, którą była w "Terrors".
Helga Jace uzyskała dostęp do laboratorium naukowego, o które wcześniej poprosiła. Wykorzystuje je do zbadania włosów Violet, które zabrała z jej szczotki w "True Heroes".
Violet uzyskuje dostęp do jednego ze wspomnień Gabrielle, ujawniając, dlaczego ta otworzył adrzwi Henchy'emu w "Princes All".
Garfield sprawdza selfie, które Angela O'Day zrobiła w poprzednim odcinku.
Kiedy Mist używa swojej zdolności do przekształcenia się w postać pary, zostawia swoje ubranie, sugerując, że może tylko zmienić swoje ciało. Jednak w "Triptych" jej strój również stał się parą, gdy użyła swojej mocy.
Każdy znacznik czasu w tym odcinku wyświetla godziny lustrzane.
Akcja odcinka rozgrywa się w ciągu 24 godzin i rozpoczyna się i kończy o tej samej godzinie (16:16 PST).
Czas lokalny Wierchojański jest podany jako VLAT: czas Władywostoku lub UTC + 10. W Young Justice: Legacy, podano czas OMSST, Omsk (Summer) Time, strefa czasowa używana o jakieś 2500 mil bardziej na zachód. Rzeczywiste miasto Wierchojań znajduje się w strefie czasowej Władywostoku.
Jak we wcześniejszych odcinkach nie brakuje odniesień do liczby 16:

Odcinek zaczyna 16 listopada o godzinie 16:16 czasu PST i kończy się następnego dnia również o 16:16 czasu PST.
Garfield kręci ujęcie 16 ze sceny 16, 316 odcinka serialu "Space Trek 3016".
Cytaty:
Black Manta: Kaldur'ahm, seeing you in those colors turns my stomach.
Aquaman: Then it is fortunate you cannot see them from your prison cell, Father.
Amanda Waller: To run hazardous missions we wouldn't risk our people on.
Aquaman: And yet you risk losing Manta on the world?
Amanda Waller: There are carrots and sticks. Very persuasive sticks. Our operatives know they're extremely expendable.
---
---