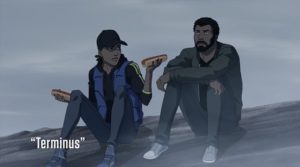 Tytuł odcinka: "Terminus"
Pierwsza data emisji: 20 sierpnia 2019
Reżyseria: Mel Zwyer
Scenariusz: Brandon Vietti
Twoja ocena: [yasr_visitor_votes size="medium"]
Obsada:
Troy Baker
Zehra Fazal
David Kaye

Stephanie Lemelin
Jesse McCartney
Danica McKellar
Nolan North
Khary Payton
Jason Spisak
Deborah Strang
Tara Strong
Geo-Force, Green Lantern
Violet Harper
Vandal Savage, Elongated Man, Kirby Jacobs
Tigress/Artemis
Dick Grayson/Nightwing/Robin
Miss Martian
Superboy, Superman
Aquaman/Aqualad
Kid Flash, Forager
Granny Goodness, Gretchen Goode
Terra
Trwa polowanie na Halo. Módlcie się, aby Drużyna jej nie znalazła.
---
Finał sezonu co raz bliżej, a kłopoty bohaterów co raz większe. Próba ratowania Halo okazuje się trudniejsza niż zakładano i nawet podjęcie drastycznych środków nie przynosi upragnionego rezultatu.
W "Terminus" dochodzi do bezpośredniego starcia Drużyny z Granny Goodness. Chociaż plan bohaterów wydaje się być nie najgorszy, to niestety zastosowanie równani anty-życia oznacza, że muszą mierzyć się także z członkami Ligi.
Nie brakuje efektownych walk, a swój moment ma też Kid Flash za sprawą omamów Nightwinga, który udowadnia, że nawet jeśli nie jest w pełni sił to i tak stanowi wielki autu Drużyny. Otrzymujemy sporą dawkę nostalgii, co tylko przypomina widzom jak świetny jest to serial, oraz że bohaterowie dojrzewają i tym samym nie stoją w miejscu.
"Terminus" kończy się fiaskiem działań podjętych przez naszych młodych herosów. Dlatego tym bardziej interesujące będą ostatnie odcinki sezonu. Wygląda, że ostatnią nadzieją będą Outsiders i być może także Batman, ale też wszystkiego jeszcze nie powiedzieli ziemscy złoczyńcy, w tym Savage. Trzy odcinkowy finał sezonu powinien jeszcze nie jednym zaskoczyć fanów, a twórcy w ostatnich odcinkach pokazują, że pomysłów im nie brakuje.
Ocena: 4,5 nietoperka

---
Ciekawostki:
Podczas napisów końcowych Wilk śpi przy hologramie Wally'ego Westa w grocie Watchtower.
Nazwisko Kirby Jacobs, odźwiernego w budynku Premiere, to ukłon w stronę Jacka Kirby'ego (urodzony jako Jacob Kurtzberg), twórcy New Gods.
Guy Gardner, Hal Jordan i John Stewart otaczają Orphanage mocą pierścieni, aby zapobiec wykorzystaniu Boom Tube, tak jak to miało miejsce pod koniec "Influence", o czym wspomina Guy.
Gretchen Goode wspomina o swoich darowiznach dla Meta-Human Youth Center, z których jedna była pokazana w "Influence".
Forager odnosi się do czasów, w których wyczuł Victora Stone'a w "Quiet Conversations".
Superboy przypomina Miss Martian, jak zainscenizowana śmierć Artemis w "Depths" doprowadziła ją do usmażenia mózgu Kaldura w "Before the Dawn". Przypomina również kiedy, pomiędzy sezonami 1 i 2 – próbowała zmienić jego wspomnienia.
Geo-Force i Forager odnoszą się do wydarzeń związanych z "Away Mission" z udziałem Modliszki.
Granny Goodness wyjaśnia, że Ghost Dimension pozostawia szczątkowy wpływ na nie-meta, co tłumaczy, dlaczego Dick potrzebował więcej czasu na odzyskanie zdrowia niż Jeff, ponieważ był narażony na X-Pit w "Unknown Factors".
Gorączkowe omamy Nightwinga zawierają kilka odwołań do pierwszego sezonu:

Początkowe zdziwienie Kid Flasha wobec Artemis odbiło się echem w jego tekście: "Oh, hey, the new girl. I'm gonna keep my eye on her."
Teksty Artemis "We heard that", "You know I can still hear you" oraz okrzyk Kid Flasha "Dang it" z "Infiltrator".
Początkowe zakochanie Kid Flash w Miss Martian.
Teksty "Today is the day" i "We didn't come for a playdate" z "Independence Day".
Słychać Young Justice Main Title podczas sekwencji ujęć oryginalnego Zespołu, wszystkie w pierwszego sezonu.
Miss Martian mówi "Hello, Megan!".
Kid Flash wspomina o pamiątkach.
Holocomputer Robina "Robin heads".
Robin i Kid Flash tworzą nowe słowa z "ject".

Jak we wcześniejszych odcinkach nie brakuje odniesień do liczby 16:

W gorączkowych omamach Nightwinga Superboy i Aqualad zdobywają 1616 punktów, pokonując Mantis i Gilotinę.
Cytaty:
Vandal Savage: I'm here to offer coordinates, so you can boom tube to Ms. Harper's location.
Superboy: What's the catch?
Vandal Savage: The catch, as you put it, is this: you promise to tell her abductor exactly who sent you.
Kid Flash: Dude, monkeys must love you, 'cause you are bananas if you thought the Wall-man would stay back at the Cave and miss this.
Nightwing: Kid Flash, you're here!
Kid Flash: Well, duh. A mission to fight space babes and giant space bugs, on a giant space station in space? Try to keep me away.
---
---