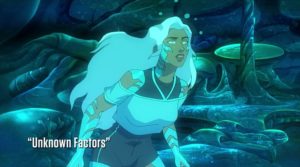 Tytuł odcinka: "Unknown Factors"
Pierwsza data emisji: 6 sierpnia 2019
Reżyseria: Vinton Hueck
Scenariusz: Brandon Vietti
Twoja ocena: [yasr_visitor_votes size="medium"]
Obsada:
Troy Baker
Greg Cipes
Robbie Daymond
Zehra Fazal
Grey Griffin
Jesse McCartney
Masasa Moyo
Khary Payton
Kevin Michael Richardson
Zeno Robinson
Alyson Stoner
Deborah Strang
Geo-Force/Brion Markov
Beast Boy/Garfield Logan
Wyynde
Violet Harper, Evelyn Fox
Helga Jace
Dick Grayson
Karen Beecher/Bumblebee, Cat Grant
Kaldur'ahm, Jefferson Pierce, Silas Stone
Malcolm Duncan
Victor Stone
Oracle
Gretchen Goode
Dick Grayson i Jefferson chcą dopaść Gretchen Goode – tylko po to, by napotkać złowrogiego Overlorda.
---
Opis odcinka wydawał się zapowiadać fajną akcję z udziałem Nightwinga. Niestety okazuje się, że cała misja Graysona i Jeffersona kończy się nim na dobre się rozpoczyna. Nie tego oczekiwałem. Zamiast porządnej tajnej akcji w szpiegowskim stylu otrzymujemy kilka pobocznych wątków, bez których ten odcinek mógłby się obyć. Trzeba jednak zaznaczyć, że w "Unknown Factors" dostajemy kilka istotnych odpowiedzi na nękające widzów pytania.
Wiemy już z kim współpracuje Helga Jace, a Gretchen Goode znajduje Anti-Life Equation, przy tej okazji warto wspomnieć, że pierwszy litery tytułów odcinków 3. sezonu serialu tworzą "Prepare The Anti-Life Equation". Niestety do tych ważnych odkryć nie dochodzi poprzez odkrywanie elementów intrygi, ale mamy wprost wszystko wyjaśnione w krótkich scenach.
Część odcinka poświęcono narodzinom dziecka Karen Beecher, która musi uratować życie swojej nowo narodzonej córki oraz rozważyć, czy należy modyfikować DNA. Poruszona zostaje interesująca kwestia związana z genetycznymi modyfikacjami, ale ten wątek równie dobrze można było zamieścić w innych odcinku. Bardziej interesująca byłaby misja Batmana i Robina w Afryce, która być może nie była tylko wzmianką bez znaczenia.
Tak jak w poprzednich odcinkach drugiej połowy obecnego sezonu, głównymi bohaterami są Outsiders i nawet teraz to do nich należy uratowanie bohaterów, którzy znaleźli się w trudnym położeniu.
Gdyby nie kilka istotnych elementów, które zostały wyjaśnione byłby to przeciętny odcinek, w którym zbyt dużo czasu poświęca się związkowi Aquamana oraz starciu superkomputera Overlord z mother i father boxami.
Ocena: 4 nietoperki

---
Ciekawostki:
Podczas napisów końcowych Rhea Duncan śpi w szpitalnym łóżeczku.
Mal wspomina, że Ryan wziął kombinezon Bumblebee z laboratorium Raya Palmera. Ryan Choi jest następcą Raya jako Atom w komiksach.
To pierwszy odcinek, który ma scenę po napisach.
Helga Jace i Granny Goodness czytają dokładnie tę samą książkę, "The Mysteries of Udolpho", autorstwa Ann Radcliffe. Książka ta pokazana została już dwukrotnie: w "Homefront" i "Satisfaction".
Nightwing korzysta z Motherboxa, który pożyczyła im Dreamer, w poprzednim odcinku.
Brion i Violet pogodzili się po tym, jak ich związek został stał napięty po tym jak Violet powiedziała, że Gabrielle była pośrednio odpowiedzialna za śmierć jego rodziców w "Princes All".
Violet wciąż ukrywa swoją śmiertelną chorobę przed Brionem, odkąd Helga Jace powiedziała jej o tym w "Early Warning".
Urządzeniem, które budowali Granny i Desaad i które można było zobaczyć w "Influence", okazało się być X-Pit.
Zdjęcie, które Brion ma na swoim telefonie, przedstawiające jego i Violet z pomalowanymi twarzami w trupie czaszki, zostało zrobione w Halloween w "True Heroes".
Anti-Life Equation wspomniane zostaje ponownie po tym, jak Desaad wspomniał o nim wcześniej w odcinku "Evolution".
Jak we wcześniejszych odcinkach nie brakuje odniesień do liczby 16:

Karen leży obok swojej śpiącej córki 22 stycznia o 00:16 EST.
Cytaty:
Nightwing: I asked Motherbox to ping if she sensed any Apokoliptan tech inside. And ping she did.
Black Lightning: Hey, you are not suggesting an illegal search here.
Nightwing: That ping was probable cause. Besides, we can't leave old Granny alone with Apokoliptan tech. She might hurt herself.
Geo-Force: One could say the restaurant's hostage crisis became a sticky situation, and Beast Boy couldn't cut the mustard against the new villain calling himself "The Condiment King".
---
---