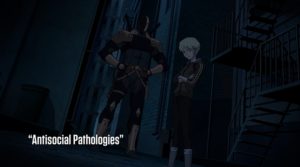 Tytuł odcinka: "Antisocial Pathologies"
Pierwsza data emisji: 13 sierpnia 2019
Reżyseria: Christopher Berkeley
Scenariusz: Rich Fogel
Twoja ocena: [yasr_visitor_votes size="medium"]
Obsada:
Troy Baker
Greg Cipes
Zehra Fazal
Bruce Greenwood
Grey Griffin
Jesse McCartney
Khary Payton
Alyson Stoner
Deborah Strang
Tara Strong
Fred Tatasciore
Greg Weisman
Brion Markov
Garfield Logan
Violet Harper, Trajectory
Bruce Wayne
Helga Jace
Dick Grayson
Jefferson Pierce, Kaldur'ahm
Barbara Gordon
Gretchen Goode, Granny Goodness
Tara Markov
Deathstroke
Ultra-Humanite
Zdrady przychodzą szybko i wściekle, a wraz z nimi rozliczenie…
---
Kolejny odcinek, który przybliża nas do finału sezonu. Otrzymujemy sporo odpowiedzi, ale ponownie można mieć wrażenie, że lepiej można było wszystko poprowadzić.
W następstwie wydarzeń z poprzedniego odcinka i zdrowotnych problemach Dicka na scenę wkracza Bruce Wayne i jego sojusznicy. Chociaż bohaterowie nie biorą udziału w żadnej akcji, to najlepiej działania Batmana podsumowuje Barbara, która stwierdza, że jego ekipa składa się głównie z jego byłych protegowanych, którzy przywykli do wykonywania jego rozkazów, a pozostali biorący udział w jego misji, jak Wonder Woman, dowiadują się o wszystkim, po fakcie. Batman dobrze to zorganizował, by móc prowadzić misję bez większych problemów, ale teraz, kiedy prawda wyszła na jaw może się okazać, że koszty walki z wrogiem jego metodami były zbyt wysokie.
Największy zarzut mam do sposobu w jaki Jefferson domyśla się współpracy ekipy Batmana z Aquamanem. Zauważa bohaterów i nagle dostaje oświecenie i na dodatek wpada we wściekłość i kompletnie traci na sobą panowanie, co wpływa też na pozostałych bohaterów. Nie potrafi przyjąć tego odkrycia z godnością Beast Boya, którego ostatnie misje może były częściowo ustawione, ale pokonanie Condiment Kinga zawsze będzie tylko jego sukcesem. Sam Jefferson bardziej powinien martwić się tym, że każdy nim w jakiś sposób pogrywał, a najbardziej Helga Jace, której intencje zostają ujawnione.
W "Antisocial Pathologie" poznajemy więc sekret Helgi a także rolę Halo w planie Gretchen, która nie do końca przejmuje się swoimi ziemskimi sojusznikami. Niedocenianie Vandala Savage'a, Deathstroke'a i innych może być dużym błędem, zwłaszcza, że ci mają cały czas Tarę po swojej stronie. Otrzymujemy ważny odcinek, który sprawia, że od razu chciałoby się obejrzeć kolejny.
Ocena: 4,5 nietoperka

---
Ciekawostki:
Podczas napisów końcowych widać pusty pokój Violet ze zdjęciem wiszącym na ścianie przedstawiającym ją, Briona, Victora i Foragera podczas Halloween.
To pierwszy odcinek bez kołysankowego wykonania "Young Justice End" odtwarzanej podczas napisów końcowych.
Tytuł odcinka nawiązuje do antyspołecznego zaburzenia osobowości Helgi Jace, które ujawnia się w jej spowiedzi w X-Pit.
Odcinek rozpoczyna się pięć godzin po zakończeniu wydarzeń z "Unknown Factors".
Po raz pierwszy pojawia się Infinity Incorporated, o której wspominał w poprzednim odcinku Brion.
Helga Jace zabiera Violetę rzekomo w celu wyleczenia jej choroby genetycznej, o której po raz pierwszy wspomniano w "Early Warning".
Tara okazuje się być "córką", którą Helga, w "True Heroes", twierdziła, że została jej zabrana.
Gretchen nawiązuje do technologii Starro z "Usual Suspects" i "Auld Acquaintance".
Jak we wcześniejszych odcinkach nie brakuje odniesień do liczby 16:

Gretchen Goode dostarcza Halo do Granny Goodness o 16:16 UTC.
Cytaty:
Deathstroke: Look, kid, have I ever been anything but straight with you? Tough, sure. For your own good. But straight.
Bruce: The mission– Barbara: Whose mission, Bruce? The mission or your mission?
---
---