O FILMIE | RECENZJA | GALERIE | ZWIASTUNY | NAJŚWIEŻSZE WIADOMOŚCI
---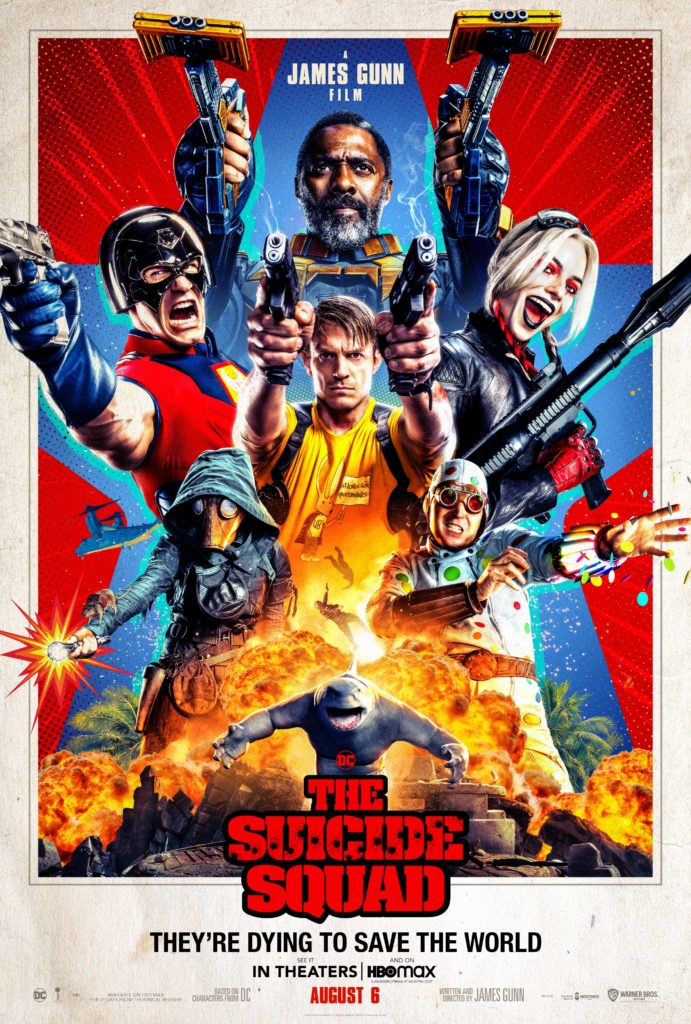 THE SUICIDE SQUAD (USA, 2021)

TYTUŁ POLSKI: LEGION SAMOBÓJCÓW: THE SUICIDE SQUAD
GATUNEK: Akcja/ Komedia/ Sci-Fi
BUDŻET PRODUKCJI: 185 milionów dolarów
CZAS PROJEKCJI: 132 minuty
REŻYSERIA: James Gunn
SCENARIUSZ: James Gunn
STUDIO: Warner Bros. Pictures
DYSTRYBUTOR W POLSCE: Warner Bros. Poland/ Galapagos
STRONA OFICJALNA: TheSuicideSquad.net
OFICJALNA POLSKA STRONA:
warnerbros.pl/filmy/legion-samobojcow
PREMIERA: 6 sierpnia 2021 (USA, HBO Max), kin: 4009


6 sierpnia 2021 (Polska), kopii: 345
DVD i Blu-ray™: 26 października 2021 (USA)
3 listopada 2021 (Polska)
Igrają ze śmiercią, żeby ocalić świat.
Scenarzysta i reżyser James Gunn prezentuje nowy film akcji studia Warner Bros. Pictures pod tytułem "Legion samobójców. The Suicide Squad". W widowisku będzie można zobaczyć zbiorowisko najbardziej zdegenerowanych opryszków ze świata DC.
Witajcie w piekle, zwanym też Belle Reve. Jest to więzienie z największym odsetkiem zgonów w Stanach Zjednoczonych Ameryki. Trzymani są tu najgorsi superzłoczyńcy, którzy posuną się do wszystkiego, żeby odzyskać wolność. Nawet do wstąpienia do supertajnej i superszemranej Jednostki Uderzeniowej X. Dzisiejsze zadanie z rodzaju "wykonaj albo zgiń"? Zebrać oddział przestępców, w tym Bloodsporta, Peacemakera, Kapitana Boomeranga, Ratcatcher Drugą, Savanta, King Sharka, Blackguarda, Javelina i ulubioną świruskę każdego, Harley Quinn. Następnie uzbroić ich po zęby i zrzucić (dosłownie) na odludnej wyspie Corto Maltese, na której roi się od wrogów. Oddział, wykonując swoją misję poszukiwawczą, przedziera się przez dżunglę, w której za każdym drzewem czają się bojówkarze i partyzanci. Renegatów okiełznać może jedynie towarzyszący im pułkownik Rick Flag… oraz rządowe implanty w uszach, zdradzające każde ich posunięcie Amandzie Waller. I jak zwykle – jeden nieopatrzny ruch i nie żyją (z ręki przeciwników, współtowarzysza lub samej Waller). Gdyby ktoś chciał pobawić się w hazardzistę, to rozsądek podpowiada, żeby na nich nie stawiać. Na żadne z nich.
W rolach głównych występują Margot Robbie (Ptaki nocy, Gorący temat), Idris Elba (Avengers: Wojna bez granic), John Cena (nadchodzący serial HBO Max Peacemaker, Bumblebee), Joel Kinnaman (Legion samobójców), Jai Courtney (seria filmów z cyklu Niezgodna), Peter Capaldi (World War Z, serial BBC Doktor Who ), David Dastmalchian (najnowsza Diuna, Ant-Man i Osa), Daniela Melchior (Parque Mayer), Michael Rooker (filmy z cyklu Strażnicy galaktyki), Alice Braga (Elizjum), Pete Davidson (Król Staten Island, program Saturday Night Live), Joaquín Cosio (Spider-Man: Uniwersum, serial Narcos: Meksyk), Juan Diego Botto (Po europejsku), Storm Reid (Niewidzialny człowiek, Pułapka czasu, Euphoria), Nathan Fillion (Strażnicy galaktyki, serial Rekrut), Steve Agee (Brightburn: Syn ciemności, Strażnicy galaktyki Vol. 2), Sean Gunn (filmy z serii Strażnicy galaktyki i Avengers), Mayling Ng (Wonder Woman), Flula Borg (Ralph Demolka w internecie), Jennifer Holland (Brightburn: Syn ciemności, serial HBO Max Peacemaker, którego premiera dopiero nastąpi) i Tinashe Kajese (serial Valor, The Inspectors) oraz Sylvester Stallone (filmy z serii Rocky, Rambo i Niezniszczalni) i Viola Davis (Ma Rainey: Matka bluesa, Legion samobójców).
Gunn (filmy z cyklu Strażnicy galaktyki) wyreżyserował film na podstawie własnego scenariusza, posiłkując się postaciami stworzonymi przez DC. Producentami filmu są Charles Roven i Peter Safran. Zack Snyder, Deborah Snyder, Walter Hamada, Chantal Nong Vo, Nikolas Korda i Richard Suckle są z kolei producentami wykonawczymi.
W ekipie Gunna znaleźli się m.in. operator Henry Braham (Strażnicy galaktyki Vol. 2), scenografka Beth Mickle (Kapitan Marvel), montażyści Fred Raskin (Strażnicy galaktyki Vol. 2, Pewnego razu… w Hollywood) i Christian Wagner (filmy z cyklu Szybcy i wściekli) oraz nominowana do Oscara projektantka kostiumów Judianna Makovsky (Strażnicy galaktyki Vol. 2, Avengers: Koniec gry, Harry Potter i kamień filozoficzny). Muzykę skomponował John Murphy (Kick-Ass).
Warner Bros. Pictures przedstawia produkcję Atlas Entertainment i Petera Safrana w reżyserii Jamesa Gunna pod tytułem Legion samobójców. The Suicide Squad. Film będzie rozpowszechniany na całym świecie przez Warner Bros. Pictures.
The Suicide Squad jest już dziesiątą odsłoną kinowego uniwersum DC, nieoficjalnie nazywanego "DC Cinematic Universe". To również luźna kontynuacja hitu Suicide Squad (2016) wyreżyserowanego przez Davida Ayera. Całość została oparta na postaciach DC Comics. Film zadebiutował równolegle w kinach i na platformie HBO Max 6 sierpnia 2021 roku i był dystrybuowany przez Warner Bros. Pictures.
---
Produkcja: Charles Roven, Peter Safran
Producenci wykonawczy: Zack Snyder, Deborah Snyder, Walter Hamada, Chantal Nong Vo, Nikolas Korda, Richard Suckle
Współproducent: Simon Hatt
Zdjęcia: Henry Braham
Muzyka: John Murphy
Montaż: Fred Raskin, Christian Wagner
Kostiumy: Judianna Makovsky
Scenografia: Beth Mickle
Obsada: Idris Elba, Margot Robbie, Daniela Melchior, John Cena, Joel Kinnaman, Viola Davis, David Dastmalchian, Michael Rooker, Nathan Fillion, Jai Courtney, Mayling Ng, Flula Borg, Pete Davidson, Sean Gunn, Steve Agee, Peter Capaldi, Juan Diego Botto, Joaquín Cosio, Storm Reid, Sylvester Stallone