O FILMIE | RECENZJA | GALERIE | ZWIASTUNY | NAJŚWIEŻSZE WIADOMOŚCI
---
TAKI POWINIEN BYĆ SUICIDE SQUAD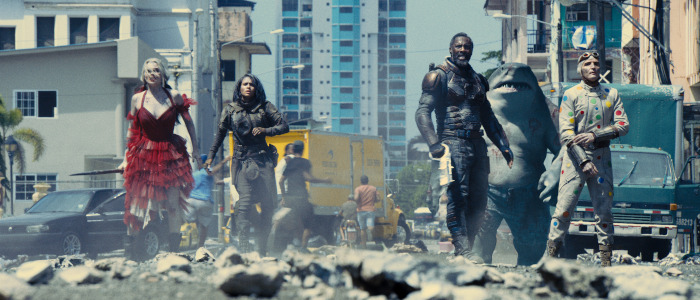 Jestem mile zaskoczony. Reżyser James Gunn wziął na przysłowiowy warsztat te same narzędzia, którymi przed pięcioma laty operował David Ayer, ale w przeciwieństwie do poprzednika skonstruował nimi sprawnie pracującą maszynę. Dało się? Dało. Czemu tym razem jest lepiej?
Przede wszystkim, The Suicide Squad nie obraża widza swoją fabułą! Nie rekrutuje się tu bandy psycholi ze średniej jakości umiejętnościami (lub ich zupełnym brakiem), do ratowania całego miasta/świata przed jakimś paranormalnym bóstwem, co nie miałoby za grosz sensu. Scenariusz podąża śladami Parszywej dwunastki, czyli opowiada o samobójczej Black Ops mission, w którą wyruszają osobnicy nie mający nic do stracenia. Docierają na fikcyjną wyspę Corto Maltese, aby zniszczyć tajną placówkę badawczą – tyle. I tyle wystarczy. Fabuła jest konkretniejsza, sensowniejsza (choć nie pozbawiona wad), a antybohaterowie o wiele lepiej napisani i przede wszystkim potrzebni w swoim oddziale (choć z początku mogłoby się wydawać inaczej). Tak to powinno było wyglądać już w 2016 roku!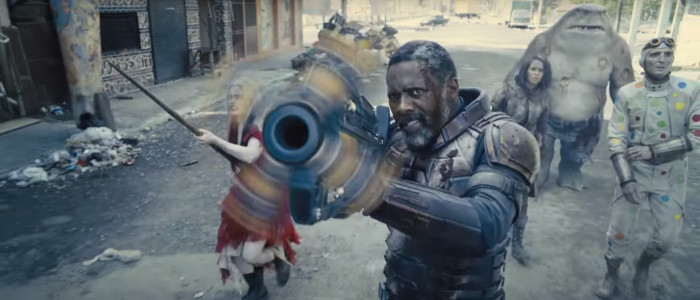 Wielkim sukcesem najnowszego tytułu kinowego uniwersum DC pozostaje dla mnie Harley Quinn. Byłem w mniejszości, bo zupełnie nie podobała mi się interpretacja tej postaci w wykonaniu Margot Robbie. Była przewidywalna, irytująca i nieśmieszna. Można by rzec "do trzech razy sztuka", bo po trzech filmach z jej udziałem, w końcu ją polubiłem. Margot gra barwą głosu, jakby chciała się upodobnić do doskonałej Harley z serialu animowanego z lat 90-tych, jest zabawna, potrafi zaskoczyć, świetnie spisuje się w scenach akcji (to na niej opiera się najlepsza sekwencja łubudubu w całym filmie) i nawet stroje dostała lepsze niż kiedykolwiek wcześniej. Dobrze też, że film nie opiera się głównie na niej, dzięki czemu prawie każdy z oddziału dostaje swoje 5 minut, aby zabłysnąć. Większości się to udaje. Nawet finałowy czarnych charakter, który mógłby być kolejnym bezmózgim CGI-stworem pokroju Doomsdaya, okazuje się przeciwnikiem z historią, motywacją i jedną linijką tekstu, po której widz może mu współczuć. Wygląda komicznie (w pozytywnym tego słowa znaczeniu) i bardzo się obawiałem jaką odegra rolę w tym wszystkim, ale wypadł lepiej niż mogłem to sobie wyobrazić.
James Gunn napisał i wyreżyserował całość z pełną wolnością artystyczną. Zaowocowało to solidnym akcyjniakiem, ze świetną ścieżką dźwiękową, kilkoma ciekawymi pomysłami realizatorskimi i rewelacyjnymi efektami wizualnymi (komputerowe stworzenia robią wrażenie fotorealizmem). Niestety, jestem zdania że reżyser jest w tym przypadku również największym problemem filmu. Wydaje mi się, że po sukcesach u konkurencji poczuł się bardzo pewnie, przez co przy opowiadaniu nowej historii Task Force X próbuje być fajniejszy, bardziej zabawny, bardziej zaskakujący i bardziej przewrotny, niż mu to ostatecznie wychodzi.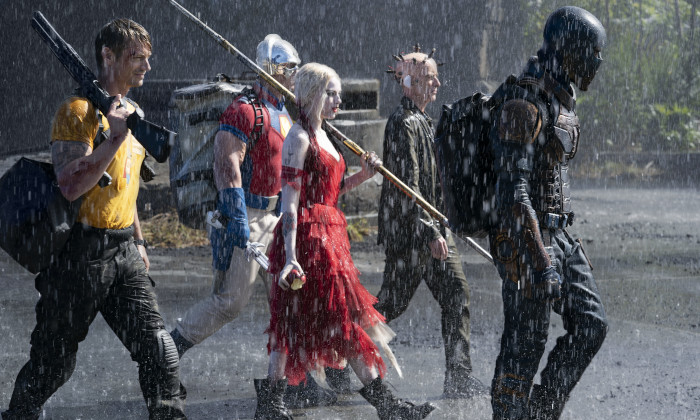 Reżyser dwukrotnie dokonuje tu zabiegu przedstawiania sekwencji z dwóch perspektyw – najpierw z jednymi bohaterami, a później z innymi we flashbacku – szczególnie za drugim razem wydało mi się to niepotrzebne i efekciarskie. Kilka razy nieźle się uśmiałem, ale wiele żartów przeszło obok mnie i ciągnęło się o wiele za długo (np. "penisy na plaży"), a inne były zwyczajnie do przewidzenia. Gunn nie zna również umiaru w kwestii brutalności, która w połączeniu z wulgarnym humorem i pochmurną atmosferą na wyspie daje nieprzyjemny efekt. To film, który łatwo może odrzucić. W pewnym momencie zwróciłem też uwagę na brak umiaru w ilości postaci i metrażu. Myślę, że spokojnie dałoby się go skrócić o dobry kwadrans wycinając zbędne flashbacki z życia Ratcatcher 2 i całą rolę przystojnego prezydenta Corto Maltese, która tylko spowalnia resztę, kiedy ta powinna przejść do rzeczy.
The Suicide Squad dołącza do nielicznego grona tych odsłon kinowego uniwersum DC, do których na pewno zamierzam jeszcze wrócić. Smrodek ciągnący się po poprzedniej części, a także źle rozpoczęta kampania marketingowa wyrządziły mu sporą krzywdę. Szkoda, bo jest znacznie lepiej.
Ocena: 4,5 nietoperka