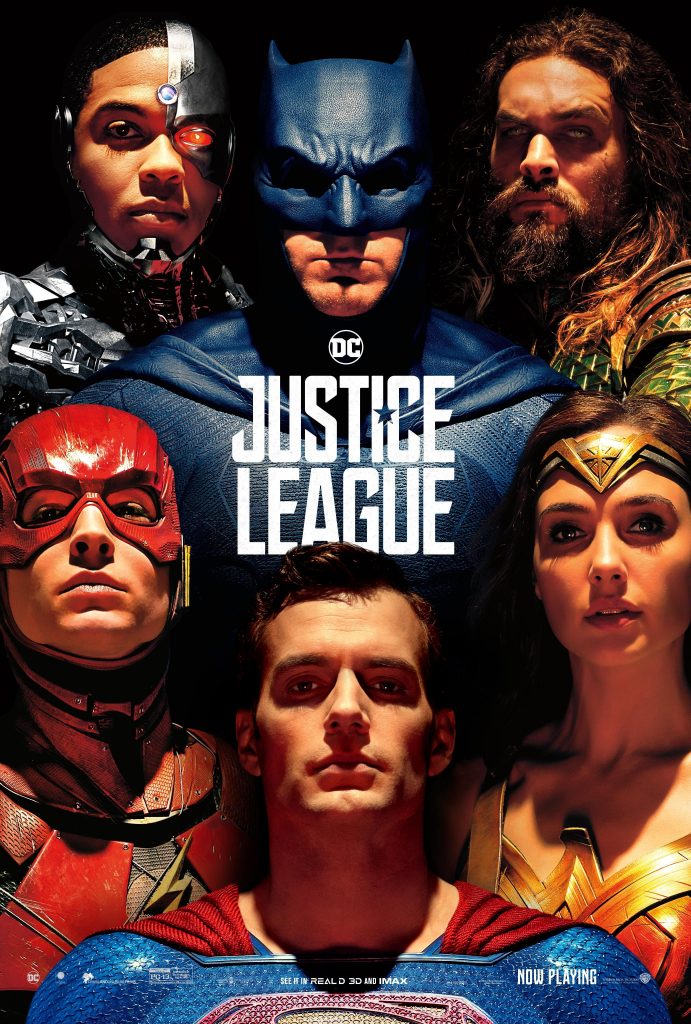 JUSTICE LEAGUE (USA, 2017)
TYTUŁ POLSKI: LIGA SPRAWIEDLIWOŚCI
GATUNEK: Akcja/ Przygoda/ Fantasy/ Sci-Fi
SZACOWANY BUDŻET: 300 milionów dolarów
CZAS PROJEKCJI: 120 minut
REŻYSERIA: Zack Snyder
POMYSŁ HISTORII: Chris Terrio i Zack Snyder
SCENARIUSZ: Chris Terrio i Joss Whedon
STUDIO: Warner Bros. Pictures/ Access Entertainment
DYSTRYBUTOR W POLSCE: Warner Bros. Poland/ Galapagos
STRONY OFICJALNE: JusticeLeagueTheMovie.com,
UniteTheLeague.com, JoinTheLeague.DCcomics.com
OFICJALNA POLSKA STRONA: Galapagos.com.pl
PREMIERA: 17 listopada 2017 (USA), kin: 4051


17 listopada 2017 (Polska), kopii: 209
DVD i Blu-ray™: 13 marca 2018 (USA)
4 kwietnia 2018 (Polska)
Nie ocalisz świata w pojedynkę.
Napędzany przywróconą wiarą w ludzkość i zainspirowany altruistycznym działaniem Supermana, Batman werbuje do pomocy nowo poznaną sojuszniczkę, Dianę Prince, by zmierzyć się z jeszcze groźniejszym wrogiem. Razem Batman i Wonder Woman pracują szybko, by znaleźć i zrekrutować do walki z nowym zagrożeniem zespół metaludzi. Pomimo zebrania bezprecedensowej ligi bohaterów – Batmana, Wonder Woman, Aquamana, Cyborga, Flasha – może być już za późno, by ocalić planetę przed atakiem o katastrofalnych skutkach.
Liga Sprawiedliwości to piąta odsłona kinowego uniwersum DC, nieoficjalnie nazywanego "DC Extended Universe". Film jest bezpośrednią kontynuacją Batman v Superman: Dawn of Justice z 2016 roku. Całość została oparta na postaciach DC Comics. Twórcą Justice League of America jest Gardner Fox. Postać Batmana stworzył Bob Kane z Billem Fingerem. Postać Supermana stworzyli Jerry Siegel i Joe Shuster. Autorem postaci Wonder Woman jest William Moulton Marston. Film był dystrybuowany na całym świecie przez Warner Bros. Pictures.
---
Produkcja: Charles Roven, Deborah Snyder, Jon Berg, Geoff Johns
Producenci wykonawczy: Wesley Coller, Curtis Kanemoto, Daniel S. Kaminsky, Jim Rowe, Chris Terrio, Ben Affleck, Christopher Nolan i Emma Thomas
Współproducenci: Marianne Jenkins, Gregor Wilson
Zdjęcia: Fabian Wagner
Muzyka: Danny Elfman
Montaż: David Brenner, Richard Pearson, Martin Walsh
Kostiumy: Michael Wilkinson
Scenografia: Patrick Tatopoulos
Obsada: Ben Affleck, Gal Gadot, Ezra Miller, Jason Momoa, Ray Fisher, Henry Cavill, Amy Adams, Jesse Eisenberg, Jeremy Irons, J.K. Simmons, Amber Heard, Diane Lane, Connie Nielsen, Ciarán Hinds, Billy Crudup, Joe Morton