---
| O FILMIE | RECENZJE | GALERIE | ZWIASTUNY |

---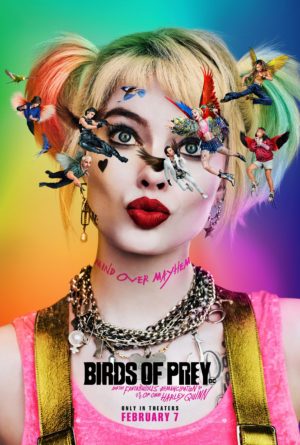 BIRDS OF PREY (and the Fantabulous Emancipation of One Harley Quinn) (USA, 2020)
TYTUŁ POLSKI: Ptaki Nocy (i fantastyczna emancypacja pewnej Harley Quinn)
GATUNEK:
BUDŻET: 75 mln dolarów
CZAS PROJEKCJI:
REŻYSERIA: Cathy Yan
SCENARIUSZ: Christina Hodson
STUDIO: Warner Bros. Pictures
DYSTRYBUTOR W POLSCE: Warner Bros. Poland
STRONY OFICJALNE:
PREMIERA: 7 lutego 2020 (USA)
A znacie to o policjantce, kanarku, wariatce i mafijnej księżniczce? Ptaki Nocy (i fantastyczna emancypacja pewnej Harley Quinn) to pokręcona historia, opowiadana przez samą Harley w stylu, w jakim tylko ona może ją opowiedzieć. Kiedy najbardziej narcystyczny z bandziorów Gotham, Roman Sionis, i jego oddana prawa ręka Zsasz biorą na cel niejaką Cass, w poszukiwania dziewczyny angażuje się całe miasto. Nieprawdopodobny zbieg okoliczności krzyżuje drogi Harley, Łowczyni, Czarnego Kanarka i Renee Montoyi. Cztery diametralnie różniące się kobiety nie mają wyjścia. Muszą współpracować, żeby pokonać Romana.
Występują: Margot Robbie, Marry Elizabeth Winstead, Jurnee Smollett – Bell, Rosie Perez, Ella Jay Basco, Ewan McGregor
---
Wszystkie newsy na temat filmu znajdują się pod tym linkiem.