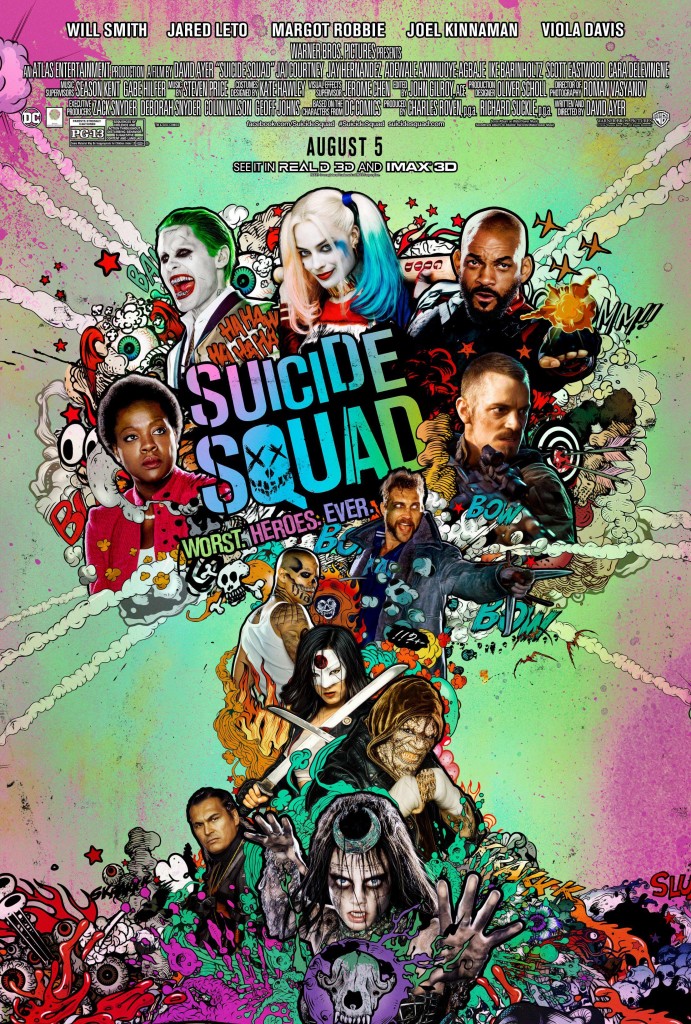 SUICIDE SQUAD (USA, 2016)
TYTUŁ POLSKI: LEGION SAMOBÓJCÓW
GATUNEK: Akcja/ Przygoda/ Fantasy/ Sci-Fi
BUDŻET: 175 milionów dolarów
CZAS PROJEKCJI: 123 minuty
WERSJA ROZSZERZONA: 135 minut
REŻYSERIA: David Ayer
SCENARIUSZ: David Ayer
STUDIO: Warner Bros. Pictures
DYSTRYBUTOR W POLSCE: Warner Bros. Poland/ Galapagos
STRONA OFICJALNA: DCcomics.com/SuicideSquad
OFICJALNA POLSKA STRONA: Galapagos.com.pl
PREMIERA: 5 sierpnia 2016 (USA), kin: 4255


5 sierpnia 2016 (Polska), kopii: 248
DVD i Blu-ray™: 13 grudnia 2016 (USA)
5 grudnia 2016 (Polska)
Jak dobrze być złym…
Zebrać drużynę złożoną z najbardziej niebezpiecznych pojmanych superprzestępców. Następnie przekazać im najpotężniejszą broń, jaką dysponuje rząd. Wreszcie wysłać ich na misję, której celem jest pokonanie tajemniczego, nieprzeniknionego bytu. Amanda Waller, oficer amerykańskiego wywiadu, doszła do wniosku, że do takiego zadania nada się jedynie zbieranina łotrów, którzy nie mają absolutnie nic do stracenia. Co zrobi Legion Samobójców, gdy jego członkowie zorientują się, że nie zostali wybrani dlatego, iż mają szansę wygrać, ale dlatego, że nikt nie będzie ich żałował, gdy poniosą klęskę? Czy dadzą z siebie wszystko, choćby mieli zginąć, czy będą walczyć o własne przetrwanie?
---
W 2016 roku oprócz "Batman v Superman: Dawn of Justice" na ekrany kin wejdzie też inny film z bohaterami DC Comics, którego akcja rozgrywać się będzie w tym samym uniwersum. Bohaterami "Suicide Squad" będzie grupa superzłoczyńców, która na zlecenie rządu wykonuje bardzo niebezpieczne misje. W filmie zobaczymy liczne grono złoczyńców, w tym Jokera, którego zagra Jared Leto, oraz Harley Quinn, w tej roli Margot Robbie. W rolę pozostałych bohaterów wcielą się Will Smith (Floyd Lawton/ Deadshot), Joel Kinnaman (Rick Flag), Viola Davis (Amanda Waller), Jai Courtney (George "Digger" Harkness/ Boomerang), Cara Delevingne (June Moone/ Enchantress), Adewale Akinnuoye-Agbaje (Waylon Jones/ Killer Croc).
Reżyser David Ayer ("Furia", "Bogowie ulicy") przedstawia film Legion samobójców z udziałem nominowanego do Oscara Willa Smitha ("Ali", "W pogoni za szczęściem"), zdobywcy Oscara Jareda Leto ("Witaj w klubie"), Margot Robbie ("Wilk z Wall Street", "Focus"), Joela Kinnamana (dostępny w Netflix serial "House of Cards") oraz nominowanej do Oscara Violi Davis ("Służące", "Wątpliwość").
Scenariusz do filmu napisał jego reżyser David Ayer w oparciu o postaci z uniwersum DC Comics. Występują w nim także: Jai Courtney ("Zbuntowana"), Jay Hernandez ("Chętni na kasę"), Adewale Akinnuoye-Agbaje ("Thor: Mroczny świat"), Ike Barinholtz ("Sąsiedzi"), Scott Eastwood ("Furia"), Cara Delevingne ("Papierowe miasta"), Adam Beach ("Kowboje i obcy") oraz debiutująca na dużym ekranie Karen Fukuhara. Produkcją filmu zajęli się Charles Roven i Richard Suckle, natomiast Zack Snyder, Deborah Snyder, Colin Wilson oraz Geoff Johns pełnili funkcje producentów wykonawczych.
W ekipie filmowej Ayera znaleźli się: operator Roman Vasyanov ("Furia", "Bogowie ulicy"), scenograf Oliver Scholl ("Na skraju jutra"), montażysta John Gilroy ("Pacific Rim"), projektantka kostiumów Kate Hawley (trylogia "Hobbit") oraz nominowany do Oscara specjalista od efektów wizualnych Jerome Chen ("Stuart Malutki", "Furia", filmy z serii "Niesamowity Spider-Man"). Muzykę do filmu skomponował zdobywca Oscara Steven Price ("Grawitacja").
Warner Bros. Pictures przedstawia produkcję Atlas Entertainment zatytułowaną Legion samobójców w reżyserii Davida Ayera. Film rozpowszechniany na całym świecie przez Warner Bros. Pictures należącą do Warner Bros. Entertainment. Światowa premiera odbyła się 5 sierpnia 2016 roku, film wyświetlano w 3D i 2D oraz w wybranych kinach IMAX 3D.
---
Produkcja: Richard Suckle, Charles Roven
Producenci wykonawczy: Zack Snyder, Deborah Snyder, Colin Wilson, Geoff Johns
Współproducenci: Andy Horwitz, Alex Ott
Zdjęcia: Roman Vasyanov
Muzyka: Steven Price
Montaż: John Gilroy
Kostiumy: Kate Hawley
Scenografia: Oliver Scholl, Sean Haworth (dokrętki)
Obsada: Will Smith, Jared Leto, Margot Robbie, Joel Kinnaman, Viola Davis, Jai Courtney, Jay Hernandez, Adewale Akinnuoye-Agbaje, Karen Fukuhara, Cara Delevingne, Adam Beach, Ben Affleck, Jim Parrack, Common, Alex Meraz, David Harbour, Corina Calderon, Ike Barinholtz, Scott Eastwood, Mark Quigley, Amos Stern, Brianna Goldie, Justin Moses, Brendan Egan, Ezra Miller