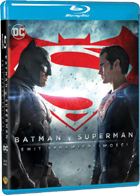 BATMAN V SUPERMAN: ŚWIT SPRAWIEDLIWOŚCI
/BATMAN V SUPERMAN: DAWN OF JUSTICE/
Data wydania (Polska): 17.08.2016
Wydawca: Galapagos
Rok produkcji: 2016
Czas trwania filmu: 151 min.
Wersja wydania: 1 płytowa
Zawartość płyty 1: film i dodatki
Wersje językowe filmu: angielski, hindi, węgierski, polski (dubbing), turecki, czeski, rosyjski
Dźwięk wersji oryginalnej filmu: Dolby Atmos
Napisy: słoweńskie, rumuńskie, estońskie, litewskie, łotewskie, koreańskie, angielskie, polskie, węgierskie, rosyjskie, arabskie, tureckie, bułgarskie, chorwackie, czeskie, portugalskie, hebrajskie
Wersja dla niesłyszących: angielska
Dodatki: Zjednoczenie najlepszych: Rzut oka na przyszłość śmiałych, nowych filmowych bohaterów z uniwersum DC. Bogowie i ludzie: Spotkanie gigantów – Sprawiedliwość miesza się z zemstą, gdy dwaj ikoniczni bohaterowie ścierają się na ekranie po raz pierwszy w historii. Wojowniczka, mit, cud: Poznaj korzenie, ewolucję i wpływ Wonder Woman z plemienia Amazonek na popkulturę kulturę popularną. Projektując przyspieszenie: Nowy batmobile – Przygotuj się na ostrą jazdę najnowszym wozem Batmana. I wiele więcej!
Opis: Megahit kinowy! W obawie przed poczynaniami nieposkromionego superbohatera o boskich rysach i zdolnościach najznamienitszy obywatel Gotham City, Batman (Ben Affleck) staje do walki z otaczanym czcią współczesnym wybawcą Metropolis, Supermanem (Henry Cavill), podczas gdy świat usiłuje ustalić, jakiego bohatera naprawdę potrzebuje. >>>WIĘCEJ O FILMIE

---

DODATKI SPECJALNE:

Uniting The World's Finest (00:15:05)
Gods and Men: A Meeting of Giants (00:12:28)
The Warrior, The Myth, The Wonder (00:21:16)
Accelerating Design: The New Batmobile (00:22:46)
Superman: Complexity & Truth (00:07:08)
Batman: Austerity & Rage (00:08:15)
Wonder Woman: Grace & Power (00:06:48)
Batcave: Legacy of The Lair (00:07:12)
The Might and The Power of A Punch (00:05:15)
The Empire of Luthor (00:12:33)
Save the Bats (00:04:37)

ŁĄCZNY CZAS TRWANIA DODATKÓW: 02:03:23.

---
Poprzednia Strona