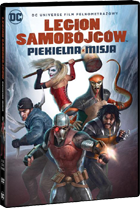 LEGION SAMOBÓJCÓW: PIEKIELNA MISJA
/SUICIDE SQUAD: HELL TO PAY MFV/
Data wydania (Polska): 23.05.2018
Wydawca: Galapagos
Gatunek: animacja
Cena rynkowa: 34,99 PLN
Rok produkcji: 2018
Czas trwania filmu: 82 minuty
Wersja wydania: 1 płytowa
Zawartość płyty 1: film, dodatki
Wersje językowe filmu: angielska, francuska, niemiecka, hiszpańska, polski lektor
Dźwięk wersji oryginalnej filmu: Dolby Digital Stereo 5.1
Napisy: rumuńskie, polskie, francuskie, holenderskie, portugalskie, hiszpańskie
Wersja dla niesłyszących: j.angielski, j.niemiecki
Dodatki: Zapowiedź następnego animowanego filmu ze świata DC Universe: THE DEATH OF SUPERMAN
Opis: Nowość DC Universe! Pora raz jeszcze spuścić ze smyczy Legion samobójców! Tym razem celem przebiegłych złoczyńców będzie zdobycie mistycznego przedmiotu o tak wielkiej mocy, że chętnie zaryzykują życie, aby go ukraść. To gotowy przepis na chaos! Pakuj manatki i ruszaj w szaloną podróż z Legionem samobójców!>>>WIĘCEJ O FILMIE
Legion Samobójców: Piekielna Misja – recenzja
Legion Samobójców powrócił! Drużynę czeka iście piekielna misja i nie wszyscy powrócą z niej żywi. Wszystko zaczyna się gdy Amandzie Waller śmierć zagląda w oczy. W uniwersum DC istnieje magiczny artefakt, który pozwala umierającemu grzesznikowi wymigać się od piekła. Pani Waller to zimna i wyrachowana osoba, więc ma wiele grzechów na sumieniu. Magiczną kartę ma zdobyć jej osobista drużyna do zadań specjalnych znana jako Task Force X. Tym razem do Deadshota, Harley Quinn, Kiler Frost i Kapitana Bumeranga dołącza Copperhead oraz Spiżowy Tygrys. Zadanie jest tym trudniejsze, gdyż artefaktu poszukuje kilku innych złoczyńców. Rozpoczyna się brutalna rywalizacja.
Film Sama Liu to czyste kino akcji klasy B. Trup ściele się gęsto, jest krwawo i niestety niezbyt śmiesznie. Twórcy wykorzystują estetykę filmów Grindhouse. Jest trochę golizny i niewybrednych żartów z magiczno/horrorowego zakątka DC. Scenarzysta filmu Alan Burnettosadził przygodę w świecie New 52 i nawiązał do wydarzeń ze świata Flashpoint i to chyba wraz z płynną animacją i scenami akcji, najjaśniejsza strona produkcji.
W filmie jest wielu złoczyńców, którzy niewiele wnoszą do fabuły. Postacie napisane są na kolanie, a dramat rodzinny jest nijaki. Protagoniści prowadzą nudne rozmowy w przyczepie, jest striptiz męski i dwie superbohaterki lesbijki. Film zdecydowanie polecił bym starszym widzom, ale tylko tym mało wybrednym.
Film trwa nie całe półtorej godziny, w czasie której można spokojnie wyłączyć myślenie i oglądać rozwałkę na ekranie, zajadając się popcornem. "Legion Samobójców: Piekielna Misja" niestety szybko ulatuje z pamięci. Twórcy sugerują przewrotnym finałem, że drugi film animowany o oddziale do zadań specjalnych może być ostatnim z serii. Dodatkowo na płycie znalazły się trzy zapowiedzi animowanych filmów DC w tym najnowszego: "Śmierć Supermana".
Dziękujemy dystrybutorowi filmu Galapagos Film za udostępnienie egzemplarza do recenzji.
Ocena: 3 nietoperki

---
Poprzednia Strona