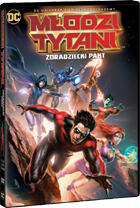 MŁODZI TYTANI: ZDRADZIECKI PAKT
/TEEN TITANS: JUDAS CONTRACT/
Data wydania (Polska): 24.05.2017
Wydawca: Galapagos
Gatunek: animacja
Cena rynkowa: 34,99 PLN
Rok produkcji: 2017
Czas trwania filmu: 81 minut
Wersja wydania: 1 płytowa
Zawartość płyty 1: film, dodatki
Wersje językowe filmu: polska (lektor), angielska, węgierska, czeska
Dźwięk wersji oryginalnej filmu: Dolby Digital 5.1
Napisy: polskie, chińskie, węgierskie
Wersja dla niesłyszących: angielska
Dodatki: Zapowiedź następnego animowanego filmu ze świata DC Universe: Batman i Harley Quinn
Opis: Młodzi Tytani to zwarty zespół zjednoczony w niekończącej się walce ze złem. Jednak ich nowa koleżanka, tajemnicza i potężna Terra, może zachwiać grupą. Ponadto na horyzoncie pojawia się Brother Blood, a w cieniu czai się znajomy wróg: Deathstroke. Młodzi Tytani będą musieli zwalczyć wewnętrzne wątpliwości i dojść do porozumienia, by pokonać osaczające ich wrogie siły w tej pełnej przygód i zwrotów akcji opowieści o oszustwach i intrygach. >>>WIĘCEJ O FILMIE

"Młodzi Tytani: Zdradziecki Pakt" jest uwspółcześnioną adaptacją komiksu "Kontrakt Judasza" autorstwa Marva Wolfmana i Georga Pereza. Fanom komiksu nie trzeba przypominać, że to jedna z najważniejszych historii Młodych Tytanów i świata DC. Nakręcenie pełnometrażowej animacji na podstawie tego tytułu było tylko kwestią czasu.
Opowieść Wolfmana i Pereza była przedstawiana już w serialu "Teen Titans." Teraz animatorzy i scenarzyści postanowili uwspółcześnić tę historię i pokazać ją jeszcze raz jako pełnometrażowy film przeznaczony na rynek DVD. Film jest kontynuacją poprzedniego filmu serii "Młodzi Tytani kontra Liga Sprawiedliwych" z 2016 roku. Tym razem Młodzi herosi mają w swoich szeregach zdrajcę i jakby tego było mało muszą się zmierzyć z niebezpieczną sektą kierowaną przez Brother Blooda. Od samego początku widz domyśla się kto jest zdrajcą co jest największym minusem scenariusza. Po za tym 81 minutowy film nabiera tępa dopiero w drugiej połowie historii.
W prologu dowiadujemy się jak Starfire dołączyła do drużyny, poczym przenosimy się dziesięć lat w przyszłość. Nightwing i Koriand'r (Starfire) mieszkają razem. Do drużyny dołączyła Terra. Zbuntowana nastolatka mająca zdolności kontrolowania żywiołu ziemi. Właściwie przez pierwszą połowę filmu obserwujemy życiowe dramaty kilku członków drużyny. To typowy film obyczajowy dla nastolatków. Dopiero, gdy do akcji wkracza Deathstroke fabuła nabiera rumieńców. W czasie seansu spoglądałem nerwowo na zegarek. Irytowały mnie nie tyle życiowe rozterki nastoletnich bohaterów, to w końcu seria o nastolatkach, a całkiem moim zdaniem nie potrzebny kontekst seksualny w relacjach między niektórymi bohaterami. W pewnym momencie Terra zachowuje się wobec zabójcy Deathstroke'a jak lolitka. Rozumiem, że ukazanie tego typu relacji miało sprawić, że film stanie się "dojrzalszy" dla nastolatków, ale powiedzmy sobie szczerze jest to zabieg raczej niskich lotów.
Film jest rysowany w mangowym stylu, który przeważa w ostatnich produkcjach animowanych DC/WB. Niestety w tym przypadku cukierkowaty i niedbały styl animatorów irytuje. Historia przez to nie staje się poważna, ale infantylna. A już wsadzenie do filmu Kevina Smitha w mangowej wersji zostawię bez komentarza. Dostajemy także parę łopatologicznie brzmiących morałów. "Młodzi Tytani: Zdradziecki Pakt" jest produkcją raczej tylko dla fanów drużyny i to takich, którzy nie czytali jeszcze komiksowego oryginału.
W dodatkach znajdziemy filmy zza kulis produkcji, jakie na naszym rynku wydał i wyda wydawca Galapagos, któremu dziękujemy za udostępnienie filmu do recenzji.
Ocena: 3,5 nietoperka

---
Poprzednia Strona