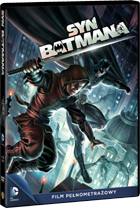 SYN BATMANA
/SON OF BATMAN/
Data wydania (Polska): 12.09.2014
Wydawca: Galapagos
Gatunek: animacja
Cena rynkowa: 39 PLN
Rok produkcji: 2014
Czas trwania filmu: 71 minut
Wersja wydania: 1 płytowa
Zawartość płyty 1: film, dodatki
Wersje językowe filmu: polska (lektor), angielska, węgierska, turecka
Dźwięk wersji oryginalnej filmu: Dolby Digital 5.1
Napisy: angielskie, polskie, węgierskie, rosyjskie, rumuńskie
Wersja dla niesłyszących: angielska
Dodatki: zwiastuny, Zapowiedź nowego fimu animowanego DC Universe – "Batman: Atak na Arkham"
Opis: Na szczycie górskiej twierdzy, znajduje się baza tajemniczej Ligii Zabójców, oraz jej lidera Ra'sa Al Ghulema. Wraz ze swoją córką Talią, dowodzi wyszkoloną armią zabójców, planując podbicie świata. Niespodziewany bunt wewnątrz Ligii zmusza Talię i jej syna Damiana do ucieczki do Gotham City. Talia, prosi o wsparcie Batmana, który dowiaduje się, że jest ojcem chłopca. Zemsta płynie we krwi! >>>WIĘCEJ O FILMIE

Syn Batmana – recenzja
Niektórych historii nie powinno się adaptować na potrzeby filmów. Taki wniosek nasunął mi się po obejrzeniu Syna Batmana. Dzięki wydawnictwu Egmont jakiś czas temu poznaliśmy komiksową wersję tej opowieści. Niestety jest to jeden z najsłabszych komiksów z Batmanem jaki czytałem. Sam pomysł Morrisona by dać obrońcy Gotham syna był dość kontrowersyjny. Ale w świecie komiksowym się przyjął i przez parę lat kolejnym Robinem był Damian Wayne. Film opowiada o spotkaniu ojca i syna.
Fabuła opiera się na tyle luźno na komiksowym pierwowzorze, że ten kto go nie czytał niewiele traci. Właściwie film Ethana Spauldinga, to płytka historia wypełniona akcją w 90%. Trzeba przyznać, że jest dość krwawo. Relacje ojca z synem sprowadzają się jedynie do paru sztampowych dialogów. Zresztą Damian to taki sam nadęty smarkacz jak w komiksie. Jeżeli nie lubicie tej postaci, to recenzowany film w tej kwestii, też nic nie zmieni. Postaci dramatu jest tu więcej niż w pierwowzorze. Poznajemy nastoletnią córkę Kirka Langstroma w sprawę zamieszany jest także Slade Wilson/Deathstroke, który w ostatnich animacjach DC pojawia się dość często. Jest także Nightwing. Niestety nagromadzenie postaci nic do fabuły nie wnosi. Zresztą jest to historia zwyczajnie nijaka i momentami naciągana do bólu. Nie ma w niej potencjału. Tu nawet śmierć Ra's al Ghula z rąk ludzi Deathstroke'a nie budzi emocji. Za pomysł uśmiercenia Głowy Demona scenarzystą należy się złota malina. Zresztą takich "błyskotliwych" pomysłów jest więcej. Dziesięcioletni Damian jest na przykład praktycznie niezniszczalny. Możesz łamać mu kończyny i temu podobne atrakcje, a i tak przeżyje w końcu to syn Batmana nie?
Za animacje w pełni odpowiadają Japończycy. To anime pełną gębą. Talia al Ghul wygląda kusząco. Jak to u Azjatów, głęboki wyzywający dekolt, talia osy, a z profilu nosa prawie nie widać. Wojownicy cienia wszyscy wyglądają tak samo. Miasta, zamki i inne lokacje zieją pustką i brak im polotu. Pojazdy Batmana pojawiające się w filmie, to wymodelowane bryły stworzone w komputerze. Zresztą sam Gacek momentami wygląda jakby połknął kij od szczotki. Jedynie potworne, zmutowane postacie pokroju Man-batów czy Killer Croca wyglądają ciekawie. Animacja nie jest brzydka, jest po prostu przeciętna.
Aktorzy użyczający głosu postaciom, to w dużej mierze druga liga aktorów serialowych. Wywiązują się ze swojego zadania bardzo dobrze, ale umówmy się w tym filmie nie ma zbyt wielu błyskotliwych dialogów. Muzyka też jest, wpada jednym uchem, a wypada drugim.
To w zasadzie tyle co można napisać na temat tej produkcji. Trochę ponad siedemdziesiąt minut sieczki, obleczonej w słaby scenariusz, to wszystko co twórcy wyciągnęli z "dzieła" Granta Morrisona. Oczywiście film da się oglądać, ale po co? To zdecydowanie najsłabsza animowana adaptacja komiksu rodem z DC. Aż sam się sobie dziwię, że zdołałem na temat tego filmu napisać, prawie pięćset słów.
Ocena: 2,5 nietoperka

---
Poprzednia Strona