---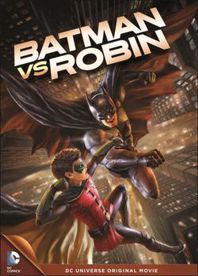 BATMAN VS. ROBIN
(USA, 2015)
TYTUŁ POLSKI: BATMAN KONTRA ROBIN
GATUNEK: Animacja
BUDŻET: 3,5 miliona dolarów
CZAS PROJEKCJI:
REŻYSERIA: Jay Oliva
SCENARIUSZ: J.M. DeMatteis
MUZYKA:
PRODUCENT: James Tucker
STUDIO: Warner Bros. Animation/Warner Premiere
ANIMACJA:
PREMIERA DVD:
14 kwietnia 2015 (USA)
15 maja 2015 (Polska)
Mroczne zaułki Gotham City to nie jest miejsce dla dzieci, ale Damian Wayne nie jest zwykłym dzieckiem. Teraz jako Robin, czasami lekkomyślnie podąża szlakiem swojego ojca, Batmana. Podczas badania miejsca zbrodni, Robin spotyka tajemniczą postać, Talona, który zabierze go w zmieniającą życie podróż w głąb tajnego stowarzyszenia Gotham zwanego The Court of Owls. To niebezpieczna podróż, która zmusza Batmana i Robina do stawienia czoła najbardziej niebezpiecznym przeciwnikom. Film oparty na bestsellerowej powieści graficznej "Batman: The Court of Owls".
Animacja stworzona bezpośrednio na rynek DVD/Blu-ray i skierowana do widzów powyżej 13 roku życia (PG-13).
---
Obsada: Jason O'Mara (Batman), Stuart Allen (Robin), Sean Maher (Nightwing), David McCallum (Alfred), Jeremy Sisto (Talon), Grey DeLisle (Samantha), "Weird Al" Yankovic (Dollmaker), Robin Atkin Downes (Grandmaster), Peter Onorati (Draco), Kevin Conroy (Thomas Wayne).
---
OSTATNIE NEWSY: