---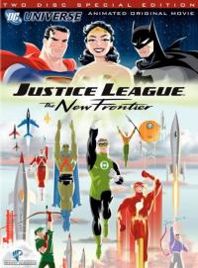 JUSTICE LEAGUE: THE NEW FRONTIER
(USA, 2008)
TYTUŁ POLSKI: LIGA SPRAWIEDLIWYCH: NOWA GRANICA
GATUNEK: Animacja
CZAS PROJEKCJI: 70 minut
REŻYSERIA: Dave Bullock
SCENARIUSZ: Stan Berkowitz, Darwyn Cooke
MUZYKA: Kevin Manthei
PRODUCENCI: Stan Berkowitz, Darwyn Cooke, Bruce W. Timm
STUDIO: Warner Bros. Animation/Warner Premiere
STRONA OFICJALNA: JLNewFrontier.com
PREMIERA DVD: 26 luty 2008 (USA)


PREMIERA TV: 7 marca 2009 (Polska – HBO)
TWOJA OCENA:

GD Star Rating
loading...
Justice League: The New Frontier, na podstawie komiksu DC: The New Frontier, to 70-minutowy film w którym zostanie przedstawiona historia powstania Justice League po drugiej wojnie światowej.
Ziemia znalazła się w poważnym niebezpieczeństwie. Zaatakowała ją nieznana forma z kosmosu, której nie są w stanie pokonać nawet połączone siły Batmana i Supermana. Skuteczny opór może jej stawić tylko Liga Sprawiedliwych, w skład której, oprócz Batmana i Supermana, wejdą także Zielona Latarnia, Amazonka, Marsjanin i Flash. Aby pokonać strasznego potwora, muszą stworzyć zgraną drużynę, która nie zna uczucia strachu. Od nich zależą bowiem losy Ziemi. Jeśli poniosą porażkę, ludzkość na zawsze zniknie z planety…
Animacja stworzona bezpośrednio na rynek DVD/Blu-ray i skierowana do widzów powyżej 13 roku życia (PG-13).
---
Obsada: Jeremy Sisto (Batman), Lucy Lawless (Wonder Woman), Kyle MacLachlan (Superman), Neil Patrick Harris (Flash), David Boreanaz (Green Lantern), Miguel Ferrer (Martian Manhunter), Kyra Sedgwick (Lois Lane), Brooke Shields (Carol Ferris), Phil Morris (King Faraday).