---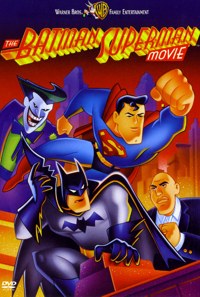 THE BATMAN/SUPERMAN MOVIE
(USA, 1998)
TYTUŁ POLSKI: BATMAN I SUPERMAN
GATUNEK: Animacja/Przygodowy/Sc-Fi/Akcja
CZAS PROJEKCJI: 58 minut*
REŻYSERIA: Toshihiko Masuda
POMYSŁ HISTORII: Alan Burnett, Paul Dini
SCENARIUSZ: Stan Berkowitz, Alan Burnett, Paul Dini, Rich Fogel, Steve Gerber


PRODUCENCI: Alan Burnett, Paul Dini, Bruce W. Timm
STUDIO: Warner Bros. Animation
DYSTRYBUTOR W POLSCE: Warner Home Video/ Galapagos Films
ANIMACJA: TMS-Kyokuichi Corporation
STRONA OFICJALNA: WHV.WarnerBros.com
OFICJALNA POLSKA STRONA: Galapagos.com.pl
PREMIERA: 4 paźdz. 1997/ 18 sierpnia 1998 (USA)
DVD:
23 kwietnia 2002 (USA)
4 sierpnia 2006/ 31 lipca 2007 (Polska)
TWOJA OCENA:

GD Star Rating
loading...
| | | |
| --- | --- | --- |
| | Dwa razy więcej akcji, dwa razy więcej niebezpieczeństw. | |
Żądny pieniędzy Joker, przybywa do Metropolis, gdzie proponuje multimilionerowi Lexowi Luthorowi, że zgładzi Supermana w zamian za nagrodę w wysokości miliarda dolarów. Lex, który chce mieć monopol na władzę i popularność w mieście, zgadza się i zawiera z przestępcą zabójczy pakt. By pozbyć się superbohatera z planety Krypton, Joker wykrada wcześniej ze sklepu z pamiątkami w Gotham City zieloną figurkę mitycznego, japońskiego smoka. Jednak morderczy klown nie jest w stanie ukryć niczego przed Batmanem, po którego analizie okazuje się, że figurka została zrobiona z radioaktywnego kryptonitu, który może śmiertelnie osłabić Supermana. Aby ostrzec Człowieka ze Stali i złapać szaleńca, Mroczny Rycerz niezwłocznie udaje się jego śladem do Metropolis. Tam, po początkowym braku zaufania i niekrytej wzajemnej niechęci, obaj bohaterowie będą musieli współpracować pod osłoną nocy, aby pokrzyżować plany Jokera i Luthora. Tylko czy dadzą radę, pomimo różnych metod działania i pojmowania walki o sprawiedliwość? Z drugiej strony, w ciągu dnia spotkają się jako Bruce Wayne i Clark Kent, tym razem konkurując o względy pięknej reporterki Lois Lane.
The Batman/Superman Movie to pełnometrażowy film animowany przedstawiający wspólną walkę ze złem dwóch komiksowych bohaterów wszech czasów: Batmana z Gotham City i Supermana z Metropolis. Jest to pierwszy pełnometrażowy film fabularny w którym obaj herosi występują razem. Atutem obrazu jest świetna geometryczna animacja, charakterystyczna dla animacji tworzonych na podstawie komiksowych prototypów. Obraz pierwotnie zadebiutował w październiku 1997 roku w postaci trzy odcinkowej miniserii serialu animowanego Superman: The Animated Series zatytułowanej World's Finest. Niecały rok później całość połączono w jedną pozycję i skierowano bezpośrednio na rynek video w postaci fabularnego filmu animowanego.
Film jest też znany pod innymi tytułami: Batman/Superman Adventures: World's Finest, The Batman/Superman Movie: World's Finest, Batman & Superman Movie. W Polsce jego tytuł tłumaczono jako: Batman i Superman: Najwspanialsi na świecie lub Batman i Superman: Nowe Przygody.
Współproducent: Haven Alexander
Muzyka: Michael McCuistion
Montaż: Joe Call
Casting: Andrea Romano
Obsada: Kevin Conroy, Mark Hamill, Arleen Sorkin, Mark Hamill, Timothy Daly, Dana Delany, Clancy Brown, George Dzundza, Efrem Zimbalist Jr., Bob Hastings, Robert Costanzo, Joseph Bologna.