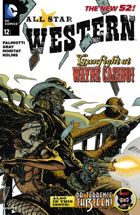 ALL-STAR WESTERN #12
Tytuły historii: The War of Lords and Owls, part 3; The Haunted Highwayman, Part 2
Miesiąc wydania (okładka): Październik 2012 (USA)
W sprzedaży od: 22.08.2012 (USA)
Scenariusz: Justin Gray, Jimmy Palmiotti
Rysunki: Moritat; Scott Kolins
Okładka: Rafa Garres
Kolor:Liternictwo: Rob Leigh
Ilość stron: 40
Twoja ocena:

GD Star Rating
loading...
"The War of Lords and Owls, part 3"
Scenariusz: Justin Gray, Jimmy Palmiotti
Rysunki: Moritat
Kolor: Michael Atiyeh
Liternictwo: Rob Leigh
Chociaż wysłani przez Lornę Kyle policjanci odnajdują Tallulah, to lepiej byłoby dla nich gdyby nigdy tego nie zrobili. Była żona Hexa przy pomocy jednego toporka urządza prawdziwą rzeź, a co gorsza teraz zdobywa także broń palną.
Kilka nocy wcześniej. Podczas spotkania Hexa z Wayne'em dwóch zabójców próbuje zabić Alana. Z pomocą Jonah udaje mu się odeprzeć atak i zranić jednego z ludzi Crime Bible, tak by ten mógł im wszystko wyśpiewać. Dzięki temu zyskują pewność, że Lucius Bennet jest ich członkiem. Odchodząc Hex radzi Wayne'owi, który nie akceptuje jego metod, by ten wykorzystał swoje wpływy i pieniądze.
Do walki z Tallulah wkracza Lorna Kyle. Przodkini Seliny szybko jednak przegrywa, a na dodatek na miejscu zjawia się Alan Wayne wraz z policją. Bohaterowie w samą porę wkraczają do piwnic i nie dopuszczają by Hex i Arkham zostali zabici. Członkowie Crime Bible zostają aresztowani i wkrótce mają zostać powieszeni. Jeśli zaś chodzi o działania policjanci, to burmistrz Cobblepot już wszczął w tej sprawie śledztwo.
W dniu, w którym złapani członkowie Crime Bible zostali powieszeni Amadeus Arkham w rozmowie z burmistrzem prosi go o wsparcie finansowe na przebudowę swojego domu w miejsce, gdzie mógłby leczyć pacjentów z kryminalną przyszłością i chorych umysłowo. W mieście zjawia się również pracujący dla dr Jekylla Reginald Frosythe, który szuka Hexa i Arkham.
---
"The Haunted Highwayman, Part 2"
Scenariusz: Justin Gray, Jimmy Palmiotti
Rysunki: Scott Kolins
Kolor: Michael Atiyeh
Liternictwo: Rob Leigh
Mimo przygotowanej zasadzki bohaterom nie udaje sie schwytać Highwaymana. Dr Terrence odkrywa jednak pewien ślad pozostawiony po płomieniach łotra udającego ducha. Podążającym tym tropem dowiaduje się, że na uczelni zwolniony został ostatnio jeden z profesorów, ze względu na stosowane przez niego nie etyczne praktyki. W tym samym czasie skradziono również z laboratorium takie substancje jak glinian strontu i sfaleryt.
Kiedy dr Terrence z policją udaje się do domu zwolnionego profesora, Jonathana Rooda, ten nie jest ich wizytą zachwycony. Co gorsza jeden z policjantów znajduje na miejscu maskę i broń Highwaymana. Dochodzi do strzelaniny w wyniku której zastrzelona zostaje Helena, żona Jonathana. Profesor jest tak wściekły, że nawet na szubienicy w swoich ostatnich słowach przyrzeka zemstę na dr Terrence'ie i na jego potomkach.
Ostatnia część The War of Lords and Owls nie wiele ma już wspólnego z Court Of Owls. Całość jednak bardziej dotyczy Religion of Crime, ale krwawej jatki jaką serwuje Tallulah Black nie można przegapić. Niestety wydaje się również, że główni bohaterowie nagle stracili zainteresowanie Talonką i jej pracodawcą. Szkoda, że twórcy nie postanowili bardziej rozwinąć wątków związanych z knowaniem sowiej organizacji. Seria cały czas rzecz jasna trzyma dobry poziom, ale spodziewałem się po tym numerze czegoś więcej.
Zakończenie dodatkowej historii dotyczącej dr Terrence'a może nie jest specjalnie oryginale, ale stanowi całkiem przyjemną opowieść, w której nauka triumfuje za zabobonami.
Ocena: 4 nietoperki

---