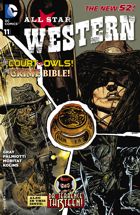 ALL-STAR WESTERN #11
Tytuły historii: The War of Lords and Owls, part 2; The Haunted Highwayman, Part 1
Miesiąc wydania (okładka): Wrzesień 2012 (USA)
W sprzedaży od: 25.07.2012 (USA)
Scenariusz: Justin Gray, Jimmy Palmiotti
Rysunki: Moritat; Scott Kolins
Okładka: Rafa Garres
Kolor:Liternictwo: Rob Leigh
Ilość stron: 40
Twoja ocena:

GD Star Rating
loading...
"The War of Lords and Owls, part 2"
Scenariusz: Justin Gray, Jimmy Palmiotti
Rysunki: Moritat
Kolor: Michael Atiyeh
Liternictwo: Rob Leigh
Po ostatnich wydarzeniach Amadeus Arkham zaczyna sprawdzać informacje na temat Court of Owls oraz Religion of Crime. Dociera do zapisków, które sugerują, że sowia organizacja mogła stać nawet za powstaniem Gotham. Przypomina sobie także o pewnych wypowiedziach swoich pacjentów, na temat kobiety, którą po raz pierwszy widział w Nowym Orlenie, która jest zabójczynią Court of Owls zwaną Talonem.
Jonah i Tallulah atakują Luciusa Benneta. Jednak nim byłej żonie Hexa udaje się zemścić na Bennetcie, zostaje trafiona w nogę sztyletem. Na miejscu zjawia się Talonka, który porywa członka Religion of Crime, by następnie powiesić go na jednym z mostów.
Zgodnie z planem Court of Owls Religion of Crime obwinia o śmierć sowich członków Hexa i jego przyjaciół. Dlatego wykorzystując swoje wpływy doprowadzają do aresztowania bohaterów, którzy następnie zostają zabrani do Slaughter Swamp. Na miejscu zostają im podane narkotyki. Jako pierwsza przytomność odzyskuje Tallulah, która odkrywa, że zostali uwięzieni w piwnicy tuż obok wielkiej maszyny parowej, która ma posłużyć do torturowania. Wykorzystując swoje umiejętności akrobatyczne bohaterce udaje się wyswobodzić. Kiedy Lorna Kyle w raz za innymi członkami odkrywa, że Tallulah uciekła, Hex radzi im by zaczęli się modlić do swojej biblii.
---
"The Haunted Highwayman, Part 1"
Scenariusz: Justin Gray, Jimmy Palmiotti
Rysunki: Scott Kolins
Kolor: Michael Atiyeh
Liternictwo: Rob Leigh
Na obrzeżach Gotham City pędzący powóz zostaje zatrzymany przez Highwaymana. Żeby przeżyć pasażerowie muszą zapłacić.
Po serii napadów policja zgłasza się z prośbą o pomoc do dr Terrence'a. Bohater postanawia przyjąć wyzwanie i odkryć, kto udaje się za ducha, bo przecież jest XIX wiek i nie powinno się wierzyć w takie niestworzone rzeczy.
W nocy na złodziejskiego ducha zostaje zastawiona pułapką. I chociaż Highwayman zostaje otoczony przez policję i dr Terrence'a, to cały czas ma dyspozycji swój miotacz ognia.
XIX wieczne Gotham City okazuje się coraz ciekawszym miejsce. Rywalizacja dwóch organizacji rozgrywa się na poziomie różnych spisków i knowań niż bezpośrednich starć. Policja i politycy są jednak tak samo skorumpowani. Chociaż Court of Owls to pomysł Scotta Snydera, to duet Gray i Palmiotti kolejny raz udowadnia, że naprawdę wie jak wykorzystać tajemniczą organizację. Okazuje się, że crossovery, które trochę na siłę angażują wiele serii, czasami mogą doprowadzić do naprawdę kapitalnych historii.
Fani Catwoman też powinni sięgnąć po ten numer, gdyż pojawia się w nim lubiąca koty seksowna złodzieja Lorna Kyle. Wygląda więc na to, że Selina nie różni się tak bardzo od swoich przodków.
Również dobrze prezentuje się dodatkowa historia z dr Terrence'em. Sprawa dotyczą magii i nauki w XIX wiecznym Gotham City? Tego nie można przegapić.
Ocena: 5 nietoperków

---