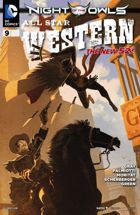 ALL-STAR WESTERN #9
Tytuły historii: Vengeance in the Big Easy
Miesiąc wydania (okładka): Lipiec 2012 (USA)
W sprzedaży od: 23.05.2012 (USA)
Scenariusz: Justin Gray, Jimmy Palmiotti
Rysunki: Moritat; Patrick Scherberger
Okładka: Jose Ladrönn
Kolor: Gabriel Bautista, Jr.; Michael Atiyeh
Tusz: Moritat; Dan Green
Liternictwo: Rob Leigh
Ilość stron: 40
Twoja ocena:

GD Star Rating
loading...
Dowiedzcie się co porabiało Court of Owls w Gotham City około 1880 roku!
Za pomocą magicznego medalionu Nighthawka Jonah Hex uwalnia się z więzów i hakiem przebija swojego porywcza. W międzyczasie Nighthawk i Cinnamon w dokach rozprawiają się resztą członków grupy August 7.
Po rozprawianiu się z przeciwnikami na miejscu zjawia się Hex, który oddaje Nighthawkowi medalion i prosi o pomoc w znalezieniu Thurstona Moody'ego.
Kilka godzin później, w innym rojenie Nowego Orlenu. Moody ma poważne kłopoty, gdyż ściga go Talonka. Mężczyzna prosi o litość. Specjalnie opuścił Gotham, by nic nie zdradzić, ale wynajął Hexa i naprowadził go na właściwy trop. Kiedy Jona i Jeremiah Arkham dostrzegają Thurstona jest już za późno. Talonka zabija swoją ofiarę, ale pozostawia na miejscu jeden ze sztyletów. Chociaż Hex próbuje ją trafić, to żadna kula nie rani zabójczyni. Bohater widząc jej ruchy domyśla, że przeszła ona szkolenie akrobatyczne, tak samo jak jego żona, o której nie lubi rozmawiać.
3 tygodnie później, Gotham City. W kasynie Alana Wayne'a grupa wpływowych mężczyzn stara się przekonać przodka Bruce'a, by ten zrezygnował z planów utworzenia parku. Uważają, że najważniejsze jest posiadanie ziemi, bo mając ją można się dorobić pieniędzy, diamentów i innych kosztowności. Chociaż tereny, które chcieliby zagospodarować są zarośnięte przez trujący bluszcz, to Alan nie ma zamiaru zmieniać swoich planów.
Rozmowa mężczyzn zostaje przerwana, kiedy do kasyna wchodzi Tallulah Black, która ma zamiar wyrównać rachunki z rozmówcą Alana. Oskarża go o kradzież ziemi należącej do jej rodziny. Kiedy żona Hexa ma zamiar zastrzelić mężczyznę, do akcji wkracza jego prywatna ochrona, w postaci Talonki. Zabójczyni Court of Owls wyrzuca Tallulah przez okno, gdzie ta ląduje tuż obok swojego męża, Jonaha Hexa.
All-Star Western #9 stwarzał szansę na pokazanie części historii Court of Owls. Czytając ten numer ma się jednak wrażenie, że cała sprawa związana z tajemniczą organizacją nie jest najważniejsza. Brak wyraźnej konkluzji sprawia natomiast wrażenie, że czegoś brakuje. Żeby dowiedzieć się jak dalej przebiegać będzie walka Hexa i jego żony z Court of Owls trzeba będzie sięgnąć po kolejne numery. Tak, więc All-Star Western #9 to tylko przedsmak, tego co czeka czytelników. Wejście Tallulahi Black robi naprawdę niesamowite wrażenie. Jest klimatycznie, a kolejna Talonka również prezentuje się nie najgorzej. Biorąc także po uwagę, że mamy ciekawe wzmianki na temat wykupu ziem w Gotham City, czy plany Alana Wayne'a, zapowiada się dosyć ciekawa opowieść. O ile 9. numer All-Star Western z punktu widzenia crossovera Night of the Owls nie w pełni spełnił moje oczekiwania, to już kolejne numery serii powinny to wynagrodzić.
W numerze znajduje się również ostatnia część dodatkowej historii z Nighthawkiem i Cinnamon.
Ocena: 4 nietoperki

---