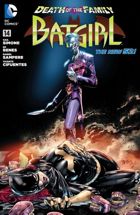 BATGIRL #14
Tytuł historii: A Courtship of Razors
Miesiąc wydania (okładka): Styczeń 2013 (USA)
W sprzedaży od: 14.11.2012 (USA)
Scenariusz: Gail Simone
Rysunki: Ed Benes, Daniel Sampere
Okładka: Ed Benes i Ulises Arreola
Kolor:Tusz: Ed Benes, Vicente Cifuentes, Mark Irwin
Liternictwo: Dave Sharpe
Ilość stron: 32
Twoja ocena:

GD Star Rating
loading...
Tie-in "Death of the Family"!
Barbara stara się uratować swoją rodzinę przed losem znacznie gorszym niż śmierć!
Czy Batgirl zaszła tak daleko, tylko po to by znów stać się ofiarą Jokera?
Po rozmowie z matką Barbara natychmiast zamierza działać, jednak kolejny telefon zupełnie wyprowadza ją z równowagi. Rozmowa z kimś kogo uznaje za Jokera przypomina jej tragiczne wydarzenia. Tajemniczy rozmówca każe jej się uspokoić i zrobić kanapkę, bo już za raz odwiedzi ją trzech mężczyzn.
Chociaż sytuacja jest analogiczna do wydarzeń z przed lat, to tym razem Barbara jest bardziej doświadczona. Od razu rozprawia się z napastnikami. Emocje jednak cały czas udzielają się jej, dlatego kiedy w mieszkaniu zjawia się Alysia, bohaterka odruchowo celuje do niej z broni. Nie chce jej niczego wyjaśniać. Każe jej zadzwonić na policję i zapomnieć o niej.
Podczas gdy Batgirl wyrusza z misją odbicia swojej matki, Joker świetnie się bawi na torze wrotkarskim. Tego samego nie może powiedzieć była żona Gordona, która jest śmiertelnie przerażona, bo szaleniec przywiązał ją do krzesła stojącego na środku toru wokół którego leżą ciała zabitych osób. Na dodatek coś zrobił z jej dłonią, która teraz jest zabandażowana.
Pełna wściekłości i chęci odegrania się na Jokerze sprawia, że Batgirl podążając za wskazówkami telefonicznymi, bez problemów unieszkodliwia strażników i dostaje się do środka toru wrotkarskiego. Barbara zastanawia się czy raz na zawsze nie skończyć z Jokerem, ale kompletnie wybija ja informacja, że jej tajemniczy telefoniczny rozmówca, to jest brat, który specjalnie wystawił ją Jokerowi.
Sytuacja jest jeszcze gorsza niż się wydaje, gdyż matka Batgirl siedzi na bombie. Joker ma jednak też inny plan. Oświadcza się Batgirl pokazując jej obrączkę z odciętym palcem jej matki.
Joker nie raz namieszał w życiu rodziny komisarza i cały czas robi to w wielkim stylu. Jego pojawienie się sprawia, że koszmar Barbary powraca. Córka komisarza przeżyła wiele i już nie jest tą samą osobą co kiedyś, ale zamiary szaleńca cały czas ją zaskakują. Jakby tego było mało zostaje też zaatakowana ze strony, z której się nie spodziewała. James junior też postanowił dodać coś od siebie.
Death of the Family doskonale wpasowuje się w serię Batgirl. Mamy okazje zobaczyć jak zmieniła się Barbara, a jej osobiste porachunki z Jokerem nadają jeszcze większej atrakcji. Całość oprócz świetnej historii zostaje doskonale zilustrowane przez Benesa, który potrafi pokazać dynamikę walki Barbary ze zbirami, ale także szaleństwo Jokera. Jedyny zgrzyt to fakt, że za wielu kolorystów i linkerów pracowało przy tym numerze dlatego brak pewnej spójności.
W Batgirl #14 Joker znowu błyszczy pełnią swojego szaleństwa i na dodatek jest również przerażający. Z uśmiechem na twarzy oświadcza się Barbarze pokazując jej zakrwawiony palec byłej żony Gordona. To były niezapomniane oświadczyny, a jaki będzie ślub?
Ocena: 5 nietoperków

---