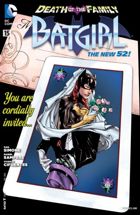 BATGIRL #15
Tytuł historii: Collision Part Two: Engagement
Miesiąc wydania (okładka): Luty 2013 (USA)
W sprzedaży od: 12.12.2012 (USA)
Scenariusz: Gail Simone
Rysunki: Daniel Sampere
Okładka: Ed Benes i Ulises Arreola
Kolor:Tusz: Vicente Cifuentes
Liternictwo: Dave Sharpe
Ilość stron: 32
Twoja ocena:

GD Star Rating
loading...
Tie-in "Death of the Family"!
Przy tak wielu planowanych pogrzebach, Joker postanawia, że nadszedł czas na wesele!
Pierwsza konfrontacja Barbary z Jokerem, od czasu kiedy ten ją postrzelił, zmierza do przerażającej konkluzji!
Obserwując jak Joker świetnie się bawi na ich "pierwszej randce", Batgirl postanawia, że musi zabić szaleńca, gdyż dla takiego psychopaty nie ma ratunku.
Jakiś czas temu w Arkham Asylum. Joker zostaje przedstawiony nowej pani doktor. Żeby wprowadzić ją z czym ma do czynienia wręcza jej swój dziennik, gdzie zapisane są wszystkie jego chore myśli, a także groźba, co może się stać z 9 letnią córką psychiatry. Ma tam także zapiski na temat wizji swojego wymarzonego ślubu, który kończy się rozczłonkowaniem panny młodej, tak by ta zawsze pozostała wierna.
Chcąc ocalić swoją matkę, do głowy której Joker przyłożył pistolet, Batgirl zgadza się wyjść za niego za mąż.
Tymczasem James junior, z którym Barbara ma zamiar później wyrównać rachunki, obserwuje z przyjemnością całą zabawę Jokera, do czas aż odbiera telefon od Alysi, która cały czas jest roztrzęsiona po tym co stało się w jej mieszkaniu i tym jak potraktowała ją Barbara.
Batgirl postanawia działać. Wykrzykuje informacje na temat bomby, tak by pomocnicy Jokera się zmyli, a następnie atakuje szaleńca. Zadaje mu ciosy w nerki i kręgosłup, by ten poczuł ból. Następnie sięga po jego broń. Zamierza strzelić mu w kręgosłup, o czym myślała od 4 lat, jednak nie jest wstanie pociągnąć za spust. Co gorsza okazuje, że na zewnątrz jest snajper Jokera. Złoczyńca obiecuje jej, że wypuści panią Gordon, jeśli Batgirl wypełni dokładnie jego polecenia spisane na kartce. Bohaterka się zgadza, ale przed opuszczeniem toru wrotkarskiego zabiera woreczek z lodem, by włożyć do niego palec swojej matki. Odchodząc oświadcza Jokerowi, że w odróżnieniu od Batmana nie przestrzega pewnych reguł.
James junior po odebraniu Alysi kontaktuje się z Jokerem i radzi mu by wypuścił dwie porwane kobiety, bo to on ma wobec nich planów, kiedy szaleniec odmawia, syn Gordona w odpowiedzi na pytanie Alysi stwierdza, że wygląda na to, że pomoże swojej siostrze.
Batgirl dociera do kościoła, gdzie czekają już uzbrojeni ludzi Jokera oraz ksiądz.
Kolejny bardzo dobry numer. Joker jest szalony, zabawny i romantyczny. Okładka obwieszczająca ślub Batgirl w żaden sposób nie wprowadza w błąd. Bohatera na prawdę przygotowuje się do wyjścia za mąż za szaleńca. Robi to rzecz jasna by uratować matkę, ale biorąc pod uwagę, że złoczyńca pozwala jej samej dotrzeć do kościoła, to czemu w tym czasie nie wykorzystała sprzyjającej okazji by wezwać pomoc? Można się przyczepić do zachowania Barbary, ale można też dać się ponieść opowieści Simone.
Radość Jokera, który świetnie się bawi na oświetlonym torze wrotkarskim jest pełna barw i kolorów, co więc rysownicy przygotują na razem?
Relacje pomiędzy Barbarą i Jokerem są nie mniej interesujące niż te łączące szaleńca z Batmana. Dodajmy do tego jeszcze psychopatę w osobie Jamesa juniora i mamy prawdziwą wybuchową mieszankę. Jedno jest pewne Joker na pewno zadba by jego ślub z Batgirl był bardzo wyjątkowy.
Ocena: 5 nietoperków

---