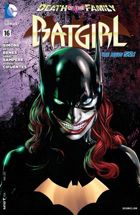 BATGIRL #16
Tytuł historii: Collision Part Three: Ceremony
Miesiąc wydania (okładka): Marzec 2013 (USA)
W sprzedaży od: 16.01.2013 (USA)
Scenariusz: Gail Simone
Rysunki: Ed Benes, Daniel Sampere
Okładka: Ed Benes i Ulises Arreola
Kolor:Tusz: Vicente Cifuentes
Liternictwo: Dave Sharpe
Ilość stron: 32
Twoja ocena:

GD Star Rating
loading...
Kontynuacja "Death of the Family"!
W tym numerze zapraszamy na wesele Barbary Gordon i Jokera!
Cała rodzina Gordonów szykuje się na najbardziej przerażające zaślubiny w dziejach!
Po sparaliżowaniu Barbara przez pewien czas uczęszczała na terapię. Często śniło jej się, że mści się na Jokerze. Zabija go gołymi rękami. Czasami budziła się z poczuciem winy, a czasami zalana łzami, gdyż był to tylko sen.
W kościele tuż przed rozpoczęciem ceremonii Batgirl ma do Jokera tylko jedno pytanie. Chce wiedzieć, dlaczego właśnie ona. Szaleniec ma na to proste wytłumaczenie. Tak bowiem zapisał w swojej książce. Zdradza również, że jego zamiarem jest uwolnienie Nietoperza od takich osób jak Bagtirl.
Kiedy Joker sięga po piłę mechaniczną by mieć pewność, że jego ukochana nigdy go nie upuści, Barbara postanawia walczyć. Celnymi rzutami batarangami eliminuje kilku zbirów. Niespodziewanie na miejscu zjawia się James junior, który oświadcza, że jego matka jest już bezpieczna. Chociaż Batgirl nie ma pewności czy jej brat mówi prawdę, to postanawia skorzystać z okazji. Po kolei eliminuje wszystkich przecinków, a czyni to z wielką wściekłością, która przeraża nawet księdza. Kiedy jednak zaczyna walczyć z Jokerem, który atakuje ją piłą mechaniczną niespodziewanie zostaje uśpiona przez swojego brata, który wyznaje jej, że kłamał. W zamian za uratowanie swojej matki zaproponował Jokerowi życie Batgirl. Chociaż podczas negocjanci z szaleńcem syn komisarza miał fałszywe granty, to jednak jeden z nich jest prawdziwy i to właśnie go postawia wykorzystać, na wypadek gdyby Joker chciał go oszukać.
Pierwsze co widzi Batgirl pod odzyskaniu przytomności to Joker, który jest gotowy by zaserwować jej na srebrnej tacy przerażającą niespodziankę.
Batgirl co prawda wreszcie ma okazję bezpośredniej konfrontacji z Jokerem, i mimo, że wszystko jest bardzo ładnie zilustrowane, to jednak już tak nie zachwyca. Szczęście momentami sprzyja Barbarze, ale też cały czas pozostaje w rękach Jokera. Czy szaleniec zna jej prawdziwą tożsamość. Miał już tyle okazji by zajrzeć pod maskę, że powinien, ale przecież to Joker, a on nie myśli racjonalnie. Czyli tak naprawdę nic nowego nie wiemy. Cała otoczka ze zaślubinami wydaje się być tylko tłem, którego celem jest pokazanie chorych fantazji szaleńca. Motyw ten miał olbrzymi potencjał, a sposób w jaki to wszystko zostaje zamknięte wydaje się pokazywać, że Gail nie miała pomysłu jak to w dobrym stylu zakończyć.
Cały czas zaskakuje mnie Barbara, która w tak dramatycznej sytuacji nie próbuje poprosić o wsparcie innych bohaterów, bo przecież pojawienie się Jamesa juniora to była ostatnia rzecz, której się spodziewała. Jako, że mamy do czynienia z crossoverem, to epizod Nightwinga czy innego bohatera nie byłby czymś niezwykłym. Mamy jednak inną postać, która psuje szyki Jokerowi. Zachowanie młodego Gordona samo w sobie jest dziwaczne, bo chyba sam do końca nie wie, czego chce. Ma jakieś plany, ale z kimś takim jak Joker niczego nie można być pewnym, dlaczego więc dogaduje się z nim i przy okazji omal nie zabija? W poczynaniach juniora jest zbyt wiele przypadkowości, przez co cierpi cała historia.
Ocena: 4 nietoperki

---