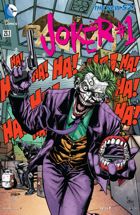 BATMAN #23.1
Tytuł historii: Time to Monkey Shine
Miesiąc wydania (okładka): Listopad 2013 (USA)
Data wydania: 04.09.2013 (USA)
Scenariusz: Andy Kubert
Rysunki: Andy Clarke
Okładka: Jason Fabook i Nathan Fairbairn
Kolor: Blond
Liternictwo: Jarek K. Fletcher
Ilość stron: 32
Twoja ocena:

GD Star Rating
loading...
Joker zawsze był twarzą ZŁA w uniwersum DC, ale co doprowadziło do tej perfidnej zdrady? Andy Kubert przygotował historię, która odsłania maniakalne wyczyny księcia Gotham – Jokera!
W dzieciństwie zamiłowania młodego Jokera do komedii nie podzielała jego ciotka. Nie pozwalała mu bawić się pacynkami a pokrytą makijażem twarz czyściła używając wybielacza.
Kilka lat później. Joker, podczas wizyty wraz ze swoim gangiem w zoo, zaczyna przyglądać się gorylicy opiekującej się dzieckiem. Po chwili wszystkie zwierzęta zostają uśpione, a mały goryl nazwany Jackanapes staje się częścią rodziny klauna.
Wychowując Jackanapesa Joker czuł się najszczęśliwszy na świecie. Zapewniał mu wszystko to czego zabrakło mu w dzieciństwie. Kiedy goryl podrósł razem ze swoim opiekunem wyruszał popełniać zbrodnie i świetnie się przy tym bawił.
Kiedy jedna z radnych ze względów budżetowych planuje zamknąć zoo Joker postanawia wraz ze swoim pupilem interweniować. Działają razem niczym Dynamic Duo. Chcą wykorzystać specjalnie zmodyfikowane fale radiowe do zniszczenia mózgów przeciwników. Niestety coś idzie nie tak i fale powodują mutację u ludzi. Zaatakowani przez takich przeciwników Joker i Jackanapes zmuszeni są do ucieczki ze sterowca z którego prowadzono inspekcję powietrzną. Jokerowi udaje się otworzyć skrzydła w swoim stroju, ale jego goryl już tego nie robi i wpada do wody, ale już nie wypływa. Po chwili smutku Joker zaczyna się śmiać, bo po tych wydarzeniach powinien się domagać zwrotu pieniędzy za lekcje pływania na które zabierał Jackanapesa.
Są takie komiksy, przy których już po przeczytaniu pierwszych stron zastanawiamy, dlaczego ktoś to wymyślił i co gorsza, dlaczego ktoś zdecydował się to opublikować. Wielkie "wydarzenia" komiksowe często składają się z wielu słabych opowieści pisanych na szybko i bez większego sensu. Niestety wygląda na to, że Villans Month będzie właśnie takim wydarzeniem o którym najlepiej jak najszybciej zapomnieć.
Po takich twórcach jak Andy Kubert i Andy Clarke spodziewałem się czegoś o wiele lepszego. Bo po pierwsze jest to seria Batman a po drugie mamy Jokera. Na niektórych panelach klaun prezentuje się naprawdę świetnie, ale przez większość czasu wydaje się być zbyt łagodny. Odkrywanie kulis z dzieciństwa Jokera też niczym nie zaskakuje. Fakt, że wychowywany przez ciotkę łotr nie mógł się realizować jako komik odkrywczym nazwać nie można.
Być może numer ten zainteresuje osoby, którym spodobał się Jackanapes, który pojawił się w Batman #666, innych zaś historia o gorylu, który stał się łotrem nie ma nic do zaoferowania. Chociaż jest to opowieść o Jokerze, a to oznacza, że jakaś odrobina odrealnienia jest akceptowalna, to wychowującego przez lata goryla Jokera kompletnie nie kupuje. Time to Monkey Shine nie jest ani zabawne, ani też nie odkrywa niczego nadzwyczajnego na temat Jokera, najlepiej w ogóle po ten numer nie sięgać.
Ocena: 1,5 nietoperka

---