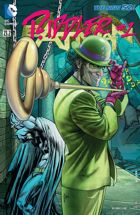 BATMAN #23.2
Tytuł historii: Solitare
Miesiąc wydania (okładka): Listopad 2013 (USA)
Data wydania: 11.09.2013 (USA)
Scenariusz: Scott Snyder, Ray Fawkes
Rysunki: Jeremy Haun
Okładka: Guillem March
Kolor: John Rausch
Liternictwo: Taylor Esposito
Ilość stron: 32
Twoja ocena:

GD Star Rating
loading...
Po tym jak Mroczny Rycerz znika, Riddler angażuje się w epicką rozgrywkę dla inteligentnych. Dowiedz się jaka irytująca chwila doprowadziła młodego Edwarda Nigmę do zostania księciem intryg Gotham City! I zobacz jak wydarzenia z ZERO YEAR dziś wpływają na Riddlera!
Arkham Asylum 4 lata temu. Riddler grający w pasjansa w swojej celi zostaje przyłapany na tym przez jednego ze strażników.
Obecnie. Edward Nigma równo o godzinie 9:00 rozpoczyna swoje przedstawienie przed budynkiem Wayne Enterprises, przed którym zgromadził się tłum protestujący po ujawnieniu skandalu związanego z jednym z członków zarządu Wayne Charitable. Korzystając z zamieszania Edward dostaje się do środka i po przejściu przez ochronę zakłada maskę i melonik.
Kiedy ochrona orientuje się, że w budynku jest Riddler wysłanemu strażnikowi nie udaje się go zatrzymać. Złoczyńca bez większych problemów dociera do pomieszczenia w którym zgodnie protokołem bezpieczeństwa zostali zamknięci kierownicy. Riddler zabiera ze sobą Caroline Slater, dzięki czemu może przejść przez kolejne systemy bezpieczeństwa. Ku swojemu zaskoczeniu kobieta stawia opór i udaje jej się nawet uderzyć Edwarda, za co ten odwdzięcza się jej paralizatorem.
Windą dyrektorska dociera do swojego starego biura. Na miejscu dopada go jeden z ochroniarzy, George Lesley, który wcześniej pracował w Akrham i tam nie ułatwiał życia Riddlerowi. Złoczyńca jak już wcześniej pokazał ma przy sobie kilku użytecznych gadżetów i dzięki jednemu z nich odstrzeliwuje Lesleyowi prawą rękę, którą ten kiedyś raczył go popchnąć.
Po wyrównaniu rachunków z przed lat Riddler przejmuje kontrolę nad częścią budynku i udaje się na dach, gdzie spokojnie układa sobie pasjansa i zastanawia się kiedy jego przeciwnik powróci. Bo nie ma wątpliwości, że jeszcze spotka się z Batmanem.
W tym miesiącu z czterech numerów Batmana, to zapewne Batman #23.2 będzie tym po który powinny sięgnąć osoby które śledzą wyłącznie serię autorstwa Snydera. Przy tym numerze Scott był jednak tylko współpomysłodawcą historii, a scenariusz napisał Ray Fawkes, przez co nie jest to do końca taki historia do której przyzwyczaił czytelników Snyder. Nie brakuje drobnych nawiązań do obecnych wydarzeń z Zero Year, a w odróżnieniu od innych numerów wchodzących w skład Villans Month nie mamy tu nieszczęśliwego dzieciństwa Edwarda Nigmy, retrospekcje ograniczają się tylko do kilku kadrów na których w swojej celi w Arkham Riddler układa pasjansa.
Zdecydowanie wszystkie karty w tym numerze rozdaje Riddler, to on trzymając się ściśle swojego planu ma wszystko i wszystkich pod kontrolą. Co prawda zdarza mu się drobna wpadka kiedy nie docenia Caroline Slater, ale oprócz tego nikt mu nie przeszkadza. Zawiły plan złoczyńca dotyczy tylko jednego, wyrównania rachunków ze strażnikiem z Arkham Asylum. To udaje się doskonale, ale czy czytelników naprawdę obchodzi taki fakt z życia Edwarda? Oczywiście mamy kilka interesujących momentów, w którym pokazana jest niechęć Edwarda do bezpośrednich kontaktów, ale wydaje się, że ta historia mogła prowadzić do czegoś większego.
Ocena: 4 nietoperki

---