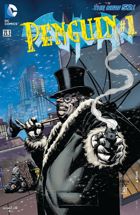 BATMAN #23.3
Tytuł historii: Bullies Bullies
Miesiąc wydania (okładka): Listopad 2013 (USA)
Data wydania: 18.09.2013 (USA)
Scenariusz: Frank Tieri
Rysunki: Christian Duce
Okładka: Jason Fabook i Nathan Fairbairn
Kolor: Andrew Dalhouse
Liternictwo: Taylor Esposito
Ilość stron: 32
Twoja ocena:

GD Star Rating
loading...
Śledź ostatnie poczynania Pingwina do zdobycia władzy, gdy ten przygotowuje się do osłabienia jednego z najsilniejszych polityków w Gotham City. Co ten kryminalny geniusz zamierza?
W ostatnim czasie w kasynie Pingwina wielu osobom dopisuje szczęście, początkowo złoczyńca akceptuje ten fakt, ale pewnego dnia czara goryczy zostaje przelana, kiedy zaczyna wygrywać pewien iluzjonista.
Przyłapani na oszustwie wcale nie zamierzają oddać wygranej forsy, reputacja Pingwina nie jest taka jak kiedyś i już nie wszyscy się go boją. Oswald pozwala im odejść i osobiście odprowadza ich z kasyna. Ale kiedy już są na zewnątrz od razu załatwia wyszczekanego iluzjonistę swoim strzelającym parasolem. Po krótkiej walce taki sam los spotyka także jego przyjaciół. Pingwin po raz pierwszy od lat osobiście kogoś zabił, na tym nie zamierza jednak poprzestawać, żeby znowu być poważanym zleca morderstwa ich rodzin.
Ciała zabitych mężczyzn zostają podrzucone pod komisariat policji, a nowy gubernator Carter Winston osobiście postanawia się zaangażować w tę sprawę i swoje pierwsze kroki kieruje do Iceberg Casino. Oswald w ogóle się tym nie przejmuje, jego rodzina bowiem od lat przyjaźniła z Winstonami, a z Carterem zna się od czasów szkolnych.
Podczas wspólnej kolacji z Oswaldem Carter obwieszcza, że chce podobnie jak Wayne wprowadzić zmiany w zaniedbanych częściach miasta. Plany te dotyczącą dzielnicy w której znajduje się kasyno Pingwina. Okolica ma być bardziej ekskluzywna, co ma przyczynić się do uśnięcia klienteli Oswalda. Złoczyńca jednak wcale się tym nie przejmuje i otwiera nową butelkę szampana by wznieść toast za starych przyjaciół i nowe przedsięwzięcia.
Po odzyskaniu przytomności Carter od razu chce dzwonić na policję, ale Pingwin odradza mu to i po zapaleniu świateł cała sprawa jest jasna. Winstons jest cały w krwi a na łóżku leży ciało jego asystentki. Żeby wyjaśnić całą sytuacja Oswald przedstawia nagranie na którym gubernator działający pod wpływem venomu zabija swoją asystentkę. Ma też zapis ich smsów, z którym wyraźnie wynika, jaki był cel wizyty panny Collins. Oswald nie chce jednak wrabiać Cartera w morderstwo, wyświadcza tylko staremu przyjacielowi przysługę i ten już zawsze będzie wiedział, że Gotham City należy do Pingwina.
Podczas konferencji prasowej, na której spodziewano się, że gubernator ogłosiły swoje plany dotyczące Iceberg Casino, ten wyciąga broń i strzela sobie w głowę. Po tych wiadomościach Oswald każe Lark wysłać na pogrzeb największy bukiet kwiatów, a następnie zaczyna przeglądać album z czasów szkolnych, w którym zaznacza, z którymi osobami już wyrównał rachunki, bo ostatnie słowa zawsze należy do niego.
Nie dawno dzieciństwo Pingwina poznaliśmy w miniserii Penguin: Pain and Prejudice, więc w przypadku tego łotra dobrze, że twórcy nie powtarzali jego originiu, zamiast tego przygotowali opowieść o tym jak Oswald udowadnia, że nie wolno go lekceważyć i że cały czas potrafi pobrudzić sobie ręce.
Kto podpadnie Pingwinowi ten musi się liczyć, że kara go za to nie ominie. Ostatnio reputacja Oswalda mogła ucierpień, po tym jak zdradził go jego zaufany człowiek. W odbudowie wizerunku łotra nic tak nie pomogą jak zabójstwo. Znając postać Pingwina jego poczynania oraz cierpliwość w wyrównywaniu rachunków niczym nie zaskakują.
Batman 23.3 nie oferuje niczego odkrywczego, ale otrzymaliśmy solidną historią, w której pod względem scenariusza i warstwy graficznej mamy do czynienia z mrocznym obliczem Pingwina, który udowadnia, że zawsze trzeba się z nim liczyć.
Ocena: 4 nietoperki

---