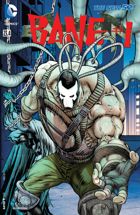 BATMAN #23.4
Tytuł historii: Dark Destiny
Miesiąc wydania (okładka): Listopad 2013 (USA)
Data wydania: 25.09.2013 (USA)
Scenariusz: Peter J. Tomasi
Rysunki: Graham Nolan
Okładka: Guillem March
Kolor: John Kalisz
Liternictwo: Carlos M. Mangual
Ilość stron: 32
Twoja ocena:

GD Star Rating
loading...
Batmana nie ma, a więźniowie Arkham Asylum szaleją po ulicach. Bane jest w Gotham City z jednego powodu, chce je przejąć, bez względu na to kogo będzie musiał złamać!
Więzienie Pena Dura w republice Santa Prisca. Bane korzystając z czystego venomu nie ma sobie równych. Na oczach małej dziewczynki zabija jej ojca, ale ta wcale nie jest tym przerażona, a nawet specjalnie podbiegła by zobaczyć jak łotr pokonuje jej ojca, którego nienawidziła, bo ten cały czas bił ją i jej matkę. Dla niej Bane jest największym bohaterem. Złoczyńca nie ma jednak zamiaru przyjaźnić się z małą dziewczynką, dlatego ostrzega ją, że jeśli ta jeszcze raz go dotknie to ją zabije.
Statkiem zapełnionym czołgami i swoją armią Bane wyrusza do Gotham City, które pragnie odzyskać po tym jak je stracił. W oczach swoich ludzi jest bohaterem, który nawet bez venomu był kimś niezwykłym i z nawiązką spłacił dług swojego ojca wobec Santa Prisca.
Ludzie Bane'a włamuje się do więzienia Blackgate, gdzie cały czas działają specjalne generatory. Wcześniej udało im zinfiltrować placówkę, więc bez większych problemów przejmują nad nią kontrolę nie wzbudzając żadnych podejrzeć wśród policji.
Po dopłynięciu do Gotham Bane przedstawia swoim ludziom swój plan. W pierwszej kolejności chce zająć się Strachem na Wróble, a wtedy Gotham City będzie jego.
Kolejny numer, który przybliża nas do Arkham War. Wcześniej poznaliśmy plany Stracha na Wróble, a teraz widzimy jak do tego starcia przygotował się Bane. Złoczyńca, któremu udało się złamać Batmana niewątpliwie potrafi dowodzić swoją armią. Każdy z jego ludzi widzi w nim prawdziwego przywódcę, który walczy z nimi ramię w ramię i który ma przede wszystkim plan.
Sportretowanie Bane'a wyszło Tomasiemu naprawdę dobrze, ale już sama historia nie ma wiele do zaoferowania. Kilka podniosłych przemów złoczyńcy oraz wyjaśnienie, co się dzieje to trochę za mało, zwłaszcza, że już inne numery Villans Month przybliżyły te wydarzenie. Główny powód, dla którego warto sięgnąć po Batman #23.4 to rysunki Grahama Nolana, współtwórcy postaci Bane'a.
Niestety, jeśli ktoś zna postać Bane'a to numer ten nie ma wiele do zaoferowania, a jeśli zamierzacie śledzić Arkham War, to też nie jest to historia bez której nie można byłoby się obejść.
Ocena: 3 nietoperki

---