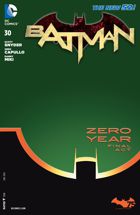 BATMAN #30
Tytuł historii: Savage City, Part 1
Miesiąc wydania (okładka): Czerwiec 2014 (USA)
W sprzedaży od: 16.04.2014 (USA)
Scenariusz: Scott Snyder
Rysunki: Greg Capullo
Okładki: Greg Capullo, Danny Miki, FCO Plascencia; Bob Staake Kolor: FCO Plascencia
Tusz: Danny Miki
Liternictwo: Steve Wands
Ilość stron: 32
Twoja ocena:

GD Star Rating
loading...
Rozpoczyna się "ZERO YEAR – SAVAGE CITY"!
W nocy Bruce zakrada się do pokoju Julie Madison by zabrać ją na przejażdżkę na wieś. Podczas rozmowy Wayne nagle dostrzega krew cieknącą po twarzy dziewczyny.
Po przebudzeniu się Bruce odkrywa, że jest w mieszkaniu niejakiego Duke'a Thomasa. Jak się okazuje chłopiec opiekuje się nim już od dłuższego czasu. W tym okresie bez Batmana Gotham zamieniło się w istny Rok Zero jak ten okres każe nazywać Riddler.
Jim Gordon mimo, że miasto przypomina jedną wielką ruinę, cały czas się nie poddaje i wyrusza z kolejną misją.
Bruce w pierwszej kolejności kontaktuje się z Alfredem od którego dowiaduje się jak Riddler wykorzystał badania Pameli Isley i zamienił miasto w istną dzicz, którą sam w pełni kontroluje. Za sprawą balonów wypełnionych śmiertelnym gazem grozi, że jak tylko ktoś próbuje wedrzeć się do miasta, to go uwolni zabijając miliony. Na początku wielu próbowało z nim walczyć, ale teraz została już tylko garstka. Od Duke'a Bruce dowiaduje się, że codziennie Riddler rzuca mieszkańcom Gotham wyzwanie. Wystarczy, że zadadzą mu zagadkę, której ten nie będzie potrafił rozwiązać, to zwróci im miasto.
Kolejny oddział taktyczny dostaje się do miasta. Żołnierze spotykają się z Gordonem, który wątpi by 5 osób mogło coś zmienić.
Jeden z mieszkańców Gotham postanawia rzucić wyzwanie Riddlerowi. Jednak nim kończy zadawać zagadkę Edward już podaje poprawną odpowiedź. Po chwilowej rozrywce złoczyńca postanawia zająć się nieproszonymi gośćmi. Oddział taktyczny zostaje namierzony. Jednak ci wcale nie przybyli by walczyć ze złoczyńcą. Proponują mu 50 milionów dolarów. Za próbę przekupstwa i łamanie zasad Riddler postanawia zagrać z nimi w domino. Kostkami są jednak budynki, które w reakcji łańcuchowej jeden po drugim przewracają się w ich kierunku, a na dodatek pilnowani są przez specjalne uzbrojone roboty. Żeby przeżyć wystarczy że Gordon zastrzeli właściwego robota. Na szczęście na miejscu jest Batman, który trafnie podpowiada Jimowi by ten zastrzelił robota z kamerą. Chociaż celny strzał powstrzymuje resztę robotów to cały czas pozostają walące się budynki. Wtedy Batman wysadza w powietrze wieżę ciśnień umożliwiając im bezpieczną ucieczkę. Teraz w zrobionym naprędce stroju jest gotowy by wraz Gordonem odzyskać Gotham.
Kolejny rozdział Zero Year się rozpoczął. W Savage City Gotham City w niczym nie przypomina miasta, które znamy. Można powiedzieć, że mrok gdzieś zniknął i to co powstało jest wręcz idealną oazą dla Poison Ivy. Wizualnie całość prezentuje się pięknie i w zupełnie innych barwach. Jednak o ile jest to ciekawy zabieg pozwalający pokazać bohaterów w innej scenerii, to ciężko mi uwierzyć, by Riddler nad tym wszystkim zapanował. Kompletnie nieporadne wydają się zachowania władz, a próba zaoferowania 50 mln dolarów dla szaleńca, który przejął kontrolę nad miastem jest po prostu niedorzeczna.
Niemniej jednak, chociaż są pewne słabe punkty historii, to jeśli zaakceptujemy tę otoczkę, to czeka nas niezwykła przygoda. Batmana cały czas jest niedoświadczony i tym razem nie może liczyć na wsparcie techniczne.
W historii Snydera, Batman ani Bruce nie mają czasu nawet na przelotne romanse, dlatego cieszy pojawienie się Julie Madison, nawet w formie snu, który przeobraża się w koszmar.
Początek Savage City naprawdę intryguje. Widząc Gotham przypominające miasto, w którym przez lata nikt nie mieszkał, od razu wiadomo, że nic nie jest tu pewne. Wszystko może się wydarzyć i nic nie będzie takie jak znamy. Tylko Alfred spędzający czas w jaskini, bez względu na fakt co się dzieje w Gotham City, pozostaje bez zmian.
Ocena: 4,5 nietoperka

---