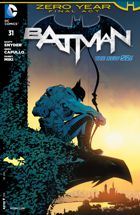 BATMAN #31
Tytuł historii: Savage City, Part 2
Miesiąc wydania (okładka): Lipiec 2014 (USA)
W sprzedaży od: 28.05.2014 (USA)
Scenariusz: Scott Snyder
Rysunki: Greg Capullo
Okładki: Greg Capullo, Danny Miki, FCO Plascencia; Mike i Laura Allred
Kolor: FCO Plascencia
Tusz: Danny Miki
Liternictwo: Steve Wands
Ilość stron: 32
Twoja ocena:

GD Star Rating
loading...
Drugi rozdział "ZERO YEAR – SAVAGE CITY" odsłania zupełnie nowe Gotham City. By rozwikłać zagadkę Riddlera Batman musi nauczyć się współpracować ze swoim nowym sojusznikiem, porucznikiem Jimem Gordonem i zrobić wszystko by przeżyć!
Lucius Fox nagrywa wiadomość dla swojego syna, w której informuje go, że tego dnia zamierza rzucić wyzwanie Riddlerowi. Po chwili odwiedza go Batman, który zabiera go na spotkanie z Gordonem i agentami rządowymi. Nietoperz chce namierzyć kryjówkę Edwarda. Biorąc pod uwagę jak steruje wszystkimi systemami miasta, to musi się ona znajdować w centrum Gotham. Żeby poznać dokładną lokalizacją postanawiają namierzyć sygnał Riddlera, kiedy ten będzie podejmował kolejne wyzwanie. Problem stanowi jednak fakt, że muszą go jak najdłużej utrzymać online, ale Batman ma już na to pewien sposób. Najpierw jednak udaje się na "zakupy".
O poranku to Batman rzuca wyzwanie Riddlerowi. Jednak, żeby Foxowi udało się namierzyć źródło sygnału złoczyńcy potrzebują 19 minut. Zadanie wydaje się niewykonalne, ale Batmana zadaje zagadkę opisując pewnego chłopca, którego bystrości nigdy nikt nie doceniał. Edward uważa, że zagadka dotyczy tego kim jest Batman. Chociaż bohater zaprzecza, to Edward uznaje, że podał prawidłową odpowiedź i uruchamia zapadnię i Bruce wpada do pułapki, w której czekają dwa wygłodniałe lwy. Na Batmana to jednak za mało. Walcząc ze zwierzakami sprawia, że Riddler cały czas pozostaje online i tym samym Foxowi udaje się go namierzyć. Jim zaś pomaga Batmanowi wydostać się z potrzasku, kiedy Riddler spuszcza na niego stertę samochodów.
Pod względem treści specjalnie wiele w numerze się nie dzieje, ale scenariusz pozwala zobrazować Cappullo bohatera Gotham w nietypowych sytuacjach jak np. Batmana na lwie. Za sprawą Riddlera nawet takie szaleństwa stają się rzeczywiste. O ile złoczyńca do tej pory świetnie sobie poczynał, to kiedy na jego drodze pojawia się Batmana, nagle w pewnym sensie głupieje i jak widz zapatrzony w magika nie obserwuje uważnie otocznia, za co wkrótce spotka go kara.
Oprócz głównego wątku na uwagę zasługuje też poboczny odnoszący się do szkolnych czasów Bruce'a, ale jest to dopiero wprowadzenie tak więc trudno powiedzieć do czego on prowadzi i czy posłuży czemuś większemu.
Ocena: 4,5 nietoperka

---