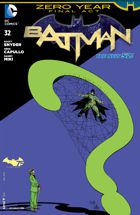 BATMAN #32
Tytuł historii: Savage City, Part 3
Miesiąc wydania (okładka): Sierpień 2014 (USA)
W sprzedaży od: 26.06.2014 (USA)
Scenariusz: Scott Snyder
Rysunki: Greg Capullo
Okładki: Greg Capullo, Danny Miki, FCO Plascencia; Tony Moore; Jim Fletcher
Kolor: FCO Plascencia
Tusz: Danny Miki
Liternictwo: Steve Wands
Ilość stron: 32
Twoja ocena:

GD Star Rating
loading...
Przedostatni numer ZERO YEAR! Batman jest jeden krok bliżej od zakończenie rozgrywki z Riddlerem, kiedy ostatni rozdział ZERO YEAR: SAVAGE CITY zbliża się do oszałamiającego finału!
Bruce daje bezdomnemu sporo gotówki, gdyż potrzebuje nowego kamerdynera i ma dla niego pewne zadanie.
Batman próbuje się dostać z powietrza do kryjówki Riddlera, która wedle namierzonego sygnału znajduje się w Old Wayne Tower, podczas gdy Gordon i ludzie z oddziału specjalnego przedzierają się przez zalane kanały. Niestety Bruce za późno się orientuje, że zostali przechytrzeni przez Nygmę, który już wysłał swoje roboty by ich zlikwidować. Co gorsza wojskowi planowali wysłać sygnał do ataku bombowego jak tylko uda im się namierzyć Riddlera, ale to on go przechwycił, i to teraz bohaterowie są w śmiertelnym niebezpieczeństwie.
Batmanowi udaje się uratować Foxa, ale przez brak kontaktu z Gordonem i z oddziałem Seals, nie może ich ostrzec. Przeglądając jednak mapę z zapisami sygnału Riddlera, Bruce dostrzega pewien wzór.
Batman wreszcie odnajduje Riddlera, przy wielkim sfinksie w muzeum, ale Nygma jeszcze nie jest gotowy by zakończyć tę grę.
Gonitwa za sygnałem by namierzyć Riddlera nie jest niestety niczym wciągającym. Już nawet tło całej historii, czyli Batman bez swoich gadżetów i Gotham City pod pełną kontrolą złoczyńcy, tak nie porywa. Warstwa graficzna cały czas stoi na wysokim poziomie, ale sama historia pozostawia wiele niedosytu. Są interesujące momenty jak chociażby początkowa scena, w której Bruce angażuje do czegoś bezdomnego, co pewnie okaże się jego asem w rękawie podczas starcia z Riddlerem. O ile czytelnicy są zapewne pewni, że Batman i tak na końcu będzie triumfować, to już sam Bruce nie jest o tym tak mocno przekonany. To dla niego dopiero pierwsze kroki w bohaterskiej karierze i niewątpliwe będzie to ważna lekcja. Niestety cała ta potyczka trwa za długo i nawet zbliżające się niebezpieczeństwo w postaci ataku bombowego nie wywołuje takich emocji jak powinno. Złoczyńca okazał się sprytniejszy od wszystkich i Bruce zdecydowanie jeszcze nie zasłużył na miano "największego detektywa na świcie".
Być może ostateczne starcie Batmana z Riddlerem będzie ciekawsze, bo najwyraźniej bohater na to czeka, skoro ponownie pozwala sobie na udział w grze, w której zasady ustala Edward, zamiast go zneutralizować przy pierwszej okazji.
Ocena: 3,5 nietoperka

---