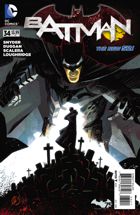 BATMAN #34
Tytuł historii: The Meek
Miesiąc wydania (okładka): Październik 2014 (USA)
W sprzedaży od: 13.08.2014 (USA)
Scenariusz: Scott Snyder i Gerry Duggan
Rysunki: Matteo Scalera
Okładki: Matteo Scalera i Moreno Diniso; Rafael Albuquerque; Ryan Sook
Kolor: Lee Loughridge
Liternictwo: Steve Wands
Ilość stron: 32
Twoja ocena:

GD Star Rating
loading...
ZERO YEAR się skończyło i wydarzenia z BATMAN: ETERNAL wprowadziły do Gotham City totalny chaos, ale Batman jest skupiony na sprawie mordercy, który nawiedzał w sekrecie jego rodzinne miasto od lat. Specjalny numer z rysunkami Matteo Scalera (DEADPOOL, Black Science), który przygotowuje grunt pod kolejną dużą opowieść o Batmanie, która rozpocznie się jesienią.
Kiedy kolejna pacjentka dr Thompkins zostaje zamordowana, Batman postanawia zająć się tą sprawą. Bruce radzi Leslie by ta ostrzegła swoich pacjentów, a następnie podąża za jedynym tropem, który udało mu się ustalić. Czerwonym pic-upem, którego widziano w okolicy, gdzie porwano jedną z dziewczyn.
Batman znowu jest postrzegany jako wróg policji, nie wiadomo gdzie jest klaun, Selina została szefową światka przestępczego, a Gordon odsiaduje wyrok w Blackgate, teraz jednak głównym zmartwieniem bohatera jest morderca, którego trzeba złapać. Po natrafieniu na jego ślad Bruce wykorzystuje psa, by namierzyć jego kryjówkę. Na miejscu znajduje leki przepisane przez dr Thompkins.
Przypuszczając, że to Leslie będzie kolejnym celem, Batman wykorzystuje cyfrową maskę i przebiera się za panią doktor. Tym samym, kiedy w gabinecie zjawia się zabójca, który chciał by jego żądze utrzymane były w tajemnicy, zostaje szybko unieszkodliwiony.
Później Bruce wyjaśnia Leslie, że Meek, bo tak się przedstawił zabójca, wziął na cel jej pacjentów, gdyż ta traktowała ich z godnością.
W nocy Batman dostarcza Meeka do Arkham Asylum. Chociaż dr Arkham nie byłby z tego powodu zadowolony, to dr Border akceptuje współpracę z bohaterem. Żeby mieć pewność, że zabójca, który nie pragnął splendoru, nie będzie sprawiał problemu, zamknięty zostaje w celi Jokera. Następnego dnia wszystkie media się o tym dowiedzą i Meek nigdy nie zostanie zapomniany.
W miejscu, gdzie Meek ukrywał ciała swoich ofiar Batman spotyka się z Bullockiem. Mimo, że zabójca działał od lat, to policja nic o nim nie wie. Harvey nie ma zamiaru czekać, aż wszystkie ciała zostaną wykopane, ale Batman postanawia zostać by mieć pewność, że nic nie zostanie pominięte.
Za sprawą Gerry'ego Duggana mamy okazję odpocząć od epickich historii Snydera, jednak jako, że Scott brał udział przy tworzeniu tej historii to nie brakuje tu szybkich odniesień, do wydarzeń, które dopiero będą miały miejsce w Batman Eternal. Sama opowieść o mordercy zbyt oryginalna nie jest zwłaszcza jeżeli przyjrzymy się działaniom Batmana. Technologiczne zabiegi z maską cały czas wydają mi się przesadzone. Ciekawie prezentuje się zaś sam zabójca. W odróżnieniu od innych seryjnych morderców, tym razem mamy osobnika, który od lat pozostawał poza radarem stróżów prawa, co w pewnych aspektach przypomina mi głównego bohatera filmu "Mr. Brooks". W tym wypadku zabójcę spotkała zasłużona kara i na dodatek Batman zadbał by też odebrać mu to co było dla niego najważniejsze – anonimowość.
Oprócz takiego oderwania od historii, które zazwyczaj w ostatnim okresie rozgrywają się na łamach Batmana, otrzymaliśmy też wgląd w Gotham City po wydarzeniach z Batman Eternal. Takie przedwczesne zdradzenie pewnych faktów może niektórym czytelnikom się nie spodobać, ale chociaż wiemy jaki los spotka pewne osoby, to cały czas nie wiadomo co do tego doprowadziły. Tym samym otrzymaliśmy, kolejny argument za sięgnięciem do serii Batman Eternal.
The Meek nie jest może genialną historią, ale takich opowieści rozgrywających się na łamach jednego czy dwóch numerów zaczęło mi ostatnio brakować. Nie ma tu miejsca na Bat-rodzinę, jest za to Batman, który nie chce naprawiać całego Gotham, tylko złapać jednego mordercę, który wyrządza niemniej szkód niż słynni złoczyńcy. Dodatkowo rysunki Matteo Scalery sprawiają, że cały czas czuć atmosferę grozy i napięcia, gdzie niebezpieczeństwo może się kryć za każdym rogiem, a takich "Meeków" może być więcej.
Ocena: 4 nietoperki

---