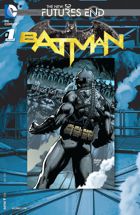 BATMAN: FUTURES END #1
Tytuł historii: Remains
Miesiąc wydania (okładka): Listopad 2014 (USA)
W sprzedaży od: 10.09.2014 (USA)
Scenariusz: Scott Snyder i Ray Fawkes
Rysunki: ACO
Okładki: Jayson Fabok, Brad Anderson
Kolor: FCO Plascencia
Liternictwo: Dezi Sienty i Carlos M. Mangual
Ilość stron: 32
Twoja ocena:

GD Star Rating
loading...
Przyszłość za 5 lat. Bruce Wayne wykorzystuje niebezpieczne zdobycze nauki by kontynuować swoją walkę ze zbrodnią. Co to jest i co zmusiło Bruce'a po sięgnięcie po tak skrajne środki?
Ciało Bruce'a Wayne'a jest wyniszczone przez stoczone walki. Dlatego ten za wszelką cenę próbuje znaleźć sposób, by Batman mógł dalej funkcjonować. Mimo nalegań Alfreda, by wreszcie odpuścił Bruce postanawia za wszelką cenę nie dopuścić by Batman umarł.
W specjalnej zbroi, która pozwala mu funkcjonować mimo problemów z kręgosłupem i bólem wyrusza w misję od której zależy przyszłość Batmana. Włamuje się do laboratorium LexCorpu. Z trudem udaje mu się przejść kolejne coraz bardziej niebezpieczne systemy zabezpieczeń, ale ostatecznie dociera do celu. Lex osiągnął sukces w klonowaniu i ponownie próbuje sklonować Supermana. Batman postanawia zniszczyć całe laboratorium, ale na jego drodze staje Bizzaro. Bohaterowi udaje się cudem przetrwać to starcie i dotrzeć z technologią LexCopru do jaskini. Po 9 miesiącach Bruce po raz pierwszy odnosi sukces w klonowaniu. Gotham zawsze będzie miało Batmana, bez względu na to co spotka Bruce'a.
Z wizją klonów Batmana mogliśmy się ostatnio spotkać w historii Twenty-Seven z 27. numeru Detective Comics z tego roku. Wtedy ten pomysł wydawał się całkiem fajnym posunięciem jako pewna alternatywna wersja. W tym przypadku zaserwowano nam rozpadającego się Batmana w dość nieodległej przyszłości, czyli za 5 lat. Ni jak ma to się do wydarzeń z Detective Comics: Futures End #1, którego akcja też ma się rozgrywać w tym samym czasie. Wystarczyłoby zmienić te 5 lat na 25 lat i już wszystko miałby więcej sensu, a tak pierwsze wrażenie nie jest najlepsze. Nawet późniejsze udane komentarze nagrane przez Lexa, który po tym gdy kolejne systemy zabezpieczeń zostają złamane odgaduje, że ma do czynienia z Batmanem, nie naprawiają tego.
Batman jest tu co prawda taki jak powinien, czyli za wszelką cenę chce zapewnić bezpieczną przyszłość dla Gotham i nie ma zamiaru pozostawić tego zadania innym bohaterów, którzy nie najgorzej sobie radzą. Mimo to cała ta historia nie specjalnie mnie do siebie przekonała, gdyby to traktować jako elseword to byłoby by lepiej, a tak efekt mimo ciekawej historii nie jest taki jak powinien.
Ocena: 3,5 nietoperka

---