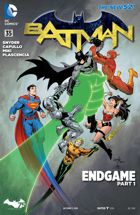 BATMAN #35
Tytuły historii: Endgame, Part One, The Paleman
Miesiąc wydania (okładka): Grudzień 2014 (USA)
W sprzedaży od: 08.10.2014 (USA)
Scenariusz: Scott Snyder; James Tynion IV
Rysunki: Greg Capullo; Kelley Jones
Okładki: Greg Capullo, Danny Miki, FCO Plascencia; Andy Kubert, Brad Anderson; Brian Stelfreeze
Kolor: FCO Plascencia; Michelle Madsen
Tusz: Danny Miki
Liternictwo: Steve Wands; Dezi Sienty
Ilość stron: 40
Twoja ocena:

GD Star Rating
loading...
Od twórców, którzy zaprezentowali nowy początek Mrocznego Rycerza nadchodzi historia, która może oznaczać jego koniec. Nie przegap największej, najbardziej niebezpiecznej, najbardziej epickiej opowieści od scenarzysty Scotta Snydera i rysownika Grega Capullo – w tym numerze rozpoczyna się "Batman: Endgame"!
"Endgame, Part One"
Scenariusz: Scott Snyder
Rysunki: Greg Capullo
Kolor: FCO Plascencia
Tusz: Danny Miki
Liternictwo: Steve Wands
Gotham City zostało zaatakowane. Batman w specjalnym pancerzu rusza by powstrzymać zagrożenie.
30 minut wcześniej. Po obudzeniu się z koszmarnej wizji przyszłości spowodowanej przez toksyną Stracha na Wróble, Bruce Wayne niespodziewanie zostaje zaatakowany przez Wonder Woman. Od razu orientuje się, że coś jest nie tak z Dianą, a kiedy zagrożenie staje się zbyt poważne, rozkazuje Alfredowi wypuścić gaz.
Walcząc w specjalnej zbroi Bruce jest w stanie stawić czoła Wonder Woman, ale cały czas nie wie, czemu ta chce go zabić. Wykorzystując jej lasso przeciwko niej udaje mu się sprawić, że Diana sądzi, że go zabiła. Niestety to nie koniec kłopotów, gdyż pojawiają się kolejni członkowie Justice League pragnący go zgładzić. Kosztowna zbroja pozwala jednak Bruce'woi uporać się z Flashem i Aquamanem. Niestety z Supermanem sprawa nie jest już tak łatwo. Kiedy zbroja zostaje zniszczono sytuacja Batmana jest beznadziejna, a co gorsza na twarzy Clarka gość słynny uśmiech Jokera.
---
"The Paleman"
Scenariusz: James Tynion IV
Rysunki: Kelley Jones
Kolor: Michelle Madsen
Liternictwo: Dezi Sienty
Pracownica Arkham Manor wraca do swojego domu, ale ku swojemu zaskoczeniu odkrywa, że mimo lepszych systemów zabezpieczających części pacjentów udało się uciec, a co gorsza ci czekają na nią. Jak się okazuje każdego z nich wcześniej odwiedził Joker i wyznaczył im specjalne zadania, które dotyczą również przerażonej kobiety.
Kolejna epicka historia rozpoczyna się od prawdziwego trzęsienia ziemi. Do tej pory w historiach Snydera nie poświęcano dużo miejsca innym superbohaterom. Tym razem mamy okazję zobaczyć Wonder Woman, Flasha, Aquamana i Superman. Zdecydowanie nie są tą klimaty do których przyzwyczaiła nas seria. Jaki może być cel wprowadzenia tylu bohaterów? Odpowiedź jest prosta – Joker.
Po pierwszej części, której znaczna część to walka Batmana z członkami Justice League, nie wiele można powiedzieć. Pytań nie brakuje, a odpowiedzi jest jak na lekarstwo. Jedno jest pewno, czytelnicy otrzymali nokautujący cios. Okazało się, że w zapowiedziach nie trzeba praktycznie nic zdradzać. Tym samym cały czas nie wiadomo co się wydarzy w kolejnych numerach. Jednak jedno jest pewne. Jest Joker, jest Justice League i Batman, który ma sposoby na powstrzymanie swoich przyjaciół z Ligi, więc warto będzie sięgnąć po następny numer.
W numerze jest także dodatkowa historia, również wprowadzająca pokręcony plan Jokera, a za sprawą rysunków Kelleya Jonesa ma ona iście przerażający klimat, w sam raz dla Księcia Zbrodni.
Ocena: 4,5 nietoperka

---