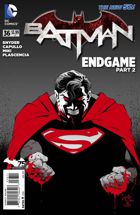 BATMAN #36
Tytuły historii: Endgame, Part Two, Saved
Miesiąc wydania (okładka): Styczeń 2015 (USA)
W sprzedaży od: 12.11.2014 (USA)
Scenariusz: Scott Snyder; James Tynion IV
Rysunki: Greg Capullo; Graham Nolan
Okładki: Greg Capullo, Danny Miki, FCO Plascencia; Andy Kubert, Brad Anderson
Kolor: FCO Plascencia; Gregory Wright
Tusz: Danny Miki
Liternictwo: Steve Wands; Taylor Esposito
Ilość stron: 40
Twoja ocena:

GD Star Rating
loading...
"Endgame" część 2 – jest to historia tak przesiąknięta tajemniczością, że to jedyne co możemy zdradzić!
"Endgame, Part Two"
Scenariusz: Scott Snyder
Rysunki: Greg Capullo
Kolor: FCO Plascencia
Tusz: Danny Miki
Liternictwo: Steve Wands
Nie mogąc dotrzeć do Clarka, Bruce zdaje sobie sprawę, że wszystkimi środkami musi walczyć o życie. Najpierw wykorzystuje kastet ze światłem z czerwonego słońca, czym może osłabić przeciwnika. Jednak to nie wystarcza, a co gorsza Superman nie waha się zniszczyć znajdujących się w okolicy budynków tylko po to by wygrać. Wiedząc, że Clark nie jest sobą Bruce zdaje sobie sprawę, że nie ma wiele opcji, które może wykorzystać. Kiedy ten zrywa mu ochrony hełm, Batman opluwa go substancją zawierającą pył z Kryptona, którą Alfred określa mianem kryptońskiej gumy, co przynosi skutek.
W rozmowie z Alfredem i Julią Bruce próbuje odkryć plan Joekra, ale jedno jest pewne, kiedy Justice League została wyeliminowana na kilka dni, to oznacza, że złoczyńca planuje coś dużego. Żeby go odnaleźć Batman postanawia odkryć w jaki sposób szaleniec zainfekował członków Ligi. Nie mogąc znaleźć żadnego tropu, Bruce postanawia sprawdzić starą celę Jokera w Arkham Asylum. Na miejscu bohater zastaje Erica Bordera, który powinien być w Arkham Manor. Mężczyzna jednak nie jest tym za kogo się podawał i kiedy zamyka Batmana w starej celi Jokera, odsłania też swoje prawdziwe oblicze. Okazuje się, że Joker cały czas był bliżej Batmana niż ten się spodziewał. W Gotham już zaczęły wybuchać zamieszki po tym jak został uwolniony gaz Jokera, i Batman nie będzie mógł tego powstrzymać, bo tak naprawdę wcale nie zna Jokera tak dobrze jak przypuszczał.
---
"Saved"
Scenariusz: James Tynion IV
Rysunki: Graham Nolan
Kolor: Gregory Wright
Liternictwo: Taylor Esposito
Jednak z pacjentek Arkham nim trafiła zakładu myślała, że cała jej rodzina została zastąpione przez złe roboty. Pewnego dnia nie wytrzymała i wszystkich zabiła. Lekarze próbowali ją wyleczyć, ale kiedy w jej celi zjawił się Joker i zaczął podsycać jej obsesję nie było szans by jej stan się polepszył. Teraz realizuje jego plan i w Gotham wybuchają pierwsze zamieszki.
Od zakończenia Death of the Family wszyscy się zastanawiali co się dzieje z Jokerem. W tym numerze Król Zbrodni powraca i jak się okazuje cały czas był bliżej niż można się było spodziewać. Batman ma poważne kłopoty, bo chociaż zazwyczaj jest przygotowany na wszystko, tym razem daje się zaskoczyć. Joker przygotowywał swój plan od wielu miesięcy i to praktycznie pod samym nosem Batmana. Naprawdę zapowiada się interesująca rozgrywka. Klaun nie jest tu tylko szaleńcem, ale doskonałym strategiem, który długo potrafił czekać na właściwy moment by zaatakować.
W poprzednim numerze Batman walczył z kilkoma członkami Ligi tym razem toczy bój tylko z Supermanem. Ale co to jest za starcie. Ostatecznie Bruce wygrywa. O ile pomysł z wykorzystaniem czerwonego słońca był czymś nowym to już użycie "gumy kryptonitowej" jest niczym słynny sprej odstraszający rekiny. Dobrze widzieć Bruce'a gotowego na wszystko i przygotowanego na starcie z Supermanem, ale chciałoby się zobaczyć coś bardziej odkrywczego.
Dodatkowa historia w odróżnieniu od tej z poprzedniego numeru za sprawą kreskówkowego stylu Grahama Nolana prezentuje zupełnie inny klimat i nie wydaje się tak mroczna jak powinna.
Całość ma kilka zgrzytów, kiedy zacznie się bliżej wszystkiemu przyglądać. Np. Batman wspomina o walce z Cyborgiem, a nic takiego nie widzieliśmy. Z jednej strony wydaje się, że wszystko powinno być dopracowane, a tak nie jest.
Ocena: 4,5 nietoperka

---