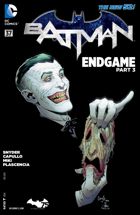 BATMAN #37
Tytuły historii: Endgame, Part Three, The First Laugh
Miesiąc wydania (okładka): Luty 2015 (USA)
W sprzedaży od: 17.12.2014 (USA)
Scenariusz: Scott Snyder; James Tynion IV
Rysunki: Greg Capullo; John McCrea
Okładki: Greg Capullo, Danny Miki, FCO Plascencia; Andy Kubert, Brad Anderson; Darwyn Cooke
Kolor: FCO Plascencia; Michelle Madsen
Tusz: Danny Miki
Liternictwo: Dezi Sienty, Taylor Esposito
Ilość stron: 40
Twoja ocena:

GD Star Rating
loading...
Kontynuacja ściśle tajnej historii z Batmanem znanej jako "Endgame" – jest to historia tak przesiąknięta tajemniczością, że tytuł to jedyne co możemy zdradzić!
"Endgame, Part Three"
Scenariusz: Scott Snyder
Rysunki: Greg Capullo
Kolor: FCO Plascencia
Tusz: Danny Miki
Liternictwo: Dezi Sienty, Taylor Esposito
Wirus Jokera szybko rozprzestrzenia się po całym mieście i Bruce z trudem panuje nad nerwami, bo co gorsze, żadne z antidotów stosowanych przez lata na różne toksyny szaleńca, nie działa. W takiej sytuacji Batman nie ma innego wyjścia jak znaleźć pacjenta zero. Od Gordona dowiaduje, że szpital, do którego się udaje uznawany jest za nawiedzony.
Sytuacja na miejscu jest gorsza, niż przypuszczał. Wokół jest pełno osób zainfekowanych wirusem Jokera co sprawia, że szpital to istny dom wariatów.
Sprawdzając kroniki dotyczące szpitala, Jim na jednym za starych zdjęć z 1910 roku zauważa twarz Jokera. To samo dostrzega na kolejnym, zrobionym kilkanaście lat później, kiedy doszło do kolejnej tragedii. Tajemnicza biała ręka jest też na jego prywatnym zdjęciu, które zrobił swoim dzieciom. Nie udaje mu się jednak przekazać tych informacji Batmanowi, gdyż usłyszawszy tajemnicze odgłosy z szafy zostaje szybko znokautowany, a po chwili spod łóżka wychodzi Joker, który podpala pokój.
Tymczasem w szpitalu Batman znajduje zabójcę swoich rodziców, Joe Chilla. To on jest pacjent zero, a za jego salą ktoś przygotował dekorację z Crime Alley, gdzie Duke Thomas i jego rodzice mają być kolejnymi ofiarami Chilla. Tym razem interweniuje Batman i do tragedii nie dochodzi.
Walcząc z Jokerem, Gordon nie waha się sięgnąć po broń. Niestety zbyt wcześnie raduje się, że raz na zawsze pozbył się szaleńca. Joker podnosi się i zabiera Jimowi telefon, a następnie mówi, "Witaj, Bruce".
---
"The First Laugh"
Scenariusz: James Tynion IV
Rysunki: John McCrea
Kolor: Michelle Madsen
Liternictwo: Taylor Esposito
Doktor Mahreen Zaheer próbuje dodzwonić się do Erica Bordera, ten jednak nie odbiera. Jeden z pacjentów z Arkham, Morton, przybliża jej historię pierwszego śmiechu.
Kiedyś Gotham było ponurym miastem, gdzie nikt się nie śmiał, ale wszystko się zmieniło gdy zjawił się klaun. Tak rozbawiał ludzi, że doprowadzało to do śmierci. Próbowano go powstrzymać i wygnać z miasta. Wreszcie namierzyli jego kryjówkę i ją podpalili. Klaun aż do samego końca kontynuował swój występ. Cała sprawa trzymana była w tajemnicy, a ziemię, gdzie spalono klauna sprzedano pewnej fabryce chemicznej.
To jeszcze nie koniec kłopotów dr Zaheer bo Joker alias Eric Border ma wobec niej duże plany.
Wyjaśnienia odnośnie Jokera i jego planów tu nie znajdziemy. Otrzymujemy historię, która umiejscawia Króla zbrodni w zupełnie nowym świetle. Czy to możliwe, że Joker to pradawne zło, które znalazło swoje miejsce w Gotham? Koncept jest dość interesujący, ale wiele zależy jak to wszystko zostanie poprowadzone.
Joker w tej wersji budzi autentyczny strach, o czym najlepiej przekonuje się Jim Gordon, który od tego czasu zawsze będzie sprawdzał, czy ktoś nie kryje się pod łóżkiem. Bo chociaż potworów może nie ma, ale na pewno jest Joker, który powrócił w wielkim stylu, ale jego plan jest jeszcze większy.
Z główną historią i sugestią odnośnie istoty Jokera doskonale współgra dodatkowa opowieść, w której poznajemy pierwszego klauna Gotham i w cale nie jest to zabawna opowieść.
37. numer Batmana robi wrażenie i jedyne, do czego można się przyczepić to fakt, że postanowiono zupełnie pominąć pewne kwestie z poprzedniego numeru. Jak Batman wydostał się z pułapki Jokera i dotarł do jaskini? Czyżby to był nowy sposób, że cliffhangerowe zakończenia pozostawia się bez odpowiedzi? Być może kryje się za tym coś więcej i nie wszystko jest takie jak się wydaje?
Ocena: 4,5 nietoperka

---