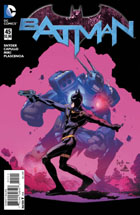 BATMAN #45
Tytuł historii: Superheavy, Part Five
Miesiąc wydania (okładka): Grudzień 2015 (USA)
W sprzedaży od: 14.10.2015 (USA)
Scenariusz: Scott Snyder
Rysunki: Greg Capullo
Okładki: Greg Capullo, Danny Miki, FCO Plascencia; Andy Kubert i Brad Anderson.
Kolor: FCO Plascencia
Tusz: Danny Miki
Liternictwo: Steve Wands
Ilość stron: 32
Twoja ocena:

GD Star Rating
loading...
Kiedy Batman omal nie zostaje pokonany przez nowe zagrożenie, Jim Gordon powinien ponownie zastanowić się co oznacza noszenie kaptura nim będzie za późno dla Gotham Ciy!
Batman ma poważne kłopoty, ale nawet otoczony przez płomienie potrafi się skoncentrować na tym co ważne i znaleźć wyjście z beznadziejnej sytuacji. Jednak później wcale nie jest lepiej, kiedy zostaje zaatakowany przez ludzi Devil Piga. Na szczęście Daryl i Julia w porę wysyłają na miejsce mechaniczny strój Batmana. Z takim wsparciem przeciwnicy bohatera są bez szans.
Bruce i Julia odwiedzają wysypisko, gdzie składowane są wszystkie rzeczy wykorzystane do ataku na Gotham przez Jokera. Wayne chciałby, żeby usunięto te śmieci dla dobra społeczności, której teraz pomaga, a o którą nikt się nie troszczy.
Geri Powers nie jest zachwycona ostatnimi działaniami Gordona i kwiaty od Jima nic w tej kwestii nie zmienią. Zamierza go zwolnić, ale najpierw pokazuje mu nowe odkrycie swoje firmy. Chce również by pomógł jej wybrać swojego następcę.
Daryla naprawiającego strój Batmana odwiedza Duke, który wręcza mu symbol Robina i prosi o pomoc, bo chce dopaść Blooma i uważa, że działający na poziomie ulicy Robiny nie potrzebują Batmana.
Z różnych rzeczy w tym z wielkiego mechanicznego dinozaura i karty Jokera, Bruce przygotował plac zabaw dla dzieciaków.
Podczas przemówienia Geri Powers, Gordon wraz z Julią dostrzega zbliżający się sterowiec. Natychmiast ratuje Geri, ale teraz czeka go starcia z zabójczym panem Bloomem.
Po poprzednim numerze, w którym cofnęliśmy się do okresu, w którym Batmanem był Bruce ciężko wrócić do nowej rzeczywistości. Nawet jeśli Jim wpadnie w poważne kłopoty, to i tak z pomocą mechanicznego stroju wyjdzie cało z opresji. Wszystko to wygląda świetnie i mamy też okazję zobaczyć jak Gordon radzi sobie w śmiertelnej pułapce o czym wtedy myśli ale to nie jest jednak Batman, który wzbudza moje zainteresowanie. Nie wiele jest tu też samego śledztwa ale w tej w kwestii może coś wkrótce zdziałać Duke i reszta "Robinów".
O tajemniczym panie Bloomie cały czas nie wiele wiadomo. Główny złoczyńca pozostaje w cieniu i tyko gdzieś w tle tam przemyka, ale na końcu "Batman #45" zmienia się to. Mamy zapowiedź starcia, które może da nam kilka odpowiedzi.
Z innych wątków, sielanka Bruce'a i Julie trwa w najlepsza i chociaż Wayne nie jest już Batmanem, to cały czas chce pomagać ludziom, tym razem mieszkańcom Narrows. Znalazł też nowe zastosowanie dla pozostałości po rzeczach z których korzystał Joker. Najpierw plac zabaw, a później może całe wesołe miasteczko ze sprzętów z których korzystał klaun, na pewno dość duże się tego nagromadziło. Niewątpliwie nawet nie walcząc w nocy z przestępcami Bruce potrafi zaskoczyć.
W "Batman #45" Jim Gordon ma okazję poczuć co to znaczy być Batmanem i chociaż ryzyko śmierci jest duże to ani myśli by z tego zrezygnować. Instynkt bohatera też działa, kiedy ratuje Geri, ale czy to wystarczy by pokonać pana Blooma, który z dziecinną łatwością zabija wszystkich, którzy staną mu na drodze?
Ocena: 4 nietoperki

---