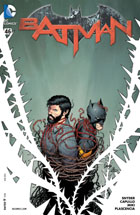 BATMAN #46
Tytuł historii: Superheavy, Part Six
Miesiąc wydania (okładka): Styczeń 2016 (USA)
W sprzedaży od: 11.11.2015 (USA)
Scenariusz: Scott Snyder
Rysunki: Greg Capullo
Okładki: Greg Capullo, Danny Miki, FCO Plascencia; Tony Daniel, Tomeu Morey, Spike Brandt
Kolor: FCO Plascencia
Tusz: Danny Miki
Liternictwo: Steve Wands
Ilość stron: 32
Twoja ocena:

GD Star Rating
loading...
W końcu, Batman staje twarzą w twarz ze śmiertelnie niebezpiecznym nowym złoczyńcą Gotham City, Mr. Bloomem. Kiedy los miasta wisi na włosku, Batman dociera do jedynego człowieka, który jest w stanie mu pomóc: Bruce'a Wayne'a!
Mr. Bloom obwieszcza zgromadzonym gościom, że ich starania by Gotham było lepszym miejscem nie przynoszą żadnych skutków, a Batman też już nic nie znaczy. Z taką opinią nie zgadza się Gordon, któremu udaje się przechytrzyć złoczyńcę i wykorzystać fakt, że jego nasionka są namagnesowane. Łotr nie na długo zostaje jednak uwięziony i ostatecznie udaje mu się zbiec.
Biorąc prysznic Bruce'a niepokoi zachowanie Julie. Okazuje się, że ta martwi się tym, że jej ociec ma przesłuchanie w sprawie zwolnienia warunkowego, a według tego co wiadomo to on sprzedał broń Joe Chillowi. Wayne jednak w ogóle to nie interesuje, bo bez względu na wszystko chce poślubić Julie.
W Iceberg Lounge Duke na własną rękę kontynuuje śledztwo w sprawie Blooma i w sejfie Pingwina natrafia na coś czego szukał.
Geri Powers prezentuje Gordonowi całą armie Bat-robotów, których chce wykorzystać by dorwać Blooma, zwłaszcza, że wie gdzie ten jest. Jim przekonują ją jednak, że to pułapka i dlatego lepiej będzie jeśli sam uda się na rekonesans.
Bruce dowiaduje się o masakrze jakiej dokonał Bloom, oraz że pewnie złoczyńca ukrywa się gdzieś w okolicy, odkrywa też, że nasionko które miał znikło.
Duke chociaż znalazł to czego szukał, to wpada w poważne kłopoty kiedy Pingwin i reszta złoczyńców go dopada.
Batman odnajduje Blooma, który spodziewał się jego wizyty. Złoczyńca przejmuje kontrole nad Bat-robotem co oznacza poważne kłopoty dla Jima.
Wejście Blooma nie jest tak mocne jak można się było spodziewać i mimo, że z łatwością się ze wszystkimi rozprawia, to tak łatwo daje się zaskoczyć Jimowi. Cały czas nie wiele wiemy na temat tajemniczego złoczyńcy. O ile na początku było to zrozumiałe, to teraz po sześciu numerach zaczyna to już irytować. Tajemnice tajemnicami, ale przydałyby się konkretne odpowiedzi.
Duke co prawda na coś natrafia, ale czytelnikom nie ujawnia się co też zostało odkryte.
Cały czas pozytywnie zaskakuje sielanka Wayne'a. W "Batman #46" otrzymaliśmy scenę pod prysznicem z udziałem Bruce'a i Julie, która wkrótce może zostać panią Wayne, ale jej sowie tatuaże mogą znaczyć coś innego lub nie.
Długie historie zaczynają być męczące, wydaje się że scenarzyści specjalnie nie chcą zdradzać pewnych elementów i przez to zainteresowanie czytelników szybko się wypala i na kolejny numer już nie oczekuje się tak mocno. Po "Batman #46" spodziewałem się przyśpieszenia akcji, a tym czasem nic takiego się nie dzieje.
Ocena: 3,5 nietoperka

---