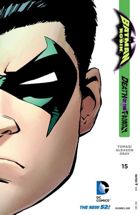 BATMAN AND ROBIN #15
Tytuł historii: Little Big Man
Miesiąc wydania (okładka): Luty 2013 (USA)
W sprzedaży od: 12.12.2012 (USA)
Scenariusz: Peter J. Tomasi
Rysunki: Patrick Gleason
Okładka: Greg Capullo, FCO Plascencia
Kolor: John Kalisz
Tusz: Mick Gray
Liternictwo: Carlos M. Mangual
Ilość stron: 32
Twoja ocena:

GD Star Rating
loading...
Tie-in "Death of the Family"!
Damian vs Joker!
Czy Joker wreszcie spotka tak niebezpiecznego Robina jak on sam? A może The Clown Prince of Crime wybierze innego sojusznika Batmana na swoją ofiarę?
Damian nie jest zadowolony jak przyjaciela Batmana go potraktowali podczas konfrontacji w jaskini. Sam jednak też nie zamierza do końca słuchać ojca. Oglądając nagrania z porwania Alfreda postanawia bowiem na własną ręką z małą pomocą Titusa odnaleźć lokaja.
Sprawdzając miejsce porwania dzięki nosowi Titusa Damian zwraca uwagę na pewnego ślady. Próbki moczu wskazujące na hieny zaprowadzają go do zoo.
Na wybiegu dla hien nie znajduje nic obiecującego, mi, że stacza z nimi zaciekła walkę, a co gorsza wychodząc wpada wprost w pułapkę zastawioną przez Jokera. Złoczyńca, którego twarz jest przyczepiona do góry nogami bardzo się cieszy z wizyty Robina. Wspomina swoje wcześniejsze spotkania z pomocnikami Batmana oraz masę innych wydarzeń. Nagle jednak przypomina sobie o dobrych manierach i postanawia nakarmić swojego gościa, w tym celu zasypują go świeżymi robalami. Ma też dla niego coś specjalnego. Wie, że Robin najbardziej boi się, że będzie odpowiedzialny za śmierć Batmana, dlatego specjalnie dla Cudownego Chłopca przedstawia Jokerowego Batmana.
Początek numeru sugeruje, że otrzymamy mroczną opowieść, w której ważne będą tropy i ślady. Dlatego jestem trochę rozczarowany, że nic takiego nie otrzymaliśmy. Damian na początku zwraca uwagę na interesującą kwestię. Mianowicie postanawia odnaleźć Alfreda. Dlaczego żaden z innych bohaterów nie sprawdził dokładnie miejsca porwania? Jak się okazuje na były tam pewne ślady, które zaprowadziła młodego bohatera wprost w pułapkę Jokera. Pierwsze strony pokazują inne oblicze Damiana, który postępuje całkiem racjonalnie, na uwagę zasługuje też jego relacje z psem. Tak jest jednak tylko na początku później całą uwagę przekuwa już tylko i wyłącznie Joker.
Wielkie słowa uznania należą się Gleasonowi, którego Joker z odwróconą twarzą, z robalami i cieknącą krwią jest naprawdę przerażający, a zarazem zabawny. Większa cześć numeru to monolog szaleńca, dlatego też nie wiele się dzieje. Zapowiada się jednak, że kolejny numer dostarczy więcej akcji, gdyż na Robina już czeka przygotowany przez szaleńca przeciwnik.
Ocena: 4,5 nietoperka

---