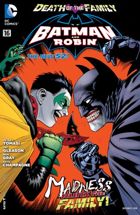 BATMAN AND ROBIN #16
Tytuł historii: Cast of Giant Shadow
Miesiąc wydania (okładka): Marzec 2013 (USA)
W sprzedaży od: 16.01.2013 (USA)
Scenariusz: Peter J. Tomasi
Rysunki: Patrick Gleason
Okładka: Gleason, Grey, Kalisz
Kolor: John Kalisz
Tusz: Mick Gray, Keith Champagne
Liternictwo: Carlos M. Mangual
Ilość stron: 32
Twoja ocena:

GD Star Rating
loading...
Kontynuacja "Death of the Family"!
Czy Joker złamał Damiana? Czy syna Batmana spotkała śmierć z ręki Księcia Zbrodni?

Stając do walki z Jokerowym Batmanem, do którego nic nie dociera, Robin nie ma innego wyjścia jak się bronić. Damian nie rozumie jak Bruce, który na wszystko jest przygotowany mógł się stać pionkiem w grze szaleńca. Chociaż toksyna Jokera sprawiła, że refleks Batmana jest słabszy to mimo wszystko cały czas ma przewagę nad Robinem.
Damianowi udaje się uciec, ale przedzierając się przez kolejne wybiegi w zoo wpada do zamarzniętej wody, gdzie atakuje go Batman. Całe zajście z wielką przyjemnością śledzi Joker.
Robin wreszcie rezygnuje z prób dotarcia za pomocą słów do Batmana, zamiast tego postanawia sięgnąć po argumenty siłowe. Udaje mu się nawet znokautować przeciwnika, ale kiedy sięga po lodowy sopel nie jest wstanie zabić ojca, bo już woli zginąć z jego ręki. Kiedy jednak Batman sięga po olbrzymi sopel, nagle eksploduje chmura gazu z jego klatki piersiowej. Nim substancja zaczyna oddziaływać na Damiana temu udaje się chwycić jeden z śrubokrętów Jokera i wbić go w stopę złoczyńcy. Ten następnie zaczyna malować zakrwawionym śrubokrętem wąsy na twarzy uśpionego Robina, który jest pewny, że jego ojciec nie żyje. Nie jest to jednak prawda, gdyż pod kostiumem Batmana krył się mistrz dojo, który był winien Jokerowi drobną przysługę.
Po odzyskaniu przytomności Robin pierwsze, co widzi, to Joker czekający na niego ze srebrną tacą z krwawą niespodzianką.
Wizualnie numer jest wręcz genialny, ale już po tylu różnych tie-inach Death of the Family nawet po tych bardzo dobrych oczekuje czegoś wyjątkowego. Walka Robina z Batmana momentami to istna perełka, ale czy na prawdę ktoś z czytelników sądził, że Bruce dałby się z złapać Jokerowi? Damian powinien być mądrzejszy, zapewne styl walki, czy też sam wygląd przebranego za nietoperza mistrza dojo nie był identyczny z Bruce'a. Czyli powinien się zorientować, że nie walczy z prawdziwym Mrocznym Rycerze.
Batman and Robin #16 to przyzwoity numer, dzięki porywającym rysunkom Gleasona, szkoda, że scenarzysta nie miał nic lepszego do zaoferowanie niż walkę Robina z Batmanem, bo otrzymalibyśmy wtedy jeszcze lepszy komiks.
Ocena: 4 nietoperki

---