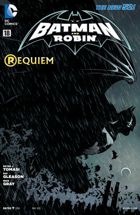 BATMAN AND ROBIN #18
Tytuł historii: Undone
Miesiąc wydania (okładka): Maj 2013 (USA)
W sprzedaży od: 13.03.2013 (USA)
Scenariusz: Peter J. Tomasi
Rysunki: Patrick Gleason
Okładka: Gleason, Grey, Kalisz
Kolor: John Kalisz
Tusz: Mick Gray
Liternictwo: Taylor Esposito
Ilość stron: 32
Twoja ocena:

GD Star Rating
loading...
Nie ośmielisz się przegapić tego numeru!
To opowieść roku!
Po stracie syna Bruce wszędzie dostrzega pustkę. Przeglądając jego rzeczy i z trudem powstrzymuje się od łez, których nie szczędzi Alfred. Zabiera też niedokończony portret rodzinny. Przed wyruszeniem na nocy patrol cały czas obserwuje czy Damian nie pojawi się u jego boku. Tej nocy jest jednak sam. Pozostają mu tylko wspomnienia. Żeby o tym nie myśleć Bruce w pełni oddaje się zwalczaniu kryminalistów, których pod koniec nocy dostarcza na dach komisariatu.
Po powrocie znajduje w jaskini list Damiana, w którym ten przeprasza go za swoje nieposłuszeństwo. Nie mógł pozwolić by Bruce sam zmierzył się z Leviathanem. Dodaje również, że jego matka może i dała mu życie, ale to Bruce nauczył go jak żyć. Po przeczytaniu ostatnich słów syna Wayne wyrzuca z siebie całą złość, by następnie przytulić kostium Damiana i podrożyć się rozpaczy.
Śmierć Damiana została należycie potraktowana. Pozbawiony słów najnowszych numer Batman and Robin praktycznie samą stronę wizualną wyraża smutek oraz pustkę, jaką odczuwa Bruce. Jego relacje z synem bywały napięte, ale teraz wszystkie spory odeszły w zapomnienie.
Często zapowiedzi kolejnych numerów są przesadzone, ale nie w tym wypadku. To naprawdę opowieść roku i pod żadnym pozorem nie można go przegapić. Emocje, emocje i jeszcze raz emocje. Brak dymków powoduje, że czytelnicy w pełni mogą się skupić na rysunkach i tym samym dostrzec różnego rodzaju szczegóły oraz zachowania bohaterów. Widać, że śmierć Damiana naprawdę dotknęła Bruce'a i że tak jak każdy musi on przejść przez różne fazy by poradzić sobie ze stratą syna.
Taka mała ciekawska dla kinomanów, w rzeczach Damiana, Bruce znajduje notkę od niejakiego C.K. z listą filmów, które koniecznie trzeba obejrzeć (ostatnie tytuły zasłonięte są notką tak więc nie ma pewności czy są te filmy, które poleca C.K.):
On the Waterfront (1954)
Rebel Without a Cause (1955)
My Left Foot (1989)
Cool Hand Luke (1967)
To Kill a Mockingbird (1962)
Lawrence of Arabia (1962)
The Sand Pebbles (1966)
Grapes of Wrath (1940)
The Miracle… [The Miracle Worker (1962)?]
Central… [Central Station (1998)?]
Gorillas in …[Gorillas in the Mist (1988)]
Lion in the… [The Lion in Winter (1968)]
China Syndrome (1979)
Ocena: 5,5 nietoperka

---