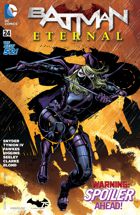 BATMAN ETERNAL #24
Tytuł historii: The Spoiler
W sprzedaży od: 17.09.2014 (USA)
Scenariusz: Scott Snyder, James Tynion IV, Ray Fawkes, Kyle Higgins i Tim Seeley
Rysunki: Andy Clarke
Okładka: Jayson Fabok, Brad Anderson
Tusz: Derek Fridolfs
Kolor: Blond
Liternictwo: Steve Wands
Ilość stron: 32
Twoja ocena:

GD Star Rating
loading...
Spoiler idzie łeb w łeb ze swoim ojcem, niebezpiecznym Cluemasterem – a los Gotham City wisi na włosku!
Stephanie Brown podsłuchuje rozmowę swojego ojca z jego tajemniczym pracodawcą, który nie jest zadowolony, że córka Arthura cały czas żyje. Hush daje Cluemasterowi 24 godziny na załatwienie tej sprawy. Inni mniej ważni złoczyńcy zaczynają realizować plan, który wpływa na życie mieszkańców Gotham. Po przejęciu kontroli nad sygnalizacją świetlną w mieście robią się co raz większe korki, a w następnej kolejności problemy zaczynają dotyczyć wodociągów. Swoje robi wraz ze szczurami również Ratcatcher.
Tymczasem Batman musi uporać się z Doctorem Ecksem, który wprowadza duże zamieszanie w galerii. Kiedy bohater odkrywa, że jego przeciwnik przybył z Arkham, natychmiast chce się skontaktować z Batwingiem, ale ten nie odpowiada.
Spoiler zostaje nakryta przez swojego ojca, który od razu rzuca w jej kierunku grant z gazem. Ta jednak się nie poddaje i ucieka na motorze. Na ulicach Gotham rozgrywa się szaleńczy pościg aż do czasu, kiedy policja otacza Cluemastera. Na nic się zdają jego wyjaśnienia, że jego ludzie rządzą GCPD, bo okazuje się, że ścigając córkę wyjechał poza obszar miasta, a tu jurysdykcja należy do policji stanowej. Chociaż zatrzymany złoczyńca grozi obserwującej wszystko z bezpiecznej odległości córce, że to jeszcze nie koniec, to Steph stwierdza, że dopiero zaczyna się rozkręcać.
Numer ten jest zdecydowanie dla fanów Spoiler. Dobrze, że twórcy zaczynają teraz skupiać się praktycznie na pojedynczych wątkach, ale niestety ten ze Steph nie przekonuje mnie. Mamy urywek z dzieciństwa bohaterki, kiedy ta na rowerze ćwiczy kaskaderskie numery i to ma zapewne wyjaśniać jej brawurową akcję na motorze. Stephanie, która dopiero co przywdziała kostium Spoiler już się zachowuje jak bohaterka po długoletnich treningach, a przecież jeszcze nie dawno byłą przestraszona dziewczyną, która cudem uniknęła śmierci.
Akcja, której nie brakuje, została efektownie przedstawiona, ale pod względem treści Batman Eternal #24 nic specjalnego do zaoferowania nie ma.
Ocena: 3,5 nietoperka

---