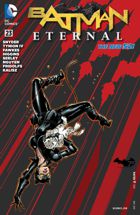 BATMAN ETERNAL #23
Tytuł historii: Lioness
W sprzedaży od: 10.09.2014 (USA)
Scenariusz: Scott Snyder, James Tynion IV, Ray Fawkes, Kyle Higgins i Tim Seeley
Rysunki: Dustin Nguyen
Okładka: Jay Fabok, Brad Anderson
Tusz: Derek Fridolfs
Kolor: John Kalisz
Liternictwo: Steve Wands
Ilość stron: 32
Twoja ocena:

GD Star Rating
loading...
Ujawniona zostaje sekretna przeszłość Catwoman, która przyciąga ją do więzienia Blackgate. Gdzie jest jej miejsce w świecie zbrodni? Tylko on może na to odpowiedzieć.
W światku przestępczym dużą popularnością cieszą się walki zwierząt. Jednak gdy jeden z gangsterów planuje wystawić młodą śnieżną panterę do walki z psem, do akcji przymierza się Catwoman. Pierwszy wyrównać rachunki z innymi gangsterami postanawia jednak Tiger Shark, którego śnieżną panterę skradziono. Złoczyńca widząc, że już futro pantery jest uszkodzone postanawia zabić zwierze, ale do tego nie dopuszcza Catwoman, która przyrzeka, że jeszcze zemści się na Sharku.
Na szycie Beacon Tower trwa walka Batmana z Architektem.
Mimo wysiłków Seliny, nie udaje się uratować małej śnieżnej pantery. Chwilę później wizytę składa jej Jade, która przekazuje jej wiadomość z Blackgate. Ktoś pragnie się z nią spotkać. Dziewczyna przemyca ją następnie do więzienia. Jak się okazuje to Rex Calabrese, ojciec Seliny, który porzucił ją kiedy miała 9 lat, chciał się z nią widzieć. Spotkanie po latach do miłych nie należy. Rex chce by jego córka zjednoczyła kryminale rodziny Gotham i zapanowała nad obecnym chaosem w światku przestępczym.
Batmanowi udaje się pokonać Zachary'ego Gate'a, ale nie ma czasu by go przesłuchać, gdyż Julia przekazuje mu wiadomości na temat sejsmicznej aktywności. Jak się okazuje zaprojektowane budynki tak umiejscowiono by mogły one wywołać trzęsienie ziemi. W powstałym zamieszaniu Architektowi udaje się uciec. Ku zaskoczeniu Husha chociaż wszystkie budynki wokół Wayne Tower zawaliły się to temu znienawidzonemu przez niego symbolowi rodziny Wayne'ów nic się nie stało.
Podczas trzęsienia ziemi Selina ratuje Jade, a następnie zabiera ją do Leslie Thompkins.
Komisarz Bard składa wizytę burmistrzowi i informuje go, że uważa, że wszystkie ostatnie ataki wraz z trzęsieniem ziemi są powiązane, dlatego domaga się by wprowadzić w Gotham stan wojenny.
We wcześniejszych numerach nie brakowało aluzji co do przeszłości Catwoman. Teraz otrzymaliśmy oficjalne potwierdzenie, że Selina Kyle jest córką Rexa Calabrese. Poznajemy również motywy, które zapewne skłoniły bohaterkę do przejęcia władzy na światkiem przestępczym Gotham. O ile na samym początku motyw ten mógł się wydawać nietrafiony, to wraz z kolejnymi szczegółami wszystko nabiera co raz większego sensu.
Z innych wydarzeń należy wspomnieć, że Batman znowu nie zachwyca i w sumie dość łatwo pozwala by Architekt mu się wymknął. Cały czas więc jego przeciwnicy wyprzedzają go o krok, a ich plany jeszcze bardziej utrudnią działanie Batmanowi, kiedy do Gotham wkroczy wojsko.
Ocena: 4 nietoperki

---