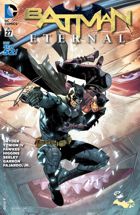 BATMAN ETERNAL #27
Tytuł historii: Divided
W sprzedaży od: 08.10.2014 (USA)
Scenariusz: Scott Snyder, James Tynion IV, Ray Fawkes, Kyle Higgins i Tim Seeley
Rysunki: Javier Gordon
Okładka: Clay Mann, Romulo Fajardo, jr.
Kolor: Romulo Fajardo jr.
Liternictwo: Dezi Sienty
Ilość stron: 32
Twoja ocena:

GD Star Rating
loading...
W uścisku stanu wojennego, światek przestępczy wpada w szał – i jedyną osobą, która może to powstrzymać jest… Catwoman?!
Podczas gdy Batgirl postanawia porozmawiać z Bardem, Killer Croc szuka Jade McKillen. Dziewczyna trafiła pod opiekę swoich najbliższych krewnych, którymi są gangsterzy mający na pieńku z Catwoman.
Tymczasem Batman wraz z Catwoman rozprawiają się z kolejnymi kryminalistami, by ustalić, gdzie przebywa Hush. Selina wykorzystuje jednak sprzyjające okoliczności do załatwienia własnych interesów w światku przestępczym. Doprowadza do tego, że w mieście zaczyna panować coraz większy chaos. Bruce nie jest zachwycony z takiego obrotu spraw, dlatego Selina postanawia działać po swojemu tak by nikt jej nie rozkazywał.
Przemierzając ulice Gotham Batman dostrzega Flamingo i postanawia się nim zająć. Sprawę szybko załatwia, a przy zabójcy znajduje wiadomość od Spoiler, która ostrzega go przed internetowymi wiadomościami zdradzającymi jego położenie. Dziękuje mu także za to, że zajął się zabójcą, który chciał ją dopaść.
Batgirl dalej stara się zastraszyć Barda, ale ten wcale się tym nie przejmuje. Sytuacja może się jednak zmienić, gdy bohaterka pozwoli by ten rozkwasił się na jednym z chodników.
Po powrocie do mieszkania Catwoman zastaje na miejscu Jade, której krewny wykorzystał jej wiedzę i zdradził Bone'owi, gdzie ten może znaleźć Selinę.
Kolejny numer, w którym małymi kroczkami zbliżamy się do czegoś większego. Niestety cały czas takie dawkowanie działań bohaterów jest coraz bardziej irytujące. Jeden z najciekawszych wątków, czyli konfrontacja Batgirl i Barda ogranicza się raptem do paru kadrów. Wściekłość Barbary zasługuje na znacznie więcej.
Najwięcej miejsca poświęcono Catwoman i jej drodze do zostania szefową światka przestępczego Gotham. Jest sporo akcji oraz słownych potyczek z Batmanem. Powraca też bohater znany z serii Catwoman, który ma do wyrównania pewne rachunki z Seliną.
Różnego rodzaju postaci znanych z innych historii w tym numerze nie brakuje. Taki nadmiar nie zawsze jednak służy, co może dekoncentrować, kiedy coraz wyskakuje jakiś dawno niewidziany bohater, albo okazuje się, że ktoś jest z kimś z spokrewniony. Wszystko to zapewne doprowadzi do czegoś istotnego, ale na razie jest w tym za dużo chaosu. Być może osobom, które zwracają uwagę na tego typu szczegóły, taki obrót będzie odpowiadał i z przyjemnością będą się zastanawiali jak to się wszystko razem połączy, innych może to niestety odrzucić.
Ocena: 3 nietoperki

---