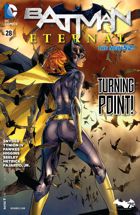 BATMAN ETERNAL #28
Tytuł historii: Letting Go
W sprzedaży od: 15.10.2014 (USA)
Scenariusz: Scott Snyder, James Tynion IV, Ray Fawkes, Kyle Higgins i Tim Seeley
Rysunki: Meghan Hetrick
Okładka: Clay Mann, Paul Mounts
Kolor: Romulo Fajardo jr.
Liternictwo: Steve Wands
Ilość stron: 32
Twoja ocena:

GD Star Rating
loading...
Czy Batman może powstrzymać Catwoman przed zostaniem najniebezpieczniejszą osobą w Gotham City?
Po spełnieniu zadania, które wyznaczył mu wcześniej Bruce, Red Hood zamierza wyjechać z Gotham, Starfire sugeruje mu jednak by najpierw pożegnał się z Barbarą. Tymczasem Batgirl cały czas pracuje nad Bardem.
Bone dopadł Catwoman i zabrał ją do jednego ze swoich klubów. Ze śmierci bohaterki zamierza zrobić prawdziwe show, za obejrzenie którego wiele osób słono zapłaciło. Nie przewidział jednak, że obecność na miejscu Jade ściągnie Killer Croca, który niweczy jego plany. Powstaje wielkie zamieszanie, co pozwala Catwoman na uwolnienie się. Wściekły Bone zmusza krewnego Jade do zastrzelenia Seliny, gdyż to jego obwinia o zaistniałą katastrofę. Starzec jednak dawno nie strzelał i zamiast w Catwoman trafia w Jade.
W międzyczasie Batman wypuszcza Flamingo na wolność, ale tylko po to by ten zaprowadził go do Husha. W ten sposób dociera do budynku Moffat, gdzie miało dojść do masakry Catwoman. Śmierć Jade sprawia że Killer Corc od razu zabija jej krewnego i pogrąża się w rozpaczy. Batman chce go zatrzymać, ale do tego nie dopuszcza Selina, które też czuje się winna za to, że nie powstrzymała tej tragedii.
Red Hood próbuje znaleźć Barbarę w jej mieszkaniu, ale na miejscu znajduje tylko rzeczy, które świadczą o tym, że bohaterka może podjąć decyzję, której będzie później żałować. Batgirl kontynuuje zabawę w zrzucanie Jasona z dachu. Jak na razie cały czas trzyma linę do której przywiązany jest policjant, ale już traci cierpliwość. Kiedy na miejscu zjawia się Jason on postanawia zrobić to co należy. Bierze linę od Barbary i ją puszcza. Wtedy do bohaterki dociera, że nie chce być odpowiedzialną za śmierć, nawet takiego człowieka jak Bard, i w ostatniej chwili go ratuje, skręcając przy tym jego nogę.
Catwoman udaje się do więzienia Blackgate, gdzie informuje swojego ojca o śmierci Jade oraz o tym, że podjęła decyzję by wykorzystać jego kontakty by zaprowadzić porządek w Gotham.
W serii dochodzi do kolejnego przełomu. Już od kilku numerów wiedzieliśmy czyją córka jest Selina i tylko należało czekać aż podejmie odpowiednią decyzję. Wreszcie zostaje ona podjęta i czekają nas już teraz wątki, w których to nie Catwoman, ale Selina Kyle będzie zaprowadzać nowy porządek w światku przestępczym.
Wprowadzenia postaci Jade oraz zdradzenie jej nazwiska, czyli McKillen, które fani mogą kojarzyć z postacią Erin McKillen i jej rolą w jednej z historii z Two-Face'em, okazało się praktycznie bez znaczenia w tym zakresie. Los dziewczynki posłużył tylko jako impuls do podjęcia przez Catwoman i Croca pewnych decyzji, ale nic poza tym. Dlatego więc chyba nie warto przy okazji każdej najdrobniejszej aluzji do wcześniejszych historii przypuszczać, że mają one jakieś głębsze znaczenie.
Po raz kolejny udanie zostają przedstawione relacje Jasona i Barbary. Naprawdę dwójka bohaterów bardzo na tym zyskuje i aż chciałoby się by Red Hood na dłużej został w Gotham. Zdecydowanie w ostatnich wydarzeniach z całego grona Bat-bohaterów jego wątek został najlepiej poprowadzony.
Szkoda tylko, że tego samego nie można powiedzieć o działaniach Batmana. Po takim bohaterze należy się spodziewać się czegoś więcej, a tym czasem ten postanawia wypuścić Flamningo by ten doprowadził go do Husha. Zabójca powrócił tylko do Gotham by zabić Spoiler, to dlaczego miałby coś wiedzieć o planie Tommy'ego i czy Bruce nie powinien się już zorientować, że Alfreda nie ma w szpitalu?
Ocena: 3,5 nietoperka

---