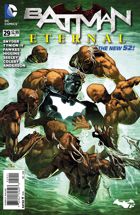 BATMAN ETERNAL #29
Tytuł historii: The City of Shadow and Doubt
W sprzedaży od: 22.10.2014 (USA)
Scenariusz: Scott Snyder, James Tynion IV, Ray Fawkes, Kyle Higgins i Tim Seeley
Rysunki: Simon Coleby
Okładka: Clay Mann, Paul Mounts
Kolor: Romulo Fajardo jr.
Liternictwo: Dezi Sienty
Ilość stron: 32
Twoja ocena:

GD Star Rating
loading...
Piekło wydostaje się z Arkham Asylum, i jedyną istotą mogącą to powstrzymać jest Spectre – ale najpierw musi powstrzymać samego siebie przed zniszczeniem całego Gotham City!
Córka Jokera dostaje informacje, by natychmiast wracała do Arkham do Blackfire'a, a w międzyczasie Hush przygotowuje bombę z batarangami w środku.
W podziemiach Arkham Asylum, Batwingowi mimo poważnych problemów udaje się wysłać wiadomość do Batmana i poinformować go o piekle jakie rozpętało się w ośrodku oraz o udziale we wszystkim Blackfire'a. Przysyła także do jaskini kod Rddlera, którego rozpracowaniem od razu zajmuje się Julia.
Batwing po uporaniu się z problemami zamierza zatrzymać Blackfire'a odprawiającego rytuał nad Corrigan, ale jest już za późno.
Juli udaje się odszyfrować wiadomość Riddlera, która mówi, że Arkham Asylum to dopiero początek.
Seria
Batman Eternal
przyzwyczaiła czytelników do tego, że zdarzają się lepsze i gorsze numery. Tym razem osiągnęliśmy nowy poziom beznadziejności. Pomijając już fakt, że nie można płynnie przejść z historii związanych ze światkiem przestępczy, do takich niestworzonych rzeczy, to przynajmniej wątki pełne magii i rzeczy nie z tego świata powinny być zrozumiale prowadzone. Tego brakuje, przez co mamy jeden wielki chaos, z którego chcemy jak najszybciej się wydostać.
Sami bohaterowie nie wiedzą co się dzieje, i tak samo zagubieni są czytelnicy. Jednak to jeszcze może nie być najgorsze, bo w następnym numerze także wrócimy do pełnego niestworzonych rzeczy Arkham Asylum – i to jest iście przerażające.
Za sprawą rysunków numer nie jest jednak kompletnie do niczego. Najlepiej go więc przeglądać bez poświęcania większej uwagi tekstowi w dymkach.
Ocena: 1,5 nietoperka

---