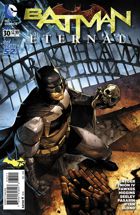 BATMAN ETERNAL #30
Tytuł historii: From a High
W sprzedaży od: 29.10.2014 (USA)
Scenariusz: Scott Snyder, James Tynion IV, Ray Fawkes, Kyle Higgins i Tim Seeley
Rysunki: Fernando Pasarin
Okładka: Clay Mann, Romulo Fajardo jr.
Kolor: Blond
Tusz: Matt Ryan
Liternictwo: Steve Wands
Ilość stron: 32
Twoja ocena:

GD Star Rating
loading...
Ostatni raz kiedy Deacon Blackfire przejął kontrolę na Gotham City, Batman prawie zginął… Jak teraz poradzi sobie miasto, kiedy ten włada niewyobrażalną mocą?
Coś złego dzieje się w Arkham i Batman nie może już dłużej tego ignorować. Nim jednak zacznie działać musi uratować samolot pasażerki, który po przelocie nad Azylem ma problemy.
Rytuał Blakfire'a dopełnił się i ten jest teraz gotów na zemstę. Najpierw jednak będzie musiał się zmierzyć ze Spectre, który raz dwa pozbawia swojego przeciwnika magicznej siły i tym samym unieszkodliwia go. Niestety okazuje się, że Blakfire trzymał całe Arkham w całości, a teraz wszystko zaczyna się rozpadać. Po chwili cała placówka zapada się pod ziemie. Batman śpieszy na pomoc ocalałym, ale tego tragicznego dnia wiele osób nie przeżyje. Natychmiastowej pomocy potrzebuje też Batwing. Chociaż policja chce aresztować Batmana, to ten rusza w głąb ziemi by sprawdzić, czy ktoś w Akrham ocalał. Na miejscu natrafia od razu na Córkę Jokera, która ma przyczepioną bombę.
W porównaniu do poprzedniego numeru jest znacznie lepiej, ale bynajmniej nie oznacza to, że otrzymaliśmy jakąś wyjątkowo dobrą historię.
Batman Eternal #30
przejdzie do historii, jako ten numer w którym zmieszczone zostało Arkham Asylum. Wobec takich wydarzeń nie można przejść obojętnie. Szkoda, że całość musiała mieć jakieś podłoże nie z tego świata, takie elementy nie zawsze pasują do świata Mrocznego Rycerza. Jak już jesteśmy przy tych niestworzonych rzeczach, to warto wspomnieć Blackfire'a, który miał być niewiadomo kim, a okazał nie godnym przeciwnikiem dla Spectre. Wydaje się, że wszystko tak długo przeciągnięto, by w Arkham mógł znaleźć się Alfred i by ostetecznie nic nie powstrzymało zniszczenia słynnej placówki.
Arkham Asylum zasłużyło na lepsze pożegnanie. To Joker, czy inny słynny złoczyńca powinien wysadzić je w powietrze, a tak mamy, to co mamy. Z numeru na numer seria zaczyna, co raz bardziej nudzić. Czy interesuje nas los pogrzebanego Batwinga. Nie. Pozostaje jeszcze wiele nie wyjaśnionych rzeczy, ale dotrwanie do końca serii może być momentami trudniejsze niż można się było się tego spodziewać po udanym początku.
Ocena: 3 nietoperki

---