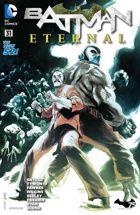 BATMAN ETERNAL #31
Tytuł historii: Buried Deep
W sprzedaży od: 05.11.2014 (USA)
Scenariusz: Scott Snyder, James Tynion IV, Ray Fawkes, Kyle Higgins i Tim Seeley
Rysunki: Fernando Pasarin
Okładka: Rafael Albuquerue
Kolor: Blond
Tusz: Matt Ryan
Liternictwo: Taylor Esposito
Ilość stron: 32
Twoja ocena:

GD Star Rating
loading...
Takiego połączenia sił nigdy się nie spodziewaliście – Alfred Pennyworth i… Bane?!
Przegniecionemu gruzami Alfredowi wydaje się, że widzi swojego dowódcę z czasów, kiedy służył w wojsku. Na jego śmierć nie pozwala jednak Bane.
Niebezpiecznie robi się na obszarze, w którym kiedyś znajdowało się Arkham Asylum, kiedy na wolność wydostają się tacy złoczyńcy jak Mr. Freeze, Zsasz czy Clayface.
Batman szybko radzi sobie z Córką Jokera, a bomba, którą miała okazuje się tylko atrapą. Bohater nie może jednak dłużej pozostawać z popchniętym pod ziemią Arkham, gdyż na zewnątrz jest bardziej potrzebny. Policja nie radzi sobie z uciekającymi złoczyńcami. Chociaż do takiej sytuacja Julia nie jest przygotowana, to Batmanowi udaje się powstrzymać próbujących zbiec niebezpiecznych przestępców. Cały czas jednak na wolności, gdzieś skrywa się Hush i to jego Bruce najbardziej pragnie odnaleźć.
Bane, który rozpoznał w Alfredzie byłego wojskowego, tłumaczy, że uratował mu życie, gdyż ktoś z jego doświadczeniem może mu się przydać i poza tym dobrze jest mieć kogoś do odwrócenia uwagi. Bohaterowie muszą jednak szybciej ze sobą współpracować niż im się wydawało, kiedy zostają zaatakowani przez grupę demonów.
Po sprawdzeniu danych ze szpitala Julia, ku swojemu przerażeniu odkrywa, że jej ojciec został przeniesiony do Arkham Asylum.
Spoiler cały czas ucieka przed pragnącymi zdobyć nagrodę zabójcami, ale w końcu wpada w ręce Husha. Na szczęście udaje jej się wysłać sygnał SOS, dzięki czemu w drodze jest już Batman.
Działając razem Bane'owi i Alfredowi udaje przetrwać. Teraz złoczyńca jest bardziej skory do zaakceptowania drogi wybranej przez byłego żołnierza brytyjskiej armii. Docierają do jak się wydaje ślepego zaułku, ale Alfred szybko komendą głosową uwalnia gaz paraliżujący, który unieszkodliwia Bane'a. Następnie otwiera tajne przejście do jednej z kryjówek Batmana. Od razu nawiązuje kontakt z bohaterami. Jego wiadomość odbiera również Batwing, który potrzebuje pomocy.
Jeśli w
Batman Eternal
pojawiają się jakieś elementy, które wydają się ważne, to ostatecznie okazują się one bez znacznia. Bomba Córki Jokera, to tylko atrapa, problemy z halucynacjami Alfreda też już samoczynnie się rozwiązują. Nawet namierzenie Husha jest wręcz pokazane w banalny sposób.
Wbrew okładce oraz opisowi współpraca Alfreda i Bane'a wcale nie jest taka wyjątkowa. Bohaterowie mają swoją chwilę, ale nim się tak naprawdę wszystko zaczyna już zostaje zakończone. Pomysł z ukrytym pokojem zalicza się jak najbardziej na plus. Dzięki temu cały czas wiadomo, że Batman jest przygotowany na różne ewentualności. Szkoda jednak, że niektórych sytuacjach zbyt często korzysta z technologiczny nowinek, jak oprogramowania do namierzania konkretnych osób na podstawie ich wyglądu, zamiast pokazać, że jest największym detektywem na świecie.
Sceny akcji, kiedy Batman walczy z Mr. Freeze'em czy z innymi złoczyńcami są kapitalnie zilustrowane, ale tak naprawdę oprócz walorów estetycznych nic nie wnoszą. Po zapowiedziach wydawało się że Batman Eternal #31 będzie miał do zaoferowania czytelnikom coś więcej, a tak niestety nie jest.
Ocena: 3,5 nietoperka

---