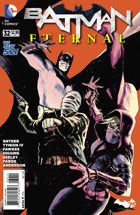 BATMAN ETERNAL #32
Tytuł historii: Whisper Campaign
W sprzedaży od: 12.11.2014 (USA)
Scenariusz: Scott Snyder, James Tynion IV, Ray Fawkes, Kyle Higgins i Tim Seeley
Rysunki: Jason Fabok
Okładka: Rafael Albuquerue
Kolor: Bob Anderson
Liternictwo: Taylor Esposito
Ilość stron: 32
Twoja ocena:

GD Star Rating
loading...
Spoiler jest bliska poznania prawdy, która skrywa się za koszmarem w Arkham!
W chwili, kiedy Hush ma zamiar zastrzelić Spoiler na miejscu zjawia się Batman. Chociaż podczas walki przewaga jest po stronie Bruce'a, to rzut grantem skutecznie umożliwia Tommy'emu ucieczkę.
Później z ruin Arkahm Asylum Batman wyciąga Batwinga. Nadszedł czas by wszyscy wrócili do domu. W jaskini Alfred spotyka się z córką.
W międzyczasie Jason Bard na dachu jednego z budynków spotyka się z Hushem, który wręcza mu kolejne instrukcje.
Po powrocie do jaskini Bruce zaniepokojony jest faktem, że ktoś dostał się do bazy danych, w której przechowywane były informacje o wszystkich bazach i bezpiecznych kryjówkach Batmana w Gotham. Chociaż placówki są zabezpieczone, to można się do nich dostać przez DNA Bruce'a lub Alfreda.
Jason Barrd odwiedza Vicki Vale i wręcza jej materiały, które otrzymał od Husha. Jak się okazuje są to plany sekretnych placówek, w których przechowywana jest różnorodna broń. Do jednego z takich miejsc dostaje się Hush korzystając z DNA Alfreda. Złoczyńca doprowadza do eksplozji, a na miejscu pozostawia batarang Batmana.
Całkiem udany numer. Wszystko nabiera tempa, którego tak brakowało. Historia jest pełna uproszczeń, ale czegoś takiego potrzeba było. Sytuacja z Hushem zostaje załatwiona w dość kuriozalny sposób, ale skoro w sprawę zamieszana była Spoiler to można się było tego spodziewać. Nie wiadomo czemu Batman nie ściga złoczyńcy. Chociaż wydawało się, że uwięzieni w Akrham Asylum bohaterowie będą mieli jakieś problemy, to wyszło na to że uratować ich można było bez większych problemów, nawet już żaden łotr nie przeszkadzał bohaterowi. Ciekawiej robi się zaś wraz z kolejnym etapem planu Husha. Spalenie kryjówek Batmana, to dobre posunięcie. Zastanawia mnie tylko fakt, po co Bruce'owi takie składy broni palnej skoro wiadomo, że sam z niej nie korzysta? Koniec jest mocnym akcentem, który oznacza poważne kłopoty dla Batmana.
Batman Eternal #32 to jest to co powinno być co tydzień w tej serii. Niezbyt wymagająca rozrywka na dobrym poziomie, której czytanie sprawia przyjemność i nie warto się zastanawiać jak przy tych wszystkich zabezpieczeniach Hush dostał się do jaskini i zdobył bezcenne informacje.
Ocena: 4 nietoperki

---