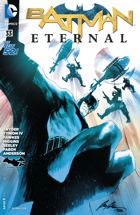 BATMAN ETERNAL #33
Tytuł historii: Contents Under Pressure
W sprzedaży od: 19.11.2014 (USA)
Scenariusz: Scott Snyder, James Tynion IV, Ray Fawkes, Kyle Higgins i Tim Seeley
Rysunki: Jason Fabok
Okładka: Rafael Albuquerue
Kolor: Brad Anderson
Liternictwo: Steve Wands
Ilość stron: 32
Twoja ocena:

GD Star Rating
loading...
Arsenał Batmana zagraża Gotham City!
Na konferencji prasowej komisarz Barda stwierdza, że wybuch mógł być wypadkiem, ale nie można też wykluczyć ataku ze strony Batmana. Z takiego niejednoznacznego oświadczenia nie jest zadowolony Hush, który później składa wizytę Jasonowi. Chociaż ten ma coraz większe obawy co do współpracy ze złoczyńcą, to obecnie nie może mu odmówić.
Wraz Julią Batman sprawdza jedną z kryjówek. Szybko jednak stają się celem Gilpatrica specjalnie przygotowanego na taką okazję. Jednak bohater szybko pokazuje policjantowi ze SWAT kto tu rządzi.
W Wayne Enterprises również się niepokoją po ostatnich doniesieniach, gdyż broń ukryta przez Batmana pochodziła od nich. Lucius Fox ma zadbać by był to tylko odosobniony przypadek. W rozmowie z Bruce'em ten zapewnia go, że wszystko jest już pod kontrolą.
Po rozdzieleniu się Batman i Julia rozbrajają kolejne bunkry, ale to w tym, którym zajmuje się córka Alfreda, czeka Hush.
Kolejny numer
Batman Eternal
ponownie udowadnia, że trwające przez rok wydarzenie przerosło scenarzystów. Nie warto się już zastanawiać co słychać u innych bohaterów, czy ktoś pamięta jeszcze o nanobotach? Ostatnio co prawda mamy głównie wątki z Batmanem, ale wszystko jest prowadzone w zbyt rozwlekły sposób. Co się dzieje w 34. numerze. Batman i Julia rozbrajają kolejne bunkry. Po drodze Batman ma okazje pokonać jakiegoś specjalnego członka SWAT. Jeden zwykły policjant nawet ze specjalnym sprzętem miałby powstrzymać Batmana? Jeśli już Hush chciał, żeby ktoś spowolnił bohaterów, to mógłby wysłać jakąś grupę łotrów.
Całość atrakcyjnie się prezentuje za prawą rysunków Jasona Faboka, ale przy tak mało interesującej historii to nie wystarcza. Nie pomaga nawet, że Julia wreszcie opuściła jaskinię i zaczęła działać w terenie.
Ocena: 3 nietoperki

---