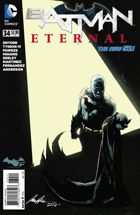 BATMAN ETERNAL #34
Tytuł historii: State of Truth
W sprzedaży od: 26.11.2014 (USA)
Scenariusz: Scott Snyder, James Tynion IV, Ray Fawkes, Kyle Higgins i Tim Seeley
Rysunki: Alvaro Martinez
Okładka: Rafael Albuquerue
Kolor: Brad Anderson
Tusz: Raul Fernandez
Liternictwo: Steve Wands
Ilość stron: 32
Twoja ocena:

GD Star Rating
loading...
Czy to koniec Wayne Enterprises?
Julie udaje się zaskoczyć Husha i celnym strzałem trafia go w ramię. Ten jednak szybko naprawia swój błąd i rani bohaterkę i zostawia ją w magazynie, który lada moment ma wylecieć w powietrze.
Na miejscu eksplozji natychmiast zjawia się Batman, któremu udaje się uratować córkę Alfreda.
Po drugim wybuchu komplikuje się sytuacja Wayne Enterprises, burmistrz Hardy i komisarz Bard odwiedzają Luciusa Foxa.
W jaskini, Julia zostaje poddana niezbędnej opiece medycznej. Jej stan jest poważny, ale Bruce uspokaja Alfreda, że ma silny organizm. Mimo to Pennyworth nie chce by jego córka była częścią działalności Batmana, gdyż zasługuje na coś lepszego.
Hush specjalnie pozwala by jeden z czujników Batmana go wychwycił, gdyż chce się z nim spotkać. W podziemiach Tommy czeka na bohatera na składzie amunicji. Nie chce jednak wszystkiego wysadzać, pragnie się zmierzyć z Batmanem w bezpośredniej walce. Dzięki specjalnemu strojowi Hush początkowo skutecznie blokuje ciosy Batmana, ale tylko do czasu aż zostaje znokautowany, a detonator unieszkodliwiony. Przeglądając płaszcz Elliota Bruce znajduje w nim te samo zaproszenie, które otrzymał wcześniej, a to oznacza, że za wszystkim może kryć się ktoś inny. To nie koniec złych wiadomości. Na konferencji prasowej Lucius Fox ogłasza, że po ostatnich wydarzeniach Wayne Enterprises zostało przejęte przez rząd federalny.
Po tylu numerach w których Batman próbował dopaść Husha, konfrontacja tych bohaterów lekko mówiąc rozczarowujące. Już fakt, że złoczyńca sam decyduje się na starcie z bohaterem jest nielogiczny, co jest jeszcze spotęgowane, kiedy Tommy zostaje pokonany jakby był przeciętnym zbirem.
Na końcu numeru dochodzi do zwrotu akcji dotyczącego Wayne Enterprises. Ma on zapewne według scenarzystów robić wrażenie i wywrócić życie Bruce'a do góry nogami, ale jak dla mnie jest to zbyt niedorzeczne. Po dwóch wybuchach w centrum miasta, firma wraz ze wszystkimi należącymi do nich spółkami ma być przejęta przez rząd? Nie chce nawet mi się dłużej zastanawiać nad tą niedorzecznością. Twórcy potrzebowali powodu by ograniczyć fundusze Wayne'a i wybrali jeden z głupszych pomysłów. Już w "The Dark Knight Rises" motyw utraty firmy był przedstawiony w bardziej akceptowalny sposób.
Jak na 34 numery zbyt długo nie wiemy, kto tak naprawdę za wszystkim stoi. Court of Owls, a może sam Bruce Wayne zwariował i wystawia siebie na próbę? Nie jest to już tak istotne jak na początku i wraz kolejnymi numerami, w których nie brakuje ciekawych momentów czy też świetnie zilustrowanych scen jak np. postrzelanie Husha, seria ma coraz mniej do zaoferowania.
Ocena: 3 nietoperki

---